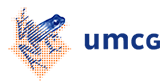 Eva van den Berg, PhD
Cytogeneticist
MSc: Biology, Free University of Amsterdam
PhD: Order and complexity in renal cell tumors. A cytogenetic, molecular genetic and histopathological study, University of Groningen, 1993
Email
See her papers in Google Scholar
Dr. Eva van den Berg-de Ruiter is an associate professor in the Dept of Medical Genetics at the University Medical Center Groningen. She studied biology at the Free University of Amsterdam and the University of Nijmegen and obtained her PhD degree at the University of Groningen, where she works as a clinical cytogeneticist. Her research work focusses on the cytogenetics of renal cell carcinoma, soft tissue sarcomas, and hematological malignancies.
Current project: Identification and functional analysis of renal cell cancer tumour suppressor genes from the short arm of chromosome 3,
Keywords: renal cell cancer, soft tissue sarcomas, solid tumors, cytogenetics, genomics, genetic diagnostics leukemias and lymphomas
Recent publications
Results of a randomized trial in children with Acute Myeloid Leukaemia: medical research council AML12 trial. Gibson BE, Webb DK, Howman AJ, De Graaf SS, Harrison CJ, Wheatley K; United Kingdom Childhood Leukaemia Working Group and the Dutch Childhood Oncology Group. Br J Haematol. 2011 155(3):366-76.
Microarray-based genomic profiling as a diagnostic tool in acute lymphoblastic leukemia. Simons A, Stevens-Kroef M, El Idrissi-Zaynoun N, van Gessel S, Weghuis DO, van den Berg E, Waanders E, Hoogerbrugge P, Kuiper R, van Kessel AG. Genes Chromosomes Cancer. 2011 50(12):969-81.
Gene expression profiling in the leukemic stem cell-enriched CD34+ fraction identifies target genes that predict prognosis in normal karyotype AML. de Jonge HJ, Woolthuis CM, Vos AZ, Mulder A, van den Berg E, Kluin PM, van der Weide K, de Bont ES, Huls G, Vellenga E, Schuringa JJ. Leukemia. 2011 25(12):1825-33.
Van den Berg E and Störkel S. 2004. Kidney: Clear cell renal cell carcinoma. Atlas Genet Cytogenet Oncol Haematol.
Links
| | |
| --- | --- |
| Last modified: | 07 February 2020 3.06 p.m. |