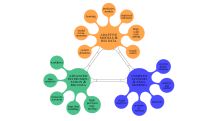 The mission of the DSSC (est. in 2015) is to understand and design complex systems and processes through massive data. In particular, it studies, adapts, and refines models for scientific research and for the understanding of natural phenomena. Moreover, it develops techniques to understand and manage complex systems. Finally, it develops tools and methods to facilitate the development of advanced and complex instrumentation that handles big data. The DSSC contributes, among other areas, to Science, Engineering and Smart Industry, and Healthcare.
More than 70 researchers from disciplines with an immediate interest in the handling of Big Data and Complexity (mathematics, statistics, computer science, artificial intelligence, engineering, astronomy, physics, bioinformatics) collaborate at the DSSC to deliver:
trained, generic algorithms that can overcome the fragmentation of domain expertise and solve families of problems to support decision making in various disciplines/applications;
theoretically well-founded algorithms that combine data, knowledge and reasoning and are tested in real world applications;
application of appropriate amounts of data/computing from a variety of sources to control complex systems – with the aim to apply just-enough-data;
social, explainable, ethical AI;
new methods to design algorithms for monitoring and control, which work in the presence of highly uncertain models or even in absence of them, while providing analytical certificates of their correctness;
demonstration of these new algorithms' effectiveness on real complex systems which model critical infrastructures, including power systems, transportation networks, energy systems;
methods to manage the complexity of systems engineering especially in the high-tech industry.
| | |
| --- | --- |
| Laatst gewijzigd: | 28 april 2021 12:15 |