Our Centres in China and Japan
Through its academic staff, the Centre for East Asian Studies Groningen partners with the Dutch Study Centre at Fudan University (Shanghai), the European Study Centre at Tsinghua University (Beijing) and the Dutch Study Centre at Osaka University (Osaka).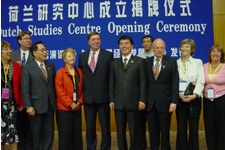 The Dutch Studies Centre (DSC) is based on the cooperation between Fundan University and Groningen University. The DSC functions as an education, research and information institute.The DSC organizes classes at Fudan University covering the Dutch and European political system, social and economic policies, historical and cultural developments, and other related topics. Also, the DSC aims to conduct research in the areas of Dutch and European politics, economics, literature, history, art history, language and culture, and to publish research papers and textbooks. Finally, with an increasing number of Chinese students coming to the Netherlands to study in Dutch higher education institutions, the DSC serves as an information channel for these visiting students. Read more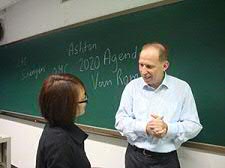 The Tsinghua-Groningen research center for China-EU relations was established in September 2011. The mission of TGRC is to carry out interdisciplinary teaching and research at both universities on topics related to the European Union, EU-China relations and Sino-Dutch relations; to cultivate experts and talents in the field of European studies and International Relations; to enhance the mutual understanding and exchange between China and Europe/the Netherlands; and to generate exposure and publicity for both universities. TGRC provides an information channel for Chinese students visiting the Netherlands; and organizing cultural events to deepen understanding of each other's traditions and cultures.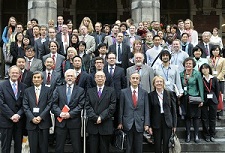 In 2002 the University of Groningen and Osaka University signed a preferred partner agreement. The close collaboration between the University of Groningen and the University of Osaka in the fields of research and education was given an important boost in 2005 with the establishment of the Osaka University Office for Overseas Education and Research in Groningen. Furthermore in 2011 a Dutch Studies center was established at the Tekijuku Memorial Center of Osaka University, with the aim to enhance international exchange between Osaka University and education & research institutions in the Netherlands and Europe. Since 2012 staff of the University of Groningen offer an intensive course called Gateway to Europe: contemporary Dutch studies at Osaka University. Japanese students can take this course as an elective module; the topics and lecturers vary every year. The topic for 2015-2016 is "Immigration, integration and Islam in present-day Europe", and it is taught by prof.dr. Janny de Jong.
| | |
| --- | --- |
| Last modified: | 25 January 2022 8.54 p.m. |