Colloquia department of Sociology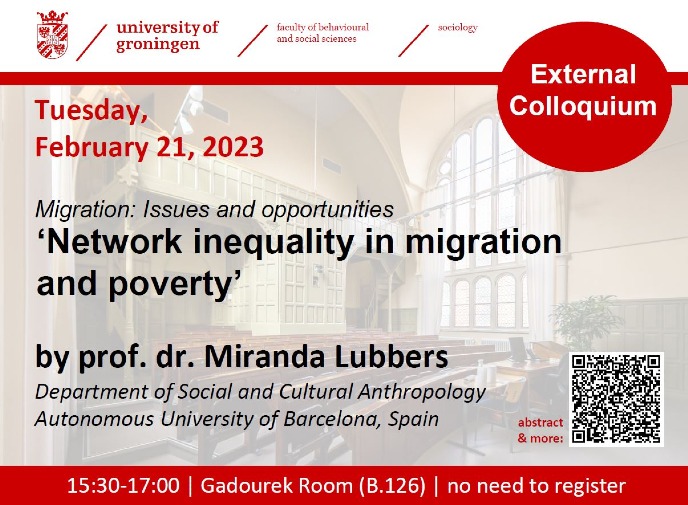 Network inequality in migration and poverty
by Miranda Lubbers (21-02-2023)
Abstract: With the concepts of social support and social capital, researchers have long highlighted how personal networks give access to resources that can help individuals get ahead and cope with life's challenges, including divorce, job loss, and adaptation to a new country. In doing so, however, networks also reproduce and exacerbate inequality. Greater attention to the networked mechanisms of cumulative disadvantage are needed to investigate the role of networks more cautiously. Drawing on research about networks and migration, on the one hand, and networks and poverty, on the other, I discuss and illustrate these mechanisms and call for more research into the structural embeddedness of these mechanisms.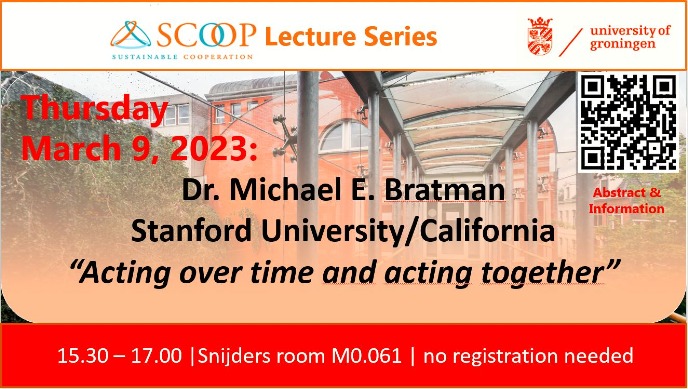 Acting over time and acting together
by Michael E. Bratman (9-3-2023)
Abstract:Individual human actions are normally embedded in forms of mind-supported crosstemporal organization. Think about growing food in a garden. Such temporally extended human activities are typically organized by plans and planning. Given our human limits we normally settle on prior, partial plans without settling on a fully worked out plan. Downstream planning and practical thinking, including the weighing of reasons, is structured by these prior, partial plans in part by way of distinctive pressures of plan rationality. And intentions are elements in this planning system. Consider now our acting together, as when we play a quartet. Here I articulate a construction of shared intention and shared intentional agency that builds on basic elements of our plan-based cross-temporal organization of our individual activities. This helps support the conjecture that these two fundamental forms of human practical organization––diachronic and small-scale social––are grounded in our core capacity for planning agency. And this sets the stage for further research on the question whether this core role of our capacity for planning agency can be "scaled up" as part of illuminating models of social rules and of larger, ruleguided organized institutions.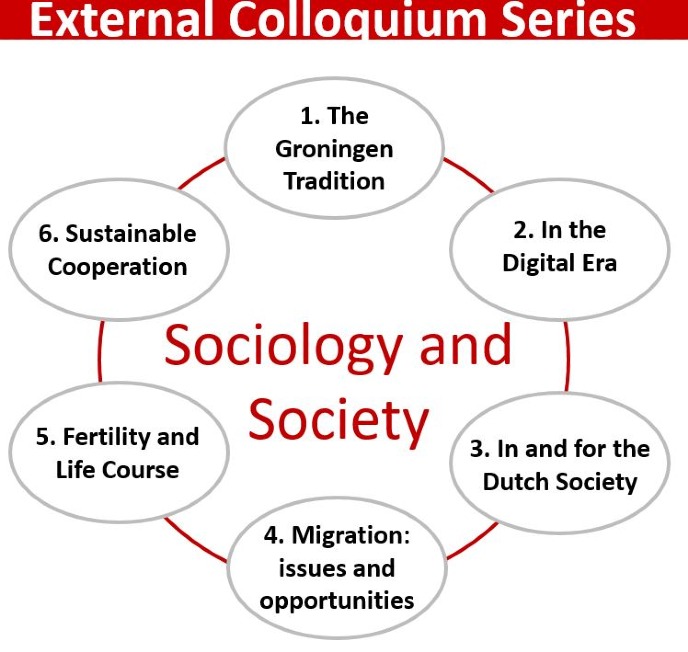 External Colloquium Series 'Sociology and Society'

1. The Groningen Tradition (October 13, 2022)
Prof. dr. Siegwart Lindenberg & Prof. dr. Tom Snijders & Prof. dr. Frans Stokman
University of Groningen, NL
2. Sociology in the Digital Era (November 2, 2022)
Prof. dr. Matthew Salganik, Princeton University, USA
3. Sociology in and for Dutch Society (January 18, 2023)
Prof. dr. Mark van Ostaijen, Erasmus University Rotterdam, NL
4. Migration: Issues and opportunities (February 21, 2023)
Prof. dr. Miranda Lubbers, Autonomous University of Barcelona, Spain
5. Fertility and Life Course (April 2023, date t.b.a.)
Prof. dr. Melinda Mills, University of Oxford, UK
6. Sustainable Cooperation (June or July 2023, t.b.a.)
Speaker t.b.d.
Internal colloquia
During each Internal Colloquium one of our research clusters will present its current research and future plans.
They are planned on:
- October 25: NNC cluster (B.126, 15:30-17:00 uur)
- November 28: SCIO cluster (B.126, 15:30-17:00 uur)
- March 16: SNA cluster (B.126, 10:30-12:00 uur)
- May 23: FLAG cluster (B.126, 15:30-17:00 uur)
- June 15: WALM cluster (B.126, 15:30-17:00 uur)
If you have any questions about the colloquia, please contact Christine Timmerman (c.m.timmerman@rug.nl)
| | |
| --- | --- |
| Last modified: | 01 February 2023 5.30 p.m. |