Colloquia department of Sociology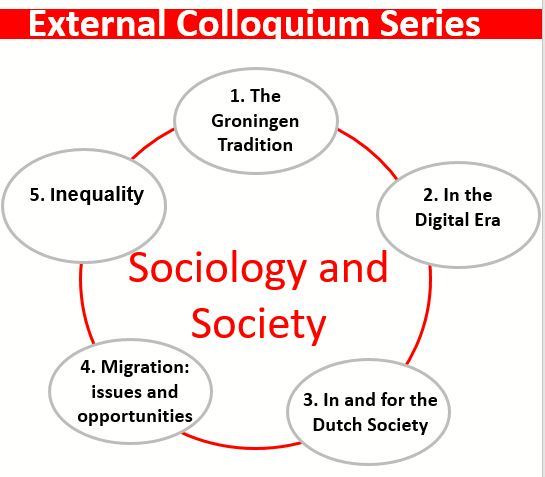 External Colloquium Series 'Sociology and Society'

1. The Groningen Tradition (October 13, 2022)
Prof. dr. Siegwart Lindenberg & Prof. dr. Tom Snijders & Prof. dr. Frans Stokman
University of Groningen, NL
2. Sociology in the Digital Era (November 2, 2022)
Prof. dr. Matthew Salganik, Princeton University, USA
3. Sociology in and for Dutch Society (January 18, 2023)
Prof. dr. Mark van Ostaijen, Erasmus University Rotterdam, NL
4. Migration: Issues and opportunities (February 21, 2023)
Prof. dr. Miranda Lubbers, Autonomous University of Barcelona, Spain
5. Inequality (June 13, 2023)
Prof. dr. Jonathan Mijs, Boston University, USA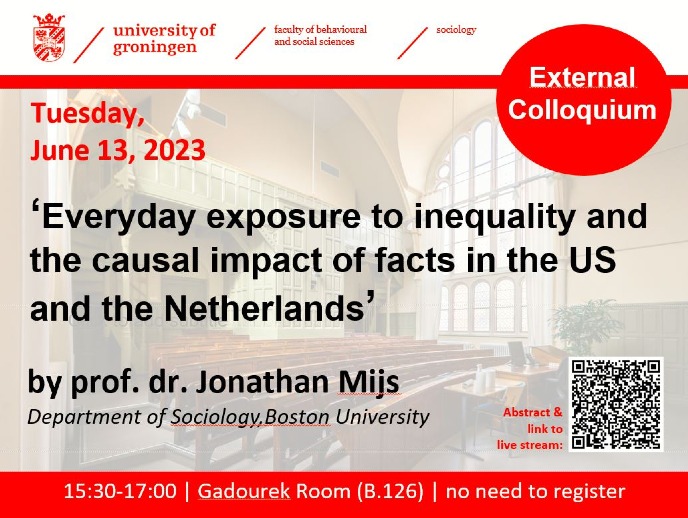 Everyday exposure to inequality and the causal impact of facts in the US and the Netherlands by prof. dr. Jonathan Mijs
Misperceptions mute public concerns about racial and wealth inequality. However, addressing misperceptions through the provision of facts has proven ineffective. Extant research is typically motivated by the active belief updating perspective, assuming that dissonance between new information and a person's previous understanding of inequalities underlies belief change. We contrast this to the resonance model, developed here, positing that new facts most impact beliefs when they echo with a person's everyday exposure to inequality. We test these contrasting theoretical expectations with an original survey experiment fielded in the United States and the Netherlands; cases similarly marked by pervasive misconceptions of social inequality. We document participants' responses to facts about wealth and ethno-racial inequality. Using detailed measures of exposure to inequality, we find conditional treatment effects corroborating the resonance model in the US and suggesting both resonance and dissonance in the Netherlands, attesting to the different politicization of inequality across these settings.
Please find here more information about prof. dr. Jonathan Mijs
Internal colloquia
During each Internal Colloquium one of our research clusters will present its current research and future plans.
They are planned on:
- October 25: NNC cluster (B.126, 15:30-17:00 uur)
- November 28: SCIO cluster (B.126, 15:30-17:00 uur)
- March 16: SNA cluster (B.126, 10:30-12:00 uur)
- May 30: FLAG cluster (B.126, 15:30-17:00 uur)
- June 15: WALM cluster (B.126, 15:30-17:00 uur)
If you have any questions about the colloquia, please contact Christine Timmerman (c.m.timmerman@rug.nl)
| | |
| --- | --- |
| Last modified: | 31 May 2023 12.02 p.m. |