Colloquia department of Sociology
External colloquium series 2022/2023
- PRELIMINARY SCHEDULE -
The Groningen Tradition
Prof. dr. Siegwart Lindenberg, Prof. dr. Tom Snijders & Prof. dr. Frans Stokman (October 13, 2022, 10:30-12:00h)
University of Groningen, NL

In the Digital Area
Prof. dr. Matthew Salganik (November 2, 2022)
Princeton University, USA
In and for the Dutch Society
Prof. dr. Mark van Ostaijen (January 18, 2023)
Erasmus University Rotterdam, NL
Migration: Issues & opportunities
Prof. dr. Miranda Lubbers (February 2023, date t.b.a.)
Autonomous University of Barcelona, Spain
Fertility & Life Course
Prof. dr. Melinda Mills (April 2023, date t.b.a.)
University of Oxford, UK
Sustainable Cooperation
T.B.A. (June or July 2023, t.b.a.)
Title & abstract October 13
Our first meeting titled "The Groningen Tradition" will feature our pensioned professors Siegwart Lindenberg, Frans Stokman and Tom Snijders, who will share some of their current perspectives on societal challenges and sociological research, drawing from their experience of spearheading Groningen sociology. The meeting will have the format of a trilateral conversation in front of an audience, in which the three professors have an exchange of thoughts on a selection of topics ranging from the history of their scientific ideas to today's standing of sociology in the Netherlands. To make this an interactive meeting, the audience is welcome to ask questions and engage in a discussion about how the Groningen tradition developed and what its distinctive features are, among other topics.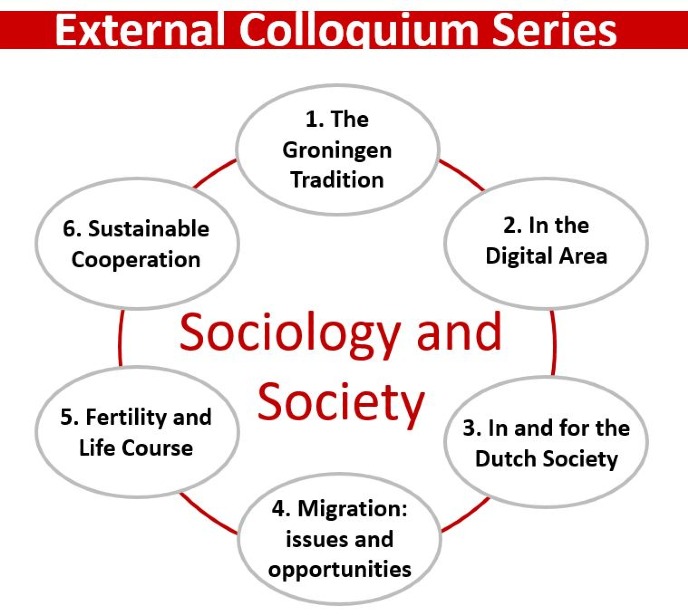 Internal colloquia
During each Internal Colloquium one of our research clusters will present its current research and future plans.
They are planned on:
- October 25: NNC cluster (B.126, 15:30-16:00 uur)
- November 28: SCIO cluster (B.126, 15:30-16:00 uur)
- March 16: SNA cluster (B.126, 10:30-12:00 uur)
- May 24: FLAG cluster (B.126, 15:30-16:00 uur)
- June 20: WALM cluster (B.126, 15:30-16:00 uur)
If you have any questions about the colloquia, please contact Christine Timmerman (c.m.timmerman@rug.nl)
| | |
| --- | --- |
| Last modified: | 16 September 2022 1.39 p.m. |