Koninkrijk in wording: diaconale voedselhulp als prefiguratieve politiek
| | |
| --- | --- |
| Date: | 14 April 2022 |
| Author: | Kirsten van der Ham, Thijs Tromp & Peter-Ben Smit |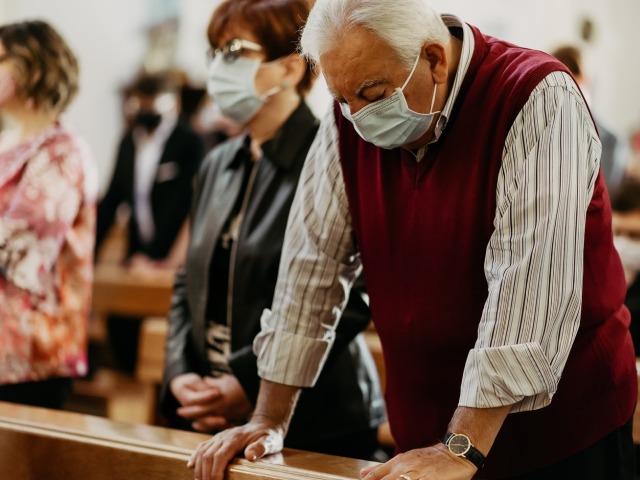 In de eerste golf van de Coronapandemie sloegen kerken in Amsterdam Zuidoost de handen ineen om voedselhulp te bieden. Zij bezorgden maaltijden en voedselpakketten aan mensen die vanwege de Covid-maatregelen niet voor eigen voedsel konden zorgen. Al snel bleek overigens dat niet alleen Covid de oorzaak van de behoefte aan voedsel was. De bijzondere oecumenische en diaconale samenwerking tussen Treasure International Ministries, Maranatha Community Transformation Centre en de Diaconie van de Evangelisch-Lutherse Gemeente Amsterdam, ondersteund door en in goede afstemming met een aantal maatschappelijke partners, zowel in het stadsdeel als ook daarbuiten, wierp licht op de maatschappelijke betekenis van kerken. Onderzoek, gepubliceerd in Religie & Samenleving, liet zien dat deze betekenis lag op het bijdragen aan sociale cohesie, aan zingeving – iets zinsvols doen, geeft zin –, en aan de ontwikkeling van de veerkracht en de empowerment van betrokkenen. Dit geldt voor mensen die voedselhulp ontvangen, vrijwilligers en professionals, allen van diverse religieuze en etnische achtergronden.
Deze blog gaat uit boven het in Religie & Samenleving gepubliceerde onderzoek en betoogt dat er nog een vierde dimensie te onderscheiden valt: de dimensie van prefiguratie. Het politiek-filosofische concept van 'prefiguratieve politiek' houdt in dat in de praktijk van een beweging of organisatie, die zich richt op een gewenste toekomst, al met die toekomst geëxperimenteerd wordt, zodat in het heden de toekomst als het ware al aanwezig wordt en het doel niet alleen de middelen heiligt, maar het doel al in de middelen om het te bereiken. Dat wil zeggen: in de praktijken van een gemeenschap krijgt het doel al gestalte. Religieuze gemeenschappen worden maar zelden vanuit prefiguratief perspectief geïnterpreteerd, maar het is belangrijk om te benadrukken dat ze, zonder zich expliciet politiek te uiten, wel een politiek signaal afgeven, door zichzelf te zijn. Dat geldt volgens ons zeker voor het religieus geïnspireerde maaltijdproject in Amsterdam Zuidoost.
Door op een bepaalde manier met zichzelf en medemensen om te gaan wordt er in de praktijk van de voedselhulp, zelfs als die soms maar een druppel op een gloeiende plaat lijkt, iets zichtbaar van de wereld waar de deelnemers naar verlangen en ook naartoe leven. Twee citaten die ook in het artikel in Religie & Samenleving voorkomen, vormen een goed aanknopingspunt voor een prefiguratieve interpretatie van deze vorm van voedselhulp.
Het eerste citaat luidt: "Iedereen die hier naar binnen loopt, wordt gezien als iemand die iets kan brengen én als iemand die hulp nodig kan hebben." Het springende punt is het woordje "hier": het geeft aan dat plek waar het project plaatsvindt anders is dan andere plekken. Deze plek, hier, hoe klein en beperkt ook, kan gezien worden als plaats waar in de omgang met elkaar iets zichtbaar wordt van een kijk op mensen, zoals die weldadig zou voor heel de samenleving. Dat mensen ontvangen worden als geschenk, als mensen die iets te bieden hebben. Wat nu slechts "hier" is, is misschien eens "overal": in de praktijk van het "hier" is die van het "eens" al voelbaar.
Een tweede citaat is Engelstalig: "We do this out of a message of universal kindness. Everyone deserves that regardless of religion, race etc. Your background doesn't matter. We give food to all." Hier staat een ander aspect van de kijk op mensen centraal: ieder mens doet ertoe. Iedereen krijgt "kindness" in de vorm van voedsel. De prefiguratieve spanning blijkt in het "we" dat benadrukt wordt en het perspectief dat uit "everyone deserves" spreekt: iedereen heeft weliswaar recht op vriendelijkheid, maar geïmpliceerd is dat lang niet iedereen het krijgt. In de praktijk van de voedselhulp is dat anders. Het soort samenleving dat dit citaat verbeeldt is al aanwezig in wat de hier aangeduide "we" al doen. In de middelen die gebruikt worden om het doel van een inclusieve maatschappij te bereiken, namelijk het voedselproject zelf, is die inclusieve maatschappij al aanwezig.
Dit oecumenische diaconale maaltijdproject levert naast een bijdrage aan materieel sociale cohesie, zingeving en empowerment dus nog een vierde bijdrage. Het biedt een prefiguratie van een toekomstige wereld, waar alle deelnemers ieder vanuit eigen perspectief naar verlangen. Deze dimensie is onherroepelijk ook politiek – of om het meer theologisch te zeggen: profetisch. Dat wat "normaal" is in het heden, een wereld waarin niet iedereen volop meetelt en niet iedereen met vriendelijkheid bejegend wordt, wordt aan de kaak gesteld door deze alternatieve praktijk. Zo bezien bevat een diaconaal project bevat altijd ook een dimensie van protest tegen de wereld zoals die is en een dimensie van verlangen naar de wereld die komt – wat in de christelijke traditie het Koninkrijk van God genoemd wordt – in zich. Een diaconaal project belichaamt het maatschappelijk waardevolle 'utopische potentieel' (Charles Taylor). Dat is wat religieuze gemeenschappen kunnen bijdragen aan de samenleving.
Wil je het hele artikel van Kirsten van der Ham, Marjolein Hekman, Mirella Klomp, Peter-Ben Smit & Thijs Tromp lezen? Dit is open access toegankelijk via Religie & Samenleving: Ham, K. van der, Hekman, M., Klomp, M., Smit, P-B & Tromp, T. (2021). 'Religieus gemotiveerde voedselhulp in de context van de Covid-19 pandemie: gemeenschap, zingeving en empowerment,' Religie en Samenleving. 16 (2) 158-175. Het onderzoek waarop dit artikel is gebaseerd is ook gepubliceerd als onderzoeksrapport: Kirsten van der Ham, Marjolein Hekman, Mirella Klomp, Peter-Ben Smit & Thijs Tromp, Food in Times of Crisis. A Practical Theological Study on Emergency Relief Provided by Churches in Amsterdam Zuidoost during the Covid-19 Pandemic (Amsterdam: PThU, 2021).
About the author
Kirsten van der Ham, Thijs Tromp & Peter-Ben Smit
Kirsten van der Ham - PhD researcher in the field of Practical Theology at the Protestantse Theologische Universiteit
Thijs Tromp - Professor at the Protestantse Theologische Universiteit
Peter-Ben Smit - Professor at the Faculty of Theology, Vrije Universiteit Amsterdam and Dom Helder Câmara Chair in Contextual Biblical Interpretation.