Kerkdiensten in coronatijd
| | |
| --- | --- |
| Date: | 28 April 2022 |
| Author: | Mark Joosse & Hans Schaeffer |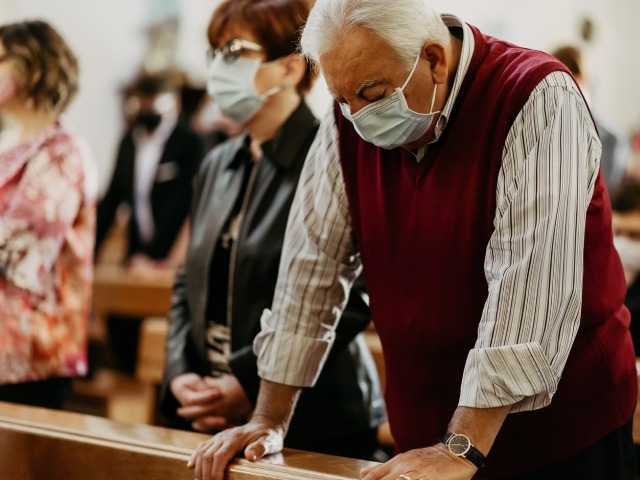 Tijdens de eerste coronagolf in de lente van 2020 verplaatsten kerken in Nederland zich snel naar het digitale domein. Tijdens die eerste lockdown begonnen kerkgemeenschappen hun diensten te livestreamen, gebruikten ze chatfuncties of Mentimeter om digitaal te communiceren, en vierden ze zelfs de eucharistie/avondmaal online. Wat is er in die periode veranderd en wat bleef hetzelfde? En hoe moeten we die (dis)continuïteiten evalueren? Zijn digitale diensten 'echt'? We voerden empirisch onderzoek uit naar hoe lokale protestantse kerken in de stad Utrecht hun diensten uitvoerden tijdens de eerste weken van de coronacrisis in Nederland. In dit blog reflecteren we op de betekenis van de verschillende ervaringen van de kerkgangers.
Ons onderzoek toont aan dat de meeste kerkgangers deelnamen in digitale diensten van hun eigen kerkelijke gemeente tijdens de eerste weken van de eerste lockdown. Zij misten de gemeenschap het meest, terwijl velen nog steeds een connectie voelden tot God. Online diensten ervoeren zij als een prima alternatief in deze (nood)situatie, maar fysiek contact blijft onvervangbaar. Echter, de ervaringen van de kerkgangers varieerden sterk: sommigen waardeerden online diensten zelfs meer dan offline.
Deze diversiteit in belevingen van de 'digitale kerk' onder kerkgangers is een belangrijke observatie. Digitale diensten sluiten mogelijkheden voor gemeenschapsvorming en belichaming niet uit: er zijn overeenkomsten tussen de aanwezigheid offline en online. De beleving van digitale diensten door kerkgangers is afhankelijk van persoonlijke omstandigheden, karakter, maar ook theologische overwegingen. Hoe verhoudt de 'zichtbare kerk' zich tot de 'onzichtbare kerk'? Hoe belangrijk zijn zintuigelijkheid en expressiviteit in christelijke liturgie? In hoeverre is christelijk geloof een individuele bezigheid?
Het theologische concept van de heilsmiddelen kan de verschillende aspecten van digitale kerkdiensten en diens ervaring met elkaar verbinden. Middelen (media) zijn altijd al gebruikt in de ontmoeting met god en gemeenschapsvorming. Boeken (de Bijbel), mensen (ouders of predikers) en gebruiken (zingen, luisteren, bidden) zijn essentieel voor de vorming van geloofsgemeenschappen. Digitale middelen, met hun voor- en nadelen, kunnen toegevoegd worden aan het palet van heilsmiddelen. Alle media hebben een eschatologische functie: de ervaren gemeenschap met God en elkaar in deze wereld, zowel online als offline, is een voorproefje van de diepe connectie die gevormd kan worden in de wereld die wij verwachten.
Wanneer de diversiteit van belevingen van digitale kerkdiensten wordt gewaardeerd en verbonden met andere perspectieven en ervaringen, inclusief de bijdragen van de traditie en de wereldwijde kerk, zien we een zoektocht naar 'katholiciteit' ontstaan. Hoe kunnen individuele gelovigen zichzelf identificeren met de zo diverse gemeenschap van gelovigen van alle tijden en plaatsen? Gesprekken over de waarde van gemeenschap en belichaming in het christelijke geloof of over wat een kerk 'echt' maakt, kunnen op deze manier functioneren als een heilsmiddel. Wij hopen oprecht dat deze discussies in deze nadagen van de coronacrisis een plek krijgen in kerken en op andere plekken.
Wil je het hele artikel Mark Joosse en Hans Schaeffer lezen? Dit is open access toegankelijk via Religie & Samenleving: Joosse, M. & Schaeffer, H. (2021). Kerkdiensten in coronatijd. Een onderzoek naar de vormgeving en beleving van kerkdiensten in de eerste weken van de corona crisis. Religie & Samenleving. 16 (2) 135-157
About the author
Mark Joosse & Hans Schaeffer
Mr. drs. M.P. (Mark) Joosse studied Theology (in Kampen) and Company Law (in Utrecht). He is an associate at PwC Legal in Amsterdam.
Prof. dr. J.H.F. (Hans) Schaeffer is a professor of practical Theology at the Theological University Kampen. He is vice-director of the research Centre for Church and Mission in the West, with the current research program 'Salvation in the 21st Century'.