Stories about HIV/AIDS and Religion
| | |
| --- | --- |
| Date: | 26 February 2013 |
| Author: | Kim Knibbe |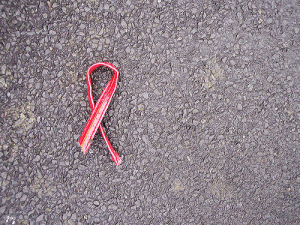 Is HIV/AIDS mainly a medical problem, a spiritual problem, a political problem or all of the above? The answer to this question determines to a very large extent how people and organizations deal with HIV/AIDS. This is true for those who are infected, those who are affected, and those who have a leadership role in the social context of 'positive people'. Worldwide, responses to the AIDS epidemic have varied widely and the role of religion is often especially controversial. What are the stories about HIV/AIDS and religion?
For many people in Africa and the African Diaspora, religion is an important factor in how they understand HIV/AIDS, and therefore also in how they propose to deal with it.
At the same time, many organizations concerned with public health and sexual and reproductive rights have a strongly secular outlook. Potentially, these two ways of understanding HIV/AIDS conflict with each other. Yet in practice, religious organizations and public health workers have found ways to bridge these perspectives. For example, in an earlier post we highlighted the role of Gideon Byamugisha in creating a network of religious leaders living with HIV, who were instrumental in creating an approach in which religious and public health perspectives are combined.
Broadly, this is the topic of a research project in the making initiated by Kim Knibbe, Brenda Bartelink and Marten van der Meulen in cooperation with Mara Foundation. On February 14th, a group of people came together to discuss a research proposal on the subject of religious and secular understandings of HIV/AIDS.
Although HIV/AIDS has become a disease one can 'live with', it still affects many people. The group consisted of people working for NGO's, public health officials and religious leaders of African dominated churches in the Netherlands. During the workshop we asked the feedback of the participants on the focus of the research, and how it could be made relevant to their work.
The discussion that emerged out of this was quite lively, and provided valuable insights. Again, the role of stories proved to be important, although on a different level. How do you reach people who do not read well or often? Who do not use the internet to find information and knowledge? Stories, told by pastors in church, told by friends, by volunteers, on the radio or on tv, are the main vehicle by which understandings of HIV/AIDS and the ways to deal with it are communicated.
This means a lot for our research: on the one hand, it means that we need to pay attention to these kinds of stories. But it also means that we need to create stories, in cooperation with our societal partner. This is a challenge we still have to think about – academics do not usually like to cast themselves in the role of story tellers, at least not willingly. After all, we supposed to be beyond any 'grand narratives'…
Initially, we thought that it might be good to create a network with the organizations and religious leaders working with HIV positive people to share knowledge and experience regarding the roles of religion and secularity. However, after their feedback we realized that this might be useful for them to exchange experiences, practices and knowledge, but after a few meetings this would peter out.
Rather, they suggested, we should make sure that the findings of the research became known in the existing networks and meetings on HIV/AIDS and sexual health. In these circles, the role of religion is often overlooked. Nor is there much room on the question how the secularist assumptions of many of the organization working with HIV/AIDS might (negatively) influence the ways these organizations are able to connect to people living with HIV and their religious leaders in the African Diaspora.
At the moment, we are busy finalizing the proposal and integrating the results of the workshop. Of course, we hope to secure the funding and have many more stories to tell on this subject in future.
Kim Knibbe is assistant professor in the sociology of Religion at the University of Groningen. She is developing this proposal in cooperation with Brenda Bartelink and Marten van der Meulen.
Comments