Religion and the Public Domain
| | |
| --- | --- |
| Date: | 06 December 2012 |
| Author: | Maria Vliek |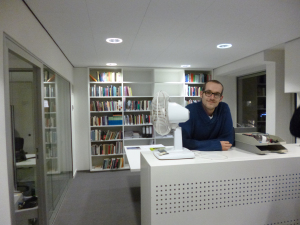 Continuing our series on the Master Programs at the Faculty of Theology and Religious Studies in Groningen, today Jon Elbert shares his experiences from the Master in Religion and the Public Domain.
When making the decision to engage in a Master's program at the Faculty of Religious Studies, I had to make clear what I wanted to know about religion. Two questions arose immediately: "What is religion?" and "What role does religion play in contemporary society?" Both questions have no straightforward answers. We have no definition for religion that is sufficient in all situations, and there is no scheme that allows us to point out where religion is present in society and where it's not.
What we can do is think about the relations between religion and society, between religion and power, between religion and economics et cetera. When investigating these questions, the relations between religion and the 'public domain' turn out to be complicated and blurred. Oppositions we take for granted – for example public vs. private, religious vs. secular – aren't as strict as we tend to depict them. Instead these concepts are fluid. It is this fluidity that the Master's program is about.
The Master consists of writing a thesis, doing an internship, and three courses: 'Theorizing Religion in the Public Domain', 'Christian Cultural Heritage' ('CCH') and 'The Invention of the Secular'. Theorizing Religion in the Public Domain emphasizes mainly the question that I mentioned above: What conceptions of religion are present in the public sphere? CCH approaches this question from another perspective, being: How do we relate to our material religious heritage, like churches, relics and so on? If churches are losing their function as places of worship, what are they to us? By posing these questions, the course gives a very practical insight in the presence of religion in our 'modern', 'secular' society. The course 'The Invention of the Secular' will start in the second semester, therefore I can't say much about it yet.
The more you come to know about religion, the more complicated it gets. But it is possible to explore its boundaries. That is what we do in this Master's program. Though sometimes very theoretical, in my opinion we are doing exactly that which is the duty of Religious Sciences: Show how religion is not a domain that stands apart from the public domain. Religion and the public domain are in constant interaction, and often overlapping. Studying Religion and the Public Domain in Groningen is the place to investigate this relationship.
Jon Elbert is currently undertaking a Master in Religion and the Public Domain in the Faculty of Theology and Religious Studies, University of Groningen
Comments