Religie & Verkiezingen: vooronderstellingen en gevolgen
| | |
| --- | --- |
| Date: | 16 September 2012 |
| Author: | Tim Swanger |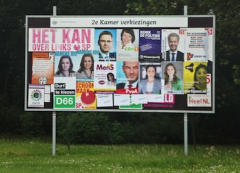 Hoewel religie nauwelijks een rol heeft gespeeld bij de afgelopen verkiezingen, zullen de gevolgen van de uitslag voelbaar zijn voor personen met een bepaalde religieuze achtergrond. Eén ding lijkt namelijk zeker: deze verkiezingsuitslag betekent het einde van de weigerambtenaar. Want hoewel de VVD en de PvdA op veel punten ver uit elkaar liggen, zijn deze partijen het eens over het thema van de gewetensbezwaarde ambtenaar van de burgerlijke stand. Deze typische Nederlandse polderoplossing – waarbij het enerzijds mogelijk was voor homostellen om te trouwen, en anderzijds de mogelijkheid open liet voor gewetensbezwaren bij de ambtenaar, waardoor hij of zij niet verplicht was ieder stel te trouwen – lijkt zijn langste tijd gehad te hebben.
Het feit dat homostellen hier mogen trouwen, betekent volgens VVD en PvdA dat iedere ambtenaar bereid moet zijn dit huwelijk te voltrekken, omdat een ambtenaar in overheidsdienst de wet moet uitvoeren. En hoewel dit argument redelijk klinkt, heb ik de afgelopen maanden gemerkt dat deze voorgenomen maatregel deel uitmaakt van een bredere tendens, die pijnlijk is voor een deel van de religieuze burgers. In gesprekken die ik heb gevoerd met protestanten uit de rechterkant van het religieuze spectrum, kwam naar voren dat in deze groep het gevoel leeft dat er vanuit de overheid een zeer negatieve houding ten opzichte van religie is ontstaan. Waar Nederland altijd bekend stond om haar tolerante houding ten opzichte van minderheden, lijkt het orthodox-religieuze minderheidsstandpunt op steeds meer punten te worden ingeperkt door de seculiere overheid.
We leven in een post-seculier tijdperk, en zoals Erin Wilson in de eerste blogpost aangaf, kan 'post-seculier' worden opgevat als descriptieve beschrijving van een periode waarin religie een mogelijke optie is naast andere opties. Dit uitgangspunt lijken veel van mijn respondenten te delen en heeft voor hen bepaalde implicaties. De overtuigingen die ten grondslag liggen aan de standpunten van niet-religieuze partijen en aan het seculiere overheidsbeleid, zijn volgens hen net zo ontoetsbaar, niet-wetenschappelijk en irrationeel als hun religieuze overtuiging. Dat verschillende denkers, met name in de filosofisch liberale traditie, ervoor gepleit hebben dat religieuze argumenten geweerd moeten worden uit publieke debatten, is voor mijn respondenten dan ook onbegrijpelijk. Volgens hen is een religieuze overtuiging niet wezenlijk anders dan een socialistische, atheïstische of liberale overtuiging. Geen enkele partij en geen enkele overtuiging kan neutraliteit claimen, omdat zij altijd gebaseerd is op niet-rationele gronden. Eén van mijn respondenten pleitte er dan ook voor dat er in de politiek vaker, in plaats van minder vaak, plaats moet zijn voor de achterliggende overtuigingen.
Wanneer we dan met dit inzicht opnieuw kijken naar het voorbeeld van de weigerambtenaar, lijkt het niet-religieuze argument wel heel redelijk, maar zijn ook hier bepaalde achterliggende vooronderstellingen. Het belang van de emancipatie van homoseksuelen en de voorrang die wordt gegeven aan het gelijkheidsprincipe boven de vrijheid van godsdienst, liggen ten grondslag aan de overtuiging dat iedere ambtenaar, ongeacht persoonlijke overtuiging, homostellen zou moeten trouwen. Deze vooronderstellingen worden nauwelijks uitgesproken, waardoor het lijkt alsof de argumentatie volstrekt rationeel is, en het religieuze tegenargument irrationeel is. Deze tegenstelling lijkt echter te kort door de bocht, en laat in dit geval zien dat, hoewel religie nauwelijks een openlijke rol heeft gespeeld bij de afgelopen verkiezingen, de achterliggende overtuigingen wel degelijk pijnlijke gevolgen kunnen hebben voor bepaalde religieuze burgers. Het is voor hen te hopen dat er nog iets over is van de ooit zo geprezen Nederlandse tolerantie.
Renée Wagenvoorde doet onderzoek naar de relatie tussen religie en burgerschap aan de Rijksuniversiteit Groningen
Comments