Humanities: down to business?
| | |
| --- | --- |
| Date: | 05 July 2013 |
| Author: | Religion Factor |
In this post, Elske Kroondijk and Erik Meinema consider the increasing influence of market discourses on academic practice, and reflect on the question how scholars and students in the Humanities can engage with this development.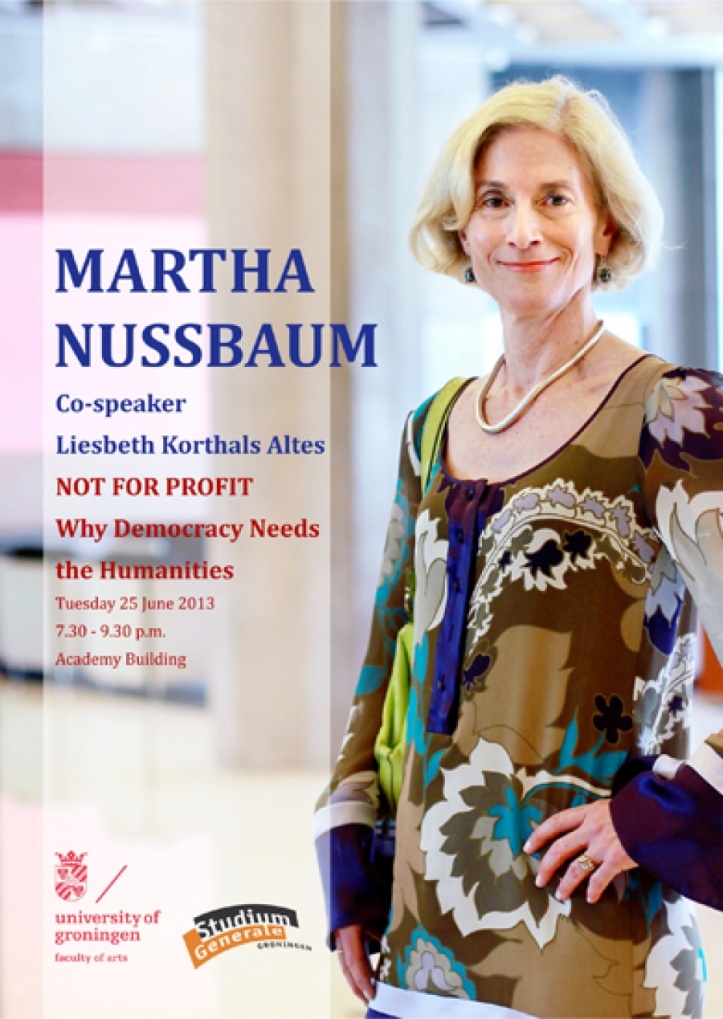 On June 25, professor Martha Nussbaum gave a public lecture at the University of Groningen to critically discuss global trends she observed within the Humanities. Nussbaum argued that due to the dominant focus on national economic growth, the value of the arts in research and education is no longer self-evident. In relation to this development, many humanities departments and faculties worldwide have been faced with budget cuts. Theology and Religious Studies have seen significant effects of this increasing emphasis on marketization, with numerous Faculties being downgraded to departments, merged with other departments or closed entirely. In defense of the Humanities, Nussbaum argued that the Humanities are necessary for a well-functioning society as it can play a vital role in creating critical, self-reflective and morally and ethically developed citizens. This echoes arguments made by Richard Wollin in 2005 specifically in relation to religions, stating that they possess a much-needed "ethic of otherness" that can offset "the global dominance of competitiveness, acquisitiveness, and manipulation that predominate in the vocational sphere."(1) Although Nussbaum's arguments in favor of the humanities are strong, the global developments also directly affect Dutch universities, as humanities faculties and departments experience financial trouble and an increasing influence of market rationalities on university practice.
For example, journalist Marcel ten Hooven recently described in the weekly newsmagazine 'De Groene Amsterdammer' how neoliberal market rationality increasingly influences academic practice at the Free University of Amsterdam (VU) (2). Ten Hooven argues that the VU is run by its university board the way managers run businesses. In an effort to maximize results and beat competitors, scholars and students are subjected to a constant evaluation of their 'quality', that subjects their professional freedom to market goals. For example, when assessing the quality of research, there is much more attention for the number of publications and citations than the content or relevance of academic work. At the same time non-profitable studies are being cut due to budget restrictions (3), while students may face removal from their studies if they do not finish within a specified time (4).
VU philosopher Ad Verbrugge argues that in all their efforts for market conformity, universities have forgotten that they have an important cultural and social role that needs to be reflected upon. When focusing on the cultural and social mission of universities, students and scholars are no longer a collection of individuals who are each other's competitors, but part of an academic community that cooperates and reflects on the contributions they can make to Dutch society and beyond. The suggestion of Verbrugge asks for a reconsideration of the incentive and aims of universities within broader society.
It can be argued that such a reconsideration may be specifically desirable at the VU because it is a university with Calvinist origins, while state universities such as the University of Groningen need to remain ideologically 'neutral'. We however not only think that the neutrality of market ideologies can be questioned, but also that state universities such as the University of Groningen have cultural and social aims that do not necessarily harmonize with market rationalities. What drives scholars to do their research? How can research contribute to Dutch society, the global community or the environment? What does a university aim to teach its students? What roles can graduates play in society? These are questions that do not have any easy answers. However, we believe that these questions should be part of daily practice within all universities.
In line with professor Nussbaum, we would also like to suggest that the humanities can have a pioneering role in the critical self-reflection on what inspires us and the position our daily academic work occupies within society. As experts on ethical, cultural, social and religious views and ideals, scholars in the humanities are very well equipped to deal with questions related to the meaning and purpose of being a university in society. However, the above example from the VU shows that market rationalities are not only an outside force that puts pressure on the humanities, but also increasingly influences the Humanities from within. This development challenges the expert potential that Humanities scholars and students have. Therefore, in addition to the perspectives offered by Martha Nussbaum, we feel that the value of the humanities within society cannot be presumed, but needs to be constantly strived for by scholars, students and universities themselves, in close dialogue with society as a whole.
Based on the above considerations, we can be inspired by projects and initiatives that other universities undertake. Motivated by the idea that reason and measurability are not the only decisive factors in science, the VU has launched the project VU-connected, a platform that connects science, knowledge and expertise to current issues in society. In the context of a current issue like healthy aging, VU-connected combines theory with practice by growing their own vegetables and organizing lectures about healthy food. Within the project, questions about the meaning of being a university and the meaning of knowledge are being dealt with, while the ideological roots of the VU are explicitly acknowledged (5).
The slogan of the University of Groningen is 'working on the frontiers of knowledge'. In our opinion, ideals, inspiration and critical reflection on the roles universities have in society can better inform us how and where we can best work on broadening our frontiers than business ideals.
Elske Kroondijk is a master student Spiritual Care and Philosophy in Groningen. She holds a Bachelor degree in Religious Studies and Philosophy, within which she focused on ethics, philosophy of science and technology and the spirit of capitalism.
Erik Meinema is a recent graduate of the Research Master Religion and Culture in Groningen who did fieldwork on sexuality and youth in Kenya and Uganda and youth peacebuilding initiatives in Ambon, Indonesia.
(1) Wollin, R. 2005. "Jurgen Habermas and Post-Secular Societies" The Chronicle of Higher Education. 52(5): 16
(2) http://www.groene.nl/2013/20/uw-5-kost-mij-twaalfduizend-euro?key=5711f400-9fc4-0130-4762-6eca368621db
(3) See also: http://www.ukrant.nl/opinie-blogs/open-brief-aan-college-van-bestuur-rug.html
(4) See also: http://www.volkskrant.nl/vk/nl/3184/opinie/article/detail/3452355/2013/06/04/Op-de-universiteit-gebeurt-alles-in-naam-efficientie-bedankt-neoliberalisme.dhtml
Comments