Biography of Piet Mondrian's early years (1872-1919)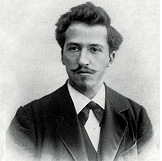 Mondrian grew up in a religious family in Amersfoort and Winterswijk; his arch-Calvinist father, a schoolmaster, espoused views that eventually became seminal to America's Religious Right. He moved to Amsterdam to study at the Rijksacademie and, although purportedly a traditional academic painter, showed his independence and intensity from the start. He soon became a pioneering modernist, breaking the boundaries of color and composition. In 1912, he moved to Paris, where he painted his own version of Cubism. During the First World War, back in the Netherlands, he began to paint more abstractly, became friendly with the artists who developed De Stijl, and became a serious ballroom dancer. In 1919, Mondrian returned to Paris, never again to go back to the Netherlands.
Who was this unique individual who seemed to live only to paint and write in order to promulgate pure abstraction as the salvation for humankind? What was the impact of his childhood as the eldest son of Johanna Christina de Kok (1839-1909,) from a mercantile family, and Pieter Cornelis Mondriaan Sr. (1839-1921)? Mondriaan, Sr. was a dour theologian, unwavering in his conservatism and believed that church and state should be one, but Weber believes that his reputation as an irascible tyrant in all the literature to date leaves out the extent of the support he offered his namesake. Weber also considers the impact of Mondrian's Uncle Frits, a successful painter in the style of the widely accepted Hague School who forced his nephew to drop the second 'a' of their shared last name so that the public who lined up to buy Frits's work would not confuse him with the younger Mondriaan who painted wild yellow skies and pink windmills.
This detailed overview of the years from Mondrian's birth until the artist's return to Paris after the first world war will explore the human relationships, including a broken engagement to marry, and shed new light on his everyday life. It also pays a new level of attention to Mondrian's writing, most especially a play he wrote for three characters, to increase our understanding of the rare homogeny and cohesiveness of the artist's deliberate solitude, his artwork, and the personal philosophy he developed and then applied to an exceptional extent to every aspect of his existence.
Many books about Piet Mondrian have been published since the artist's death in 1944. Yet there is still a lacuna. The 1956 book on Mondrian by his friend and admirer Michel Seuphor codified incorrect information and created a false image of the artist that have until now had a lasting effect. The 1998 Catalogue Raisonn é by Joop M. Joosten and Robert P. Welsh is indispensable for Mondrian research, but it, too, created errors about Mondrian's life that have been repeated since. The 2015 De schepping van een aards paradijs. Piet Mondriaan 1919-1933 by L é on Hanssen is accurate, but focuses Mondrian's later years. The biography Piet Mondriaan. Een nieuwe kunst voor een ongekend leven (2016) by Hans Janssen, a curator of the Gemeentemuseum, more closely considers the art works and, contrary to Hanssen, does not portray the artist as a hermit but more as a lothario whose life informed his art. Weber's dissertation, thoroughly researched through letters, interviews, and the archives about Mondrian in various countries, deliberately avoids a single doctrine or opinion but, rather, provides copious new insights at the same time that it acknowledges the mysteries Mondrian carefully guarded. While presenting Mondrian's first forty-seven years in the context of the artist's surroundings and the pertinent shifts in European culture that impacted him − including the growth of Theosophy, political anarchism, the development of modern music, the building of new museums, and both the support of and opposition to radical ideas about art and architecture. It will demonstrate that, regardless of his many contacts with members of the avant-garde, Mondrian always chose his own singular path. The artist, to an unequalled extent, made the creation of an art that was universal, and unrelated to epoch or location or individuality, to sole goal of his life, and his all-consuming, obsessive insistence on avoiding the personal and the natural in deference to the unique territory made only of straight horizontal and vertical lines and unmodulated primary colors is examined in depth. Given that the artist repeatedly insisted that, as unnatural as those lines were meant to be, the horizontal were female and the vertical male, and given that he led a more complex personal life than most people know, it is fertile territory.
Weber has defended his dissertation on September 20, 2018, 12:45 hrs. at the Academy Building
Nick Weber has published among other biographical studies:
Balthus , Alfred A. Knopf, Inc., New York 1999; C'Etait Le Corbusier, Editions Fayard, Paris 2009; The Bauhaus Group. Six Masters of Modernism , Alfred A. Knopf, Inc., New York 2009 and Freud's Trip to Orvieto: The Great Doctor's Unresolved Confrontation with Antisemitism, Death, and Homoeroticism; His Passion for Paintings: and the Writer in His Footsteps, Bellevue Literary Press, New York 2017.
This PhD-research will be supervised by prof. Hans Renders and dr. Peter de Ruiter.
Interview with Nick Weber on his biography of Mondrian in Parool, 1 september 2018
Nick Weber was interviewed on occasion of his PhD defense.
| | |
| --- | --- |
| Last modified: | 28 September 2018 4.49 p.m. |