Biography P.J. Bouman
Who will avert the rebellion of the masses?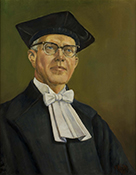 Pieter Jan Bouman (1902–1977) called himself a double-natured man. He was a founder of Dutch sociology, the historian with the most sold historical books of the twentieth century and a capable Director of the University of Groningen. But he was not beyond reproach and his books were characterized as 'unscientific'.
As a 14-year-old boy, Bouman was transferred from the paradise like Dutch East Indies to the modern day harbour city of Rotterdam. The Netherlands turned out to be exactly the country he did not want to be in. He was constantly looking for a grip on life and a position in Dutch society. He decided to 'read his way up' to give spiritual guidance in disrupted times and stop the increasing dominance of the masses. But in his first publications Bouman mistook the wrong way for the right.
Bouman destroyed his diary, started again and underwent a nearly complete metamorphosis. He became a respected professor of sociology whose handbook, Sociology, concepts and problems trained many generations of sociology students. He also wrote the bestselling Revolution of the Lonely. Bouman became the public culture bearer he wanted to be and was much in demand as a speaker.
This biography is both a story of a life and a portrait of an era. A biography and at the same time a cultural history. A tale of a life in times of world wars, major social changes, many ideologies and philosophies, progressive thinking and fatalistic thinking. Bouman got all of it and experienced it intensely. It distressed him but he tried to rise above it by telling about it.
The public defense of this thesis took place on January 23, 2020. Supervisors of this project of Co Strootman were Prof. Klaas van Berkel and Prof. Hans Renders.
E-mail: c.strootman inter.nl.net
Interview Reformatorisch Dagblad, February 7, 2020
Recensie Wim Berkelaar in OVT (NPO Radio 1)
| | |
| --- | --- |
| Last modified: | 03 August 2021 10.50 a.m. |