Biography P.J. Bouman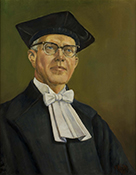 At the age of thirty Pieter Jan Bouman (1902-1977) took a task upon himself: 'to be a spiritual leader in a dislocated time'. To this end he wrote several books, which made him the most famous and widely read historian in the 1950's. In Bouman's books the point of focus are his fellow creatures with their personal fortunes and perception of history. His Revolution of the lonely (1953) became a best-seller with thirty-four print and translated into eight languages. Bouman, from 1946 professor of sociology in Groningen, was often asked as a speaker and had an extensive network: journalists, university colleagues at home and abroad, entrepre-neurs, ministers and members of the Royal family.
Historians were unhappy with the work of Bouman. His so-called 'free books' were firmly criticized and vilified. The publications were said to be unscientific and shoddy works. Bouman was convinced, however, that his 'free books' should not be assessed scientific but still could meet the highest standards.
Within the sociological world Bouman with his socio-cultural attitudes found himself in an equally awkward position. When starting in Groningen he brought his own manual of sociology. Many generations of sociology students were trained this way. But when in the early 1950's the so-called 'modern' sociology became dominant, attitudes such as Bouman's classic socio-cultural concept were seen as irrelevant.
Bouman harboured a distrust of science and preferred not to use the title of professor. At his retirement in 1968 he refused to be portrayed in cap and gown. Twenty years later the university restored this omission. It symbolizes the struggle with science Bouman engaged in virtu-ally all his life. In the domain of science he didn't want to feel at home, it was the perfect place for him to be out of place. And yet he belonged there and did what he had to do. He wrote several scientific publications, was proud to be rector magnificus and happy to be free of its burden.
Never before have Bouman's fight with science and cause of his popularity been examined in a full biographical approach. The biography reveals an almost unknown Bouman: the obsessive labour on his project of life and his underlying motives, his simultaneous fight against and service to science. The biography shows Bouman as a self-appointed culture carrier who sometimes took a wrong turn, but above all gained success and fame.
Supervisors of this project of Co Strootman are Prof. Klaas van Berkel and Prof. Hans Renders.
E-mail: c.strootman@inter.nl.net
| | |
| --- | --- |
| Last modified: | 04 May 2018 11.59 a.m. |