Biography Petrus Tammens

Petrus Tammens was 'by far the least popular mayor of Groningen', wrote town historian Beno Hofman in his book about the men who have headed the municipal offices of the city Groningen until today. Tammens was probably also the one who had least hoped that he once would fulfill the office, which he did from 1943 to 1945. After the German occupiers removed prewar mayor P.W.J.H. Cort van der Linden from office, the Dutch collaborationist National Socialist Movement (NSB ) searched for a suitable successor for a long time. Several candidates dropped out, mostly because they accepted another post. Finally, the choice was made for the farmer Tammens from the Groningen agrarian village Ruigezand. Until then, he held various managerial positions in agricultural organizations and assisted as administrative council member the commissioner of the province, his party colleague C.F. Staargaard. Letters show that Tammens in first instance refused to accept the position. However, there were not many suitable candidates for the NSB, and Tammens yielded to the pressure exerted on him personally by the national NSB-leader Anton Mussert. In the beginning of 1943, the inauguration took place, with much national-socialist display of power.
Peter Romijn made a distinction between two types of NSB-mayors in his study Burgemeesters in oorlogstijd [Mayors in wartime]. The first group of mayors aimed to prove that nazis could be good mayors. Some of them even managed to gain a certain popularity in their community. The other group of mayors consisted of convinced national-socialists who seized the public office to achieve a political goal. This group mostly consisted of hawks. This biography will demonstrate that Tammens belonged to the second category. Furthermore, Tammens also is a type of individual that has not been studied in a Dutch biography before: a combination of governor, farmer and NSB-politician.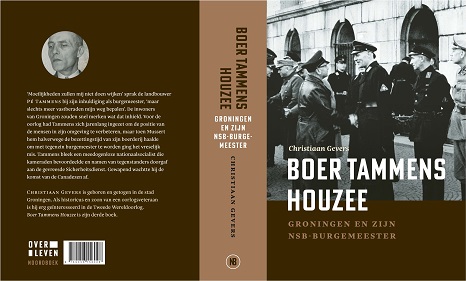 Chris Gevers successfully defended his thesis on May 7, 2020, 14.30 hrs. in the aula of the Academybuilding. The ceremony took place online and can be seen here. The biography Boer Tammens Houzee appeared in the series Over Leven (Noordboek Bornmeer Publishers).
christiaangevers@gmail.com
The biography was announced in Dagblad van het Noorden, the Westerkrant, Ommelander Courant, Blad voor Noord-Groningen and RTV Noord. Gevers gave an interview in UKrant and on NPO Radio 1.
Reviews of Boer Tammens Houzee can be found on Biografieportaal en Traces of War.
This research was supervised by Prof Hans Renders and Prof Doeko Bosscher. More information: biografie.instituut rug.nl
| | |
| --- | --- |
| Last modified: | 03 August 2021 10.46 a.m. |