Biography of Nanne Ottema (1874-1955)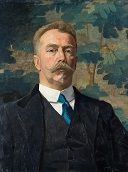 The wealthy notary Nanne Ottema, collector, art historian, publicist, director, politician, campaigner for natural and cultural heritage, museum founder and philanthropist, was an important figure for both Friesland and the Netherlands as a whole, particularly with regard to cultural heritage and architecture. He assembled a large art collection of some 30,000 objects, including in particular many examples of the art and craft of Friesland and of Asia, with a particular focus on Chinese porcelain. In 1943, informed by his own collection, he published his book Chinese Ceramics, a volume renowned by connoisseurs the world over. He also assembled a large library of outstanding quality. Part of his collection was incorporated into the museum, Keramiekmuseum Princessehof, which he founded in 1917, and on his death he left the collection, together with his other possessions, to the Ottema-Kingma Foundation.
Today Nanne Ottema is something of an unknown figure; somebody whose name is only recognised by specialists in the field, and then principally in connection with the Keramiekmuseum Princessehof. Most of what has been written about Ottema can be traced back to a somewhat moralistic and unbalanced 1957 biography by J.J. Kalma. Leaving aside the question of whether the negative tone of that biography was justified, it is striking that it consigns Ottema's undoubted merits and achievements to the background and makes virtually no mention of many of his diverse activities.
This new research into the life and work of Nanne Ottema does something to re-establish his image, examining whether the negative character sketch of the biography was justified, and also evaluating some of Ottema's activities which have remained relatively neglected until now. Ottema was clearly a multifaceted and active character, and someone who left an important mark on the cultural life of Friesland in a time of far-reaching societal change during the first half of the 20th century.
In terms of his societal activities, Ottema was powerfully driven to improve the well-being of Friesland and Leeuwarden. What were his motives for this? Did he really hope to make the world a better place in the region closest to his heart, or did he merely hope that these endeavours would bring him enhanced status?
Little is known about Ottema's private life. In 1900, he married Grietje Kingma (1873-1950), the daughter of a rich farming couple who had died young. Was this true love, or an advantageous marriage from a business standpoint? Grietje spent a good deal of her time away from her husband in Corsica and Zandvoort for medical reasons, and the absence of his wife allowed Ottema the opportunity to throw himself heart and soul into his other activities. For nearly 40 years, Ottema, together with his childhood friend Pieter C.J.A. Boeles, was a pivotal figure in the Fries Genootschap, set up in 1827. This association supported many initiatives related to research into Friesian history and culture and was also the founder and curator of the Fries Museum. This new research has made some contribution to what is known about the role of Ottema, via the Genootschap, on cultural policy in Friesland between the wars.
As the chairman of the Genootschap, Nanne Ottema was emphatically confronted with the Friesian language by virtue of the Friesian movement, a group which campaigned for the use of the language among other things. What was Ottema's standpoint on this? Attention has also been given to the friendship between Ottema and Anne Tjibbes van der Meulen (1862-1934), a unique and adventurous figure from Bergum who collected Asiatic art and ethnographica. Ottema took over his collection, and in doing so, began the process of founding the Princessehof Museum. Was Van der Meulen the free and easy adventurer that Ottema had always wanted to be?
During the Second World War, Ottema was active in areas that put his attitude towards the occupier to the test, but this research has principally been directed towards his roles as collector, notary, curator, member of the management of the De Harmonie theatre and lover of folk art. The image that exists of Ottema is that of a collector who would buy anything that wasn't actually nailed down. A distinction should be made, however, between the collecting of porcelain on the one hand (Chinese in particular) of which he built up an indisputably well-reasoned collection, and of Friesian objects on the other. When it came to the Friesian collections his buying did indeed often border on the obsessive, but it must not be forgotten that he did assemble some important sub-collections. So was Ottema a collector of the 19th-century stamp, entirely in the tradition of the Genootschap and other similar associations, or was he more typically a 'child of the time' in his collecting; a time in which the antique was very much in fashion?
In terms of his standing in society, Ottema certainly prospered, yet he had left school without any qualifications, and in the field of art he was a true autodidact. This biography examines Ottema's anxiety that he might be seen as a dilettante, and his attempts to avoid such a label. From a consideration of the scope of Ottema's collecting activities, together with his many publications, it is clearly evident that he had enormous ambition. Is this proof enough that he was more than an amateur who merely dabbled in art?
This research was conducted by Antoon Ott (1972), who studied art history and law in Leiden. Under the guidance of Prof. Hans Renders and Prof. Goffe Jensma, Ott successfully defended his thesis on July 7, 2022. The ceremony, that took place in the Grote Kerk of Leeuwarden, was attended by more than 250 people. The Friesch Dagblad and Biografieportaal.nl published an extensive interview with Ott. The book was reviewed in Fryslân, on Biografieportaal.nl and in Vormen uit vuur.
E-mail: info artilaw.nl
Tel. 020-6767637
| | |
| --- | --- |
| Last modified: | 05 June 2023 10.42 a.m. |