The Biography of Loe de Jong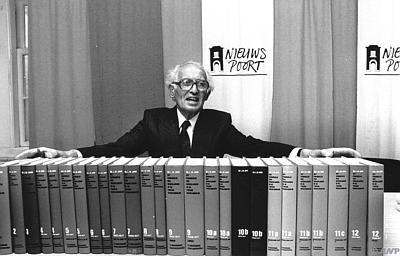 Boudewijn Smits wrote the biography of Loe de Jong (24 April 1914 – 15 March 2005). He was appointed to a PhD position by the Institute of Biography on 1 September 2005. This research project, under the guidance of Prof. Dr. Hans Renders, is conducted in cooperation with Prof. Dr. Hans Blom and Prof. Dr. Peter Romijn of the Netherlands Institute for War Documentation (NIOD) in Amsterdam. Boudewijn J. Smits (1960) studied Socio-economic History at the University of Groningen and completed his M.A. degree in Contemporary History at the University of London. Thereafter, he worked as a training and organisational adviser. For the past decade, he was Scientific and Educational Publisher at Elsevier Science in Amsterdam and at Wolters-Noordhoff in Groningen.
As a historian, radio and television personality and as the director of the erstwhile National Institute for War Documentation, Loe de Jong made his mark on the Good vs. Evil debate. His moral leadership was inextricably bound to the series 'Het Koninkrijk der Nederlanden in de Tweede Wereldoorlog' (The Kingdom of the Netherlands in the Second World War) (1969-1988). This research project is a valuable contribution to the historiography of the occupation of the Netherlands. It is of vital importance in writing the history of public opinion in the second half of the twentieth century and the subsequent development of a multiform, opinion forming media.
Click here for a summary of the research project.
Video registration PhD ceremony
http://www.biografieloedejong.nl
Review VPRO Boeken (http://boeken.vpro.nl/televisie/boeken/2014/27-april.htm)
Review NRC Handelsblad 25 April 2014
Review Trouw 25 April 2014
Review Historisch Nieuwsblad June 2014
Review De Groene Amsterdammer 27 August 2014
Review Geschiedenis Magazine 49(2014)
Interview Trouw 15 August 2015
Review BMGN-Low Countries Historical Review 130(2015)3
E-mail: B.J.Smits@rug.nl
| | |
| --- | --- |
| Last modified: | 27 February 2019 2.13 p.m. |