Publieksacademie lezing 'Erfrecht' 9 november 2016
Wanneer:

wo

09-11-2016 19:00 - 21:00
Waar:

Academiegebouw, Broerstraat 5, Groningen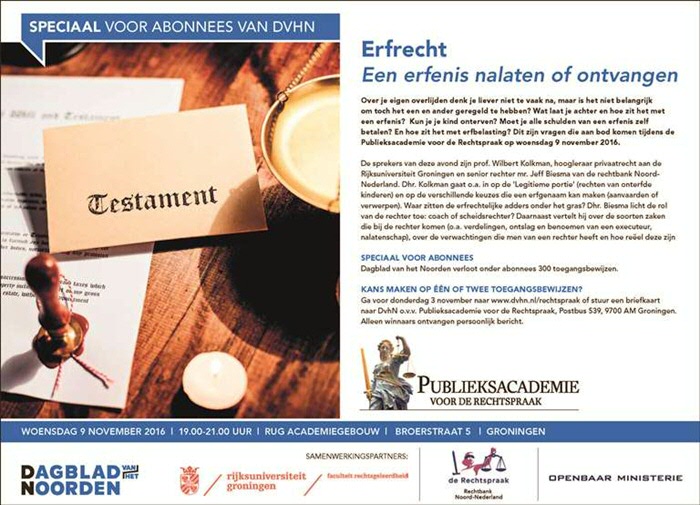 Erfrecht, een erfenis nalaten of ontvangen
Over je eigen overlijden denk je liever niet te vaak na, maar is het niet belangrijk om toch het een en ander geregeld te hebben? Wat laat je achter en hoe zit het met een erfenis? Kun je je kind onterven? Moet je alle schulden van een erfenis zelf betalen? En hoe zit het met erfbelasting? Dit zijn vragen die aan bod komen tijdens de Publieksacademie voor de Rechtspraak op woensdag 9 november 2016.
De sprekers van deze avond zijn prof. Wilbert Kolkman, hoogleraar privaatrecht aan de Rijksuniversiteit Groningen en senior rechter mr. Jeff Biesma van de rechtbank Noord-Nederland. Dhr. Kolkman gaat o.a. in op de 'Legitieme portie' (rechten van onterfde kinderen) en op de verschillende keuzes die een erfgenaam kan maken (aanvaarden of verwerpen). Waar zitten de erfrechtelijke adders onder het gras? Dhr. Biesma licht de rol van de rechter toe: coach of scheidsrechter? Daarnaast vertelt hij over de soorten zaken die bij de rechter komen (o.a. verdelingen, ontslag en benoemen van een executeur, nalatenschap), over de verwachtingen die men van een rechter heeft en hoe reëel deze zijn.
Aanmelden
Wilt u bij deze lezing aanwezig zijn? Meldt u zich dan aan via het aanmeldingsformulier op de website van het Dagblad van het Noorden. De lezing is in eerste plaats toegankelijk voor abonnees van het Dagblad van het Noorden. Bent u geen abonnee? Dan komt u op de wachtlijst en ontvangt u bericht zodra er een plek voor u beschikbaar is.
De Publieksacademie voor de Rechtspraak
Met laagdrempelige lezingen komt de Publieksacademie voor de Rechtspraak tegemoet aan de grote belangstelling voor de rechtspraak. Deskundigen zoals rechters, officieren van justitie en hoogleraren vertellen over thema's in het recht waar veel mensen mee te maken krijgen.
De Publieksacademie voor de Rechtspraak is een samenwerking tussen de Rechtbank Noord-Nederland, de Faculteit Rechtsgeleerdheid van de Rijksuniversiteit Groningen, het Openbaar Ministerie/Arrondissementsparket Noord-Nederland en het Dagblad van het Noorden. De lezingen zijn geschikt voor een breed publiek. Kennis over het recht is niet nodig om te lezingen te kunnen volgen.