New Publications
Kingston, S, Wang, Z, Alblas, E, Callaghan, M, Foulon, J, Lima, V, Murphy, G (2021). The Democratisation of European Nature Governance 1992-2015: Introducing the Comparative Nature Governance Index
The authors' findings provide strong empirical confirmation of the democratic turn in European environmental governance, while revealing the singificant divergences between legal systems that remain absent express harmonisation of the Aarhus Convention's principles in EU law, based on unique datasets and the NGI. The authors furthermore set foundations for future quantitative legal research, enabling deeper analysis of the relationships between the different levels of multilevel environmental governance.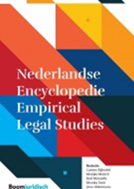 Bijleveld, C, Akkermans, A., Malsch, M., Marseille, B., Smit, M. (red.) Nederlandse Encyclopedie Empirical Legal Studies. Den Haag: Boom Juridisch (to be published on November 3, 2020).
In this first edition of the Dutch Encyclopedia of Empirical Legal Studies, 33 authors (including many researchers from the Faculty of Law in Groningen) discuss the findings of Dutch empirical legal research in their legal fields over the past 25 years. For more information (and a discount for pre-orders!), see this link.
---
Bex-Reimert, V. M., Marseille, A. T., Wever, M., Winter, H. B., & de Winter, P. (2020). Evaluatie wijziging van de Rijkswet op het Nederlanderschap in het belang van de nationale veiligheid. Groningen: Rijksuniversiteit Groningen - Faculteit der rechtsgeleerdheid.
Section 14.4 of the Netherland Nationality Act section gives the Minister of Justice and Security authority to revoke Dutch citizenship of volunteers who have joined a terrorist organisation that presents a threat to national security Based on interviews with actors at different agencies (the AIVD, the IND, the Public Prosecution Service, the NCTV and the Ministry of Justice and Security) and a file analysis at the Immigration and Naturalisation Service the researchers evaluate the implementation of this section.
---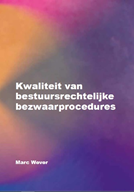 M.Wever, Kwaliteit van bestuursrechtelijke bezwaarprocedures (diss: Groningen), Wolf Legal Publishers: Nijmegen 2020.
A quantitative study into the relationship between the organization of dispute resolution procedures and the quality experienced by users. In particular, the focus is on the experienced 'fit' between the nature of the dispute and the way an objection procedure is organized.
---
Perlaviciute, G., & Squintani, L. (2020). Public Participation in Climate Policy Making: Toward Reconciling Public Preferences and Legal Frameworks. One Earth, 2(4),341-348. https://linkinghub.elsevier.com/retrieve/pii/S2590332220301512
This publication shows the existence of a mismatch between the legal framework and people perspectives about public participation in environmental matters by relying on quantitative data gathered by means of a door-to-door survey among the inhabitants of the province of Groningen, the Netherlands (link).
---
Pannebakker, E., Voskamp, S., Zanger, W.S. de, Pluut, H. (2020) Onderweg naar morgen – een inventarisatie van empirische onderzoeksmethoden in juridisch onderwijs.(Platform Empirical Legal Studies).

This report presents a comprehensive overview of empirical legal research courses at all Faculties of Law in the Netherlands (including the Faculty of Law in Groningen). The report is published online with open access.
---
| | |
| --- | --- |
| Last modified: | 02 November 2021 6.23 p.m. |