16e Letselschadecongres - Medisch moeilijk objectiveerbaar letsel
Wanneer:

ma

02-10-2023 10:30 - 16:15
Waar:

Academiegebouw, Broerstraat 5, Groningen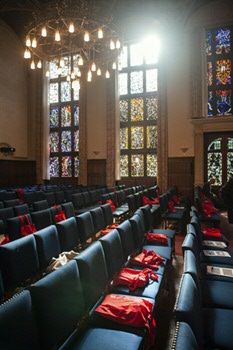 Op 2 oktober 2023 vindt het 16e Groningse Letselschadecongres plaats. Het thema dit jaar is 'Medisch moeilijk objectiveerbaar letsel'.
In maart 2011 stond het Gronings Letselschadecongres in het teken van 'Whiplash'. Aanleiding voor dat congres was mede gelegen in de worsteling van de letselschadepraktijk met de toen redelijk recent, in 2007, gewijzigde NVN-richtlijnen. Nog altijd gaat het in een voornaam deel van de letselschadezaken om whiplashletsel. Deze zaken worden wel als 'lastig' ervaren, omdat de claimklachten naar hun aard subjectief zijn en in die zin 'medisch onverklaarbaar', dat medisch beeldvormend materiaal geen onderliggende afwijkingen laat zien. Naast whiplashletsel komt in de letselschadepraktijk bovendien geregeld andersoortig medisch moeilijk objectiveerbaar letsel voor, zoals bijvoorbeeld bepaalde been-, rug- of hoofdpijnklachten die na een ongeval aanwezig zijn.
Tijdens het aankomende congres op 2 oktober 2023 wordt onder meer teruggeblikt op de ontwikkelingen sinds het whiplashcongres van inmiddels 12,5 jaar geleden. Wat is er veranderd, of wat is juist hetzelfde gebleven? Ook wordt vooruit gekeken: welke ontwikkelingen kunnen worden verwacht? Door de sprekers zal vanuit de wetenschap en praktijk de huidige problematiek van medisch moeilijk objectiveerbaar letsel vanuit verschillende invalshoeken tegen het licht worden gehouden. Het doel van het congres is niet alleen het bieden van aanknopingspunten voor de behandeling en beoordeling van zaken waarin dergelijk letsel aan de orde is, maar ook om met elkaar in gesprek en/of debat te komen en een bijdrage te leveren aan een versoepeling van de afwikkeling van letselschadezaken waarin sprake is van medisch moeilijk objectiveerbaar letsel.

Deelnemersbijdrage
Voor uw deelname aan dit congres vragen we u een bijdrage van € 250 (vrijgesteld van BTW). Hiervoor ontvangt u toegang tot het congres en de na het congres te verschijnen congresbundel. Voor uw deelname aan het congres ontvangt u maximaal 4 NOvA-, Nivre- of andere PO-punten. Voor studenten is de toegang € 45 (zonder toezending van de na het congres te verschijnen congresbundel). Studenten kan gevraagd worden om bij toegang van het congres hun collegekaart te tonen.