De therapie wordt gegeven door een professional die beschikt over relevante diploma's voor het werken met kinderen en het geven van interventies met behulp van honden. De honden waar mee gewerkt wordt, zijn zorgvuldig geselecteerd en gecertificeerd.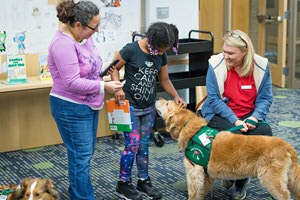 Er worden in totaal vijf therapiesessies aangeboden van één uur per week. Deze kunnen naar eigen inzicht gepland worden in overleg met de therapeut. De vijf therapiesessies richten zich op de sociale en communicatieve vaardigheden van uw kind. Deze vaardigheden worden geoefend in opdrachten met de hond, zoals het geven van commando's. Tijdens de sessies dragen uw kind en de hond allebei een smartwatch om hun bewegingen te registreren. Er worden geen video-opnames gemaakt.
De therapiesessies zijn gratis en worden zoveel mogelijk in de buurt van uw woonplaats georganiseerd. Op deze manier worden eventuele reiskosten zo beperkt mogelijk gehouden. De reiskosten zijn helaas wel voor eigen rekening. In een eerdere ronde van het onderzoek konden de meeste kinderen bij een professional in de eigen woonplaats of op korte reisafstand (15-20 minuten) geplaatst worden.
Let op: om een zo goed mogelijk onderzoek uit te voeren, kunnen we niet van tevoren al aangeven of kinderen in de therapiegroep of controlegroep terechtkomen. Kinderen die geen therapie krijgen, krijgen als bedankje aan het eind van het project alsnog gratis één sessie hondentherapie aangeboden!
| | |
| --- | --- |
| Laatst gewijzigd: | 07 oktober 2020 19:18 |