Webinar Dutch International Mental Health Hub
Wanneer:

vr

12-03-2021 13:00 - 14:30
Waar:

Online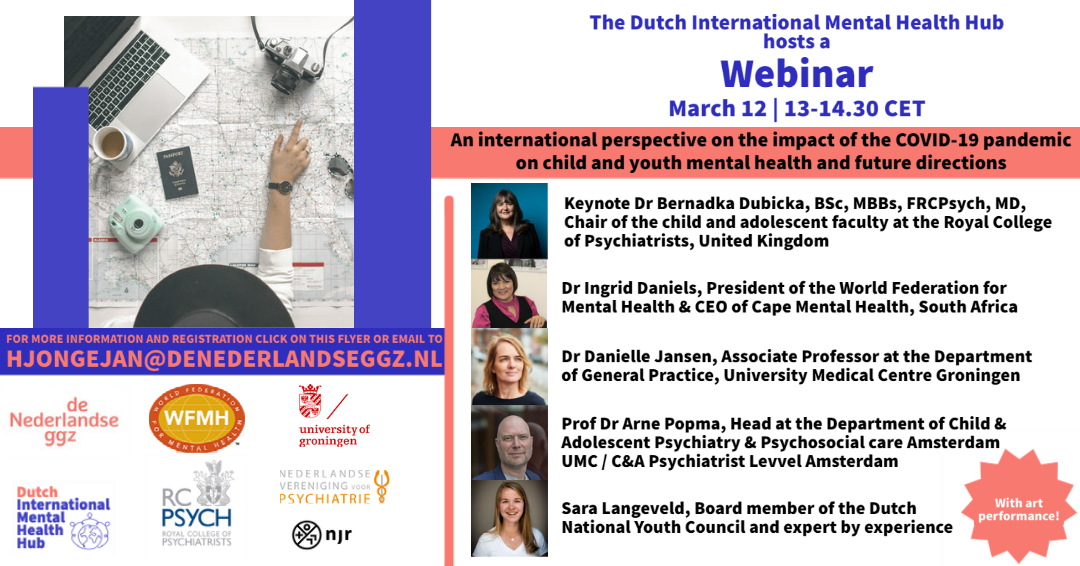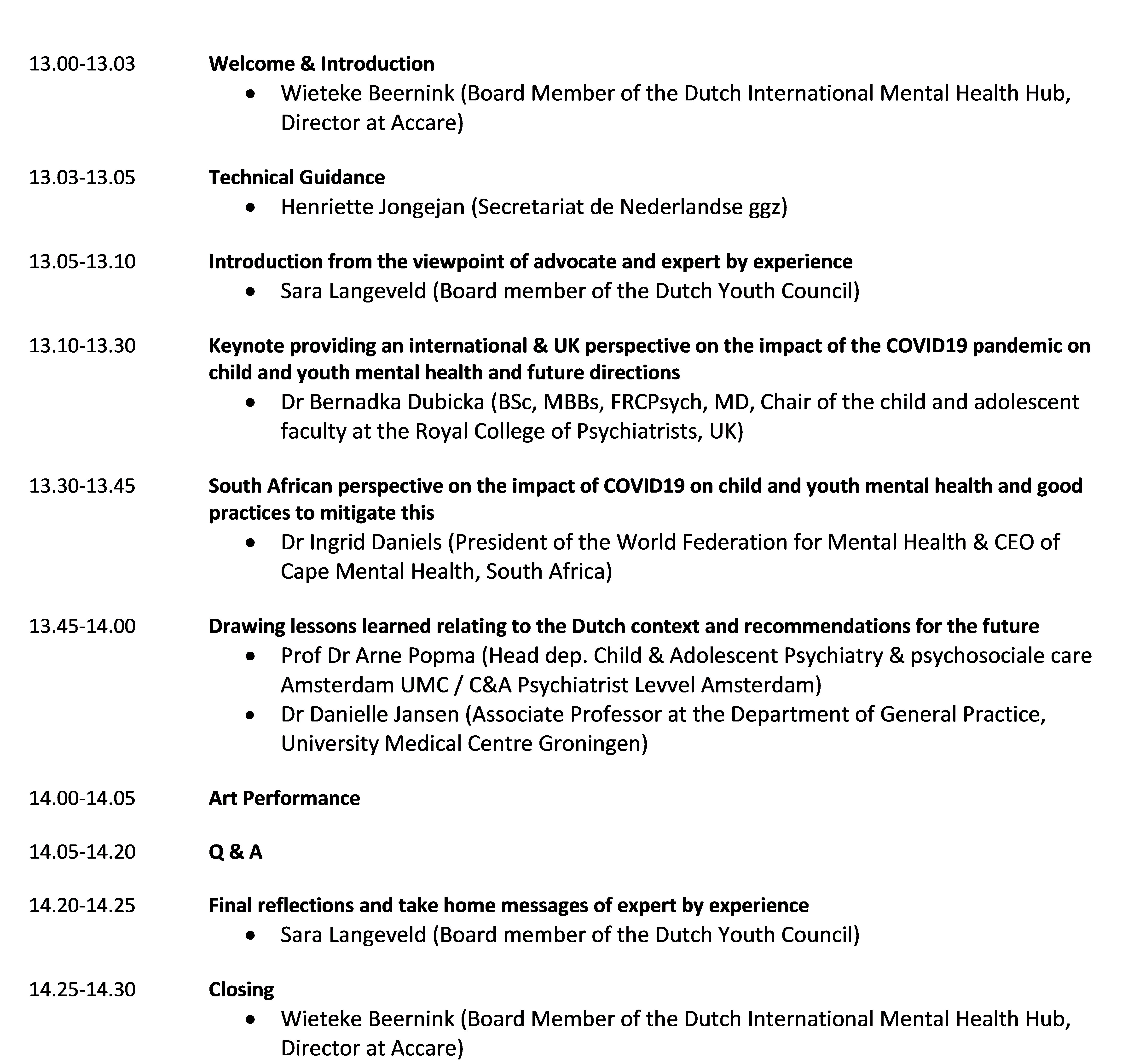 Use this form to register for the webinar. Prior to the webinar you will receive a link in your email box to join the webinar.

Topic
An international perspective on the impact of the COVID-19 pandemic on child and youth mental health, and future directions.

Date
12-03-2021

Time
13.00-14.30 CET

Description
This webinar is for everyone who is interested in an international perspective on how children and youth mental health is impacted by the covid-19 pandemic and how we can mitigate this impact. The covid-19 pandemic has a great negative impact on child and youth wellbeing with the most vulnerable being prone to be the worst affected. Movement restrictions, the closing of schools, increased poverty, violence and abuse and limited access to care all contribute to mental health problems (ENOC & Unicef, 2020). With our international speakers we take a look at the situation internationally, in the UK and South Africa and together with our Dutch experts we draw lessons learned and recommendations for the future.

How has the COVID-19 pandemic impacted mental health of children and youth internationally? What can we do in practice to address child and youth mental health in times of the covid-19 pandemic looking at international good practices, and what are future directions also in the Netherlands?

Bio's

Dr Bernadka Dubicka
Dr Dubicka qualified in medicine and psychology at University College London, completing child psychiatry training in Manchester, UK, together with a doctorate in adolescent depression at the University of Manchester, where she is an honorary reader. She was an adolescent unit consultant for over a decade, and in 2018, moved to Pennine Care Foundation Trust, Greater Manchester where she is a research lead and community consultant. In 2017 she was elected chair of the Royal College of Psychiatrists Child and Adolescent faculty, which involves frequent media and policy advisory work, including on the covid response. She has a research interest in mood disorders, and has been involved with several large depression trials. She is currently an investigator in the STADIA study which is examining the use of remote technology to improve the detection of emotional disorders, and an investigator in a study examining the impact of covid on young people placed in mental health units. She has been a member of the National Institute of Health Research, and is the editor in chief on the Journal of Child and Adolescent Mental Health.

Dr Ingrid Daniels
Ingrid Daniels has been the Chief Executive Officer of Cape Mental Health, the oldest community-based mental health non-profit organisation (1913) in South Africa, since 2000. She obtained her Masters in Social Science (Clinical Social Work) and PhD in Social Work at the University of Cape Town, South Africa. She is currently President of the World Federation for Mental Health. She served on South Africa's National Mental Health Advisory Committee who advised the National Minister of Health on the implementation of the National Mental Health Policy Framework and Strategic Plan 2013-2020. She is an Executive Committee and Board member of the South African Federation for Mental Health. She teaches at Bochum University of Applied Sciences, Germany at the International Seminar on Diversity and Inclusion and has an extensive resumé of presentations delivered at national and international level. She is committed to addressing global mental health challenges particularly in lower and middle income countries. She continues to actively advocate and seek creative and innovative solutions to address mental health service delivery gaps to ensure that mental health becomes a reality for all global citizens.

Sara Langeveld
Sara Langeveld is a talented advocate for mental health at the Dutch National Youth Council. As board member she advocates for youth participation in local and national governance and businesses, with a specific focus on mental health. When in conversation with policymakers and ministers, she strongly emphasizes the need to talk with young people instead of about young people. She is driven by her own experiences with depression and mental health care. Her goal is to make young people aware about the importance to take as much care of their mental health as their physical health.

Prof Dr Arne Popma
Professor Arne Popma is head of the department for child and adolescent psychiatry at Amsterdam UMC, location VUmc, where he leads scientific (neurobiological) research into the development of antisocial and aggressive behavior in children and adolescents. Part of this research takes place among children and young people who have come into contact with the justice system. He is chair of the Academic Workplace Youth at Risk and of the department of child and adolescent psychiatry of the Dutch Psychiatric Association (NVvP). Popma works as a child and juvenile psychiatrist at Levvel in Amsterdam, where he manages the Forensic & Behavioral knowledge network.

Dr Danielle Jansen
Danielle Jansen is a medical sociologist and associate professor at the University Medical Center Groningen (Department of General Practice) and the University of Groningen (Department of Sociology), the Netherlands. After being the president of the EUPHA (European Public Health Association) section Child and Adolescent Public Health for seven years, she is now a member of the steering committee of this section. Her research focus is on evaluating health and social care trajectories, interventions and health systems for children and adolescents nationally and on a European level. Her research is multidisciplinary, with primary health care playing a major part. In these COVID-19 times, Danielle advocates for the best outcomes for children and adolescents in the short and longer term.

About the World Federation for Mental Health (WFMH)
WFMH is an international membership organization founded in 1948 to advance, among all peoples and nations, the prevention of mental and emotional disorders, the proper treatment and care of those with such disorders, and the promotion of mental health. The mission of the World Federation for Mental Health is to promote the advancement of mental health awareness, prevention of mental disorders, advocacy, and best practice recovery focused interventions worldwide. The goals are: 1) To heighten public awareness about the importance of mental health, and to gain understanding and improve attitudes about mental disorders; 2) To promote mental health and prevent mental disorders; 3) To improve the care, treatment and recovery of people with mental disorders. For more information please visit: https://wfmh.global/.

About the Journal of Child and Adolescent Mental Health
The Journal of Child & Adolescent Mental Health aims to contribute towards the development of a robust and inclusive knowledge base for child and adolescent mental health across diverse contexts. To this end the Journal seeks to promote coverage, representation and dissemination of high quality work from around the world that traverses high-, middle- and low- income contexts. Papers from all disciplines addressing child and adolescent mental health are welcome, including specific focus areas such as psychotherapy, pharmacotherapy, phenomenology, epidemiology, mental health prevention and promotion, community-based interventions, dissemination research and policy. The Journal publishes original research (including brief reports and case series, but not single case reports), review articles, clinical reports within an evidence-based framework in a 'Clinical Perspectives' section, book reviews, and letters to the editor. For more information visit this site:
https://www.tandfonline.com/action/journalInformation?show=aimsScope&journalCode=rcmh20

About the Dutch International Mental Health Hub (DIMHH)
The Hub is part of 'de Nederlandse GGZ' or the Dutch Association for Mental Health and Addiction Care. We link existing international initiatives to make them accessible to everyone who is interested in international developments in mental health; our members. In addition to our members, the Hub consists of seven core team members including Wieteke Beernink (Accare), Jan Berndsen (iPH, MHE), René Keet (GGZ Noord-Holland-Noord, EUCOMS, Council Clinical Leader IIMHL), Margret Overdijk (GGz inGeest, EAOF), Beverley Rose (User Research Center), chair Sabien Raams (Emergis, Country Liaison IIMHL) and network coordinator Marjonneke de Vetten (de Nederlandse ggz, Country Liaison de Nederlandse ggz). Check for more information our website - https://www.denederlandseggz.nl/waardenetwerken/internationaal-verbinden - or watch our introduction video - https://vimeo.com/428498798 (both in Dutch).