Master's information event
| | |
| --- | --- |
| When: | Fr 20-11-2015 15:30 - 20:30 |
| Where: | Faculty of Theology and Religious Studies |
Between 16 and 20 November, the University of Groningen will organize the Mater's Week to promote all its Master's degree programmes. The Faculty of Theology and Religious Studies will host an information event together with the Faculty of Arts on 20 November.
This event is intended for students from abroad and other universities in The Netherlands who are interested in coming to the University of Groningen, as well as students who are already at the University of Groningen. A great opportunity to meet your future co-students and lecturers!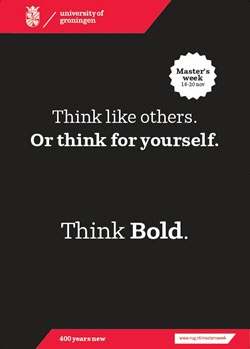 Master's Degree Programmes
The Faculty of Theology and Religious Studies offers the following tracks in its Master's degree programme Theology & Religious Studies:
Ancient Scriptures and Cultures: Judaism, Christianity and Islam
Concealed Knowledge: Gnosticism, Esotericism and Mysticism
Religion and the Public Domain
Geestelijke verzorging (Dutch Only)

The Faculty of Arts offers these master's degree programmes.
Information
In four rounds, we offer information about our master's degree programmes, possibilities for internships and he honours college. In our hall, you can talk with lecturers, students and study advisors and find information on all the offered programmes. You can also register for a guided tour of the beautiful historic building of the Faculty of Theology and Religious Studies. The tour starts in the hall. We use the same timetable as the Favculty of Arts, which is just a street away. You can easily switch between buildings to learn more about the programme's of both our Faculties.
If you can't make it to the information event, you can contact us directly: thrs.prospectives@rug.nl
Programme
Our timetable gives an overview of all information rounds.
Registration
You can register for Master Your Talent through the website (separate registration per master's degree programme).