De muurschildering in zaal 253
"Lezing" in de grote collegezaal door Gerard P. Luttikhuizen.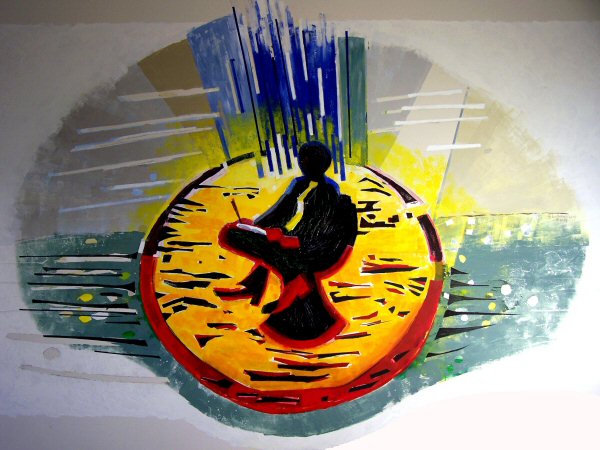 In het najaar van 2007 heeft het faculteitsbestuur emeritus-hoogleraar Dr. Gerard P. Luttikhuizen gevraagd de achterwand van de grote collegezaal te beschilderen. Daarbij werd Luttikhuizen helemaal vrij gelaten in de keuze van thema, stijl en materiaal. Het was de bedoeling deze wat zakelijke collegezaal, zeker in vergelijking met de andere collegezalen en de sfeervolle werkkamers in het oude gedeelte van het gebouw, wat op te fleuren. De schilder heeft in de schildering vooral primaire kleuren gebruikt (rood, geel en blauw) naast zwart en wit. De grijstinten dienen om de afbeelding te integreren in de achtergrond. Een van de vlakken is niet beschilderd. Het heeft dezelfde lichtgrijze kleur als de omgeving.
De zaal wordt vooral gebruikt voor colleges en lezingen. De docent is de enige die de achterwand de hele tijd in het zicht heeft. Hij of zij ziet iemand die luistert of leest en aantekeningen maakt. De verticale blauwe vlakken en strepen boven het hoofd van de figuur suggereren dat hij geïnspireerd is.
Men kan in de afbeelding ook een commentaar zien op het bekende vers van de dichter-predikant John Donne, "No Man is an Island" ("Meditation XVII"). Het ronde vlak in het midden lijkt een eiland in een grijsblauwe zee. Maar zijn comfortabele houding en de warme kleur die de figuur omringt geven niet de indruk dat hij zich daar eenzaam of verlaten voelt.
Het linkerbeen zit anatomisch waarschijnlijk niet helemaal op de goede plaats maar in deze stand "rijmt" de hoek van de benen met de onderkant van de stoel, zoals de rode onderkant van de stoel "rijmt" met de onderkant van de cirkel. De hoek die de stropdas en het boek maken keert ook elders terug. Wie alleen naar de vorm kijkt, kan in het gele vlak een rond tafeltje zien met daaronder een grijsblauw vloerkleed. Op het tafeltje staat een zwarte vaas met bloemen. De stengels zijn wel aangeduid, de bloemen niet. Maar wie de zaal verder wil opfleuren kan er zelf grote rode bloemen bij denken. Of er een inspirerende lezing houden.
Gerard P. Luttikhuizen
december 2007
| | |
| --- | --- |
| Laatst gewijzigd: | 01 november 2012 17:26 |