G.H. van Kooten hoogleraar Nieuwe Testament en vroeg christendom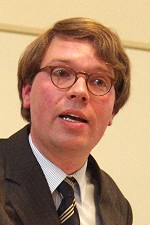 Dr. G.H. van Kooten is per 1 januari 2006 benoemd tot hoogleraar Nieuwe Testament en vroeg christendom aan de Faculteit der Godgeleerdheid en Godsdienstwetenschap van de RUG. Zijn leeropdracht betreft het Nieuwe
Testament en de apocriefe geschriften in de context van het vroege christendom (eerste eeuw na Chr. tot het concilie van Nicea, 325). Hij volgt prof.dr. G.P. Luttikhuizen op, die in mei 2005 met emeritaat ging.
Van Kooten gaat ook nauw samenwerken met de Groningse hoogleraren Grieks, Latijn en Oude Geschiedenis in een werkverband dat interdisciplinaire studie stimuleert naar 'Culture, Religion and Society' (CRASIS) in de Grieks-Romeinse oudheid, met inbegrip van de vroeg-christelijke religie die met die oudheid organisch verbonden is.
Geurt Henk van Kooten (Delft, 1969) studeerde theologie aan de Universiteit van Leiden (MA 1995), Studies van het Nieuwe Testament aan de University of Durham (MA 1995) en judaïsme van de Grieks-Romeinse periode aan de University of Oxford (MSt 1996). Hij was NWO-onderzoeker te Leiden, waar hij in 2001 promoveerde op het proefschrift /The Pauline Debate on the Cosmos/. Van Kooten doceerde onder meer aan de Universiteit van Amsterdam. Sinds 2002 was hij verbonden aan de Rijksuniversiteit Groningen als universitair docent. Zijn specialiteiten zijn: Paulus in zijn Hellenistisch-Romeinse context; jodendom tijdens de Grieks-Romeinse periode; het evangelie van Johannes en het Platonisme; het Vierkeizerjaar en het Nieuwe Testament.
| | |
| --- | --- |
| Laatst gewijzigd: | 05 november 2022 12:18 |