BSc. Biologie studieadviseur
Karin Weel (first-year students and second-year students with a completed Propaedeutic phase)
Degree programs
BSc. Biology (first-year students and second-year students with a completed Propaedeutic phase)
BSc. Life Science & Technology (first-year students and second-year students with a completed Propaedeutic phase)
Location
Email
Open Office hours (max 10 min)
Monday : 10.45 - 12.00 hr
Friday: 10.30 - 11.45 hr
Exceptions: No open office on Monday October 8th, Monday October 22nd and Friday November 2nd, 2018
Appointments (>10 min)
Working days
Monday, Tuesday, Thursday and Friday
---
Wouter van Egmond (third-year students)
Degree programs
BSc. Biology (third year)
BSc. Life Science & Technology (third year)
MSc. Biomedical Engineering
MSc. Biomedical Sciences
MSc. Medical Pharmaceutical Sciences
Location
UMCG (Antonius Deusinglaan 1, Education Support Centre) room 3213.0015 (Tuesday and Wednesday)
Zernike (Bernoulliborg, Education Support Centre) room 5161.0043 (Monday, Thursday and Friday)
Email
Open Office hours (max 10 min)
Standard open office hours are scheduled as follows:
Every Tuesday at the UMCG, from 12.45 - 14.00 hr
Every Thursday at Zernike, from 10.45 - 12.00 hr
Exceptions to the above-mentioned standard open office hours are: The open office hours on October 23 and November 6 are cancelled.
Appointments (>10 min)
Working days
---
Anna Henkel (second-year students without a completed Propaedeutic phase)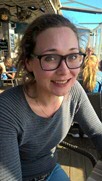 Degree programs
BSc. (Applied) Mathematics (1st year students)
BSc. Biology / LST (Students without a completed Propaedeutic phase)
BSc. Artificial Intelligence (1st year students with last names starting with A - K)
Location
Email
Open Office hours (max 10 min)
Tuesdays & Fridays, 10.30 - 11.30h
Note: There will be no Open Office hours on November 6 and November 9, 2018.
Appointments (>10 min)
Working days
---
| | |
| --- | --- |
| Laatst gewijzigd: | 06 september 2018 12:34 |