Smart Industries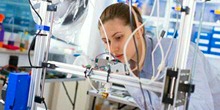 Engineering scientists at the University of Groningen contribute to the development of fundamental knowledge and of a conceptual foundation for current smart industry initiatives. Smart Industry, which results from the mass digitization of industry, revolutionizes the manufacturing industry with intelligent products, methods for efficient and flexible production, Internet coordination of ordering, design, production, supply and delivery processes. The University of Groningen joined a consortium of large and small companies and knowledge institutes to conduct research into new technologies for the "Faultless factory."
Engineering researchers contribute expertise to several broad areas related to smart industries:
Advanced Production Processes

that are robust, self-regulatory and controlled in real-time. Research focuses on the development, optimization and implementation of advanced production technologies and manufacturing processes with an emphasis on mechanical and electrical engineering. Industrial robotics play an important role in advanced production processes. Moreover, 3D printing is considered as it results in a paradigm shift—where computer controlled tools and processes are used to transform digital designs directly into physical products.
Among the research topics approached within this area: Physics-based modeling / model-based engineering; Industrial robotics in production processes; 3D printing/rapid prototyping; Enabling technologies and functional materials; Advanced production technology; Towards a sustainable and optimal factory
Agile demand-driven manufacturing

, with a focus on new methods and techniques to efficiently produce a wide range of products and to reduce the time required for effective product and process design.
Among the research topics approached within this area are: Design and control of smart industry; Reconfigurable, adaptive and evolving factories; Product and process platforms; Workforce agility; Simulation for process innovation; Remanufacturing;
Embedded intelligence.

Research addresses the management of large quantities of data involved in innovative products, services and production processes, specifically the design and application of cyber-physics and The Internet of Things in the light of pertaining technological and business challenges.
Among the research topics approached within this area are: Internet of Things; Cyber-physical systems and cyber-security; Human-centered manufacturing; Data management.
| | |
| --- | --- |
| Last modified: | 31 January 2019 3.50 p.m. |