History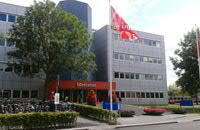 Building
The history of Faculty of Spatial Sciences starts in 1948, when Hendrik Jacob Keuning becomes the first professor in Economic and Human Geography. At this moment, a new Economic faculty is founded where professor Keuning teaches the course Economic Geography to economics students.
In 1950, Human Geography becomes an independent study programme at the University of Groningen. In the early 1960's this turns into the sub faculty of Human Geography, within the Faculty of Geography and Prehistory. This sub faculty moves from an office building at the foot of the Martini Tower to an office villa on the Kraneweg in1966. In 1969, together with the faculty of Economics and Business, the faculty moves to the WSN building at the new university campus in Paddepoel, currently known as the Zernike Campus.
Independence
With the division of the Faculty of Geography and Prehistory in 1987, the Faculty of Spatial Sciences became independent, just like in Utrecht and Amsterdam. At this moment the new Faculty includes much more than just Human Geography. At the end of the 1960's Urban Planning is introduced, with a chair, its own study programme and an independent doctoral exam. In the 1970's Demography gets its own chair and study programme. The number of students grows rapidly in this time, to about 500. In the 1980's, different tracks are introduced for Economic and Regional (what later became Cultural) Geography, and in the 1990's the first English Master Programme for Demography (Population Studies) starts.
Education programmes
The Bachelor programmes for Human Geography and Planning and Spatial Planning and Design start in 2002. Two years later new Masters programmes start, of which there are six in total today. One of these is the master in Real Estate Studies, a new discipline for the Faculty, since the first chair in real estate was assigned in 1995. For Research Master and PhD students the Graduate School of Spatial Sciences is founded.
The FSS today
After the introduction of the Bachelor/Master system, the total number of students of the Faculty grew to about 1100. Also, an increasing number of students come from abroad to study at the Faculty of Spatial Sciences. Since 2008 the Faculty is located in its own building at the Zernike Campus. In the meantime, the Spatial Sciences departments in Utrecht and Amsterdam have gone up in bigger Faculties (Geosciences and Social Sciences), and also in Nijmegen (Management Sciences). This means that the Groningen Faculty is still the only independent Faculty of Spatial Sciences in the Netherlands.
| | |
| --- | --- |
| Last modified: | 25 May 2023 1.58 p.m. |