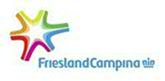 Royal Friesland Campina (RFC) is one of the largest dairy producers of the world with a very strong presence in The Netherlands. It produces all types of dairy products with the aim to offer the farmer-members the best possible return. The department Valorisation aims at balancing and optimizing flows of milk through the network of highly interconnected factories, acting as a 4C. RFC has a broad experience in working with universities both at more technical product related innovations as recently and specifically with universities on supply chain issues, such as PhD-projects together with University of Wageningen and University of Groningen. In 2013 Friesland Campina opened a brand new state-of-the-art innovation center in Wageningen.

Variass is active in high-mix, low-volume and high-complexity markets where technology, time-to-market, price-performance ratio and adaptation capabilities play an important role. It is an innovative company, specialized in electronic and mechatronic products and systems, that has developed immensely in the recent years: from an assembler to a producer and system supplier. The organization is the chain manager of the Variass Group that forms the major links in the chain of the system supplier. Variass has distinguished itself at various times by winning honourable awards. In addition to the Enterprise Award of Veendam (in 2003) and the Dutch Industrial Supplier Award (also in 2003), Variass has received the Achievement Award and the Enterprise Award of Groningen in 2007. The organization has worked closely together with COPE at the RUG on the implementation of POLCA.
NV Waterbedrijf Groningen

N.V. Waterbedrijf Groningen (WBGr) is a modern utility company serving the water needs in the province of Groningen. Besides producing potable water for the households and industry, WBGr produces process water and treats sewage water for the industry. WBGr has a wide experience in joined execution of projects with universities and knowledge institutions mostly on technical subjects. Main partners are: KWR Watercycle Research Institute for all water related developments and engineering to improve the performance of our processes, TUD (Sanitary Engineering department) for fundamental research in applied hydrology and sanitation, TNO in the project IJdijk, IJknet (STOOP) to prepare out distribution network for earth quakes, WUR for environmental issues like remains of medicaments and pesticides in water and reducing of methane exhaust, and WETSUS for water treatment issues. Furthermore, WBGr participated in the SAWA project in order to develop sensor technology for monitoring the water quality.

Bosch Thermotechnik GmbH represents the Thermotechnology Division of the Bosch Group. The wholly-owned subsidiary is a leading international manufacturer of heating products and water heaters. In providing indoor comfort through energy efficient and environmentally friendly heating and hot water solutions, Bosch Thermotechnology focuses on sustainable resource management as well as on system flexibility and user friendliness for the benefit of our customers. The organization has a great deal of experience with academic research. On global level our central departments work together to develop knowledge for Bosch on the fields of production, logistics and business economics. On local level they have cooperated with Universities for academic research on different levels, such as PhD research, master thesis student or request for specific research for instance product development.
| | |
| --- | --- |
| Last modified: | 05 February 2016 2.22 p.m. |