Creating customer insights through collaboration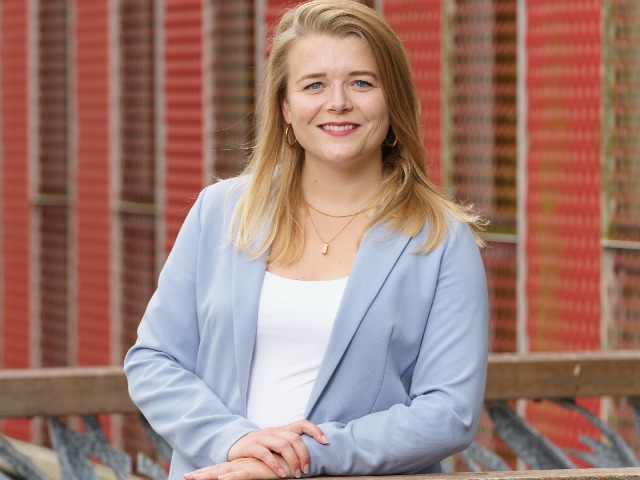 When she was still a marketing student at the Faculty of Economics and Business, Freya Liemburg already ran two businesses through which she acquired valuable entrepreneurial knowledge and shared her marketing insights with other companies and like-minded online entrepreneurs. Now, she is the managing director of the Customer Insights Center, one of the Centres of Expertise that are part of FEB. We talked to Liemburg about her career, the Customer Insights Center and the value of applied research carried out in close collaboration with companies.

Could you tell us about yourself and your career so far?
"I completed my bachelor's degree in Communications and Information Sciences at the Faculty of Arts of the University of Groningen. For my master's degree in marketing, I moved to FEB. During my master's, I worked as a student assistant at the Customer Insights Center, while also running a business I co-founded as a bachelor's student. This business, Flocker, originated from a faculty council party called 'Letteren Vooruit' that I set up together with three classmates during my bachelor. The faculty council party became successful due to effective marketing and a website. Other parties and organizations regularly approached my co-founders and me, so we realized we could extend our services to these other companies. This is how Flocker, an online marketing agency, was born. During the five years I spent running this business, I gained valuable entrepreneurial knowledge. During that same time, I also founded Yes! Digital, a society for 60 young online entrepreneurs in the Northern Netherlands. This provided a platform for like-minded individuals to connect and learn from each other."
What did you do after graduation and how did you end up back at FEB and the Customer Insights Center (CIC)?
"After completing my MSc in Marketing, I felt the need to experience the 'real' world beyond my own company. Consequently, I joined IBM and worked in change management for Jumbo Supermarkets in Veghel, in the Southern Netherlands. However, the constant traveling and being away from Groningen, along with missing my activities and friends, prompted me to quit. After some exploration, I ventured into starting my own business. I rented an office space in the city center of Groningen and provided project and marketing management services to various organizations. At some point, Professor of Research Methods in Business Jaap Wieringa, who was also the scientific director of CIC at the time, approached me and asked me to manage the CIC until he found a new managing director. Since I had enjoyed my time at the CIC as a student, I agreed. Needless to say, this temporary arrangement escalated, and I have now been the managing director for almost two years."
What is the CIC, and what is your role there?
"The Customer Insights Center serves as a connection between companies and the Department of Marketing of the University of Groningen. These companies are members of the center, and their annual membership fees contribute to financing collaborative research, assisting researchers in obtaining data from the companies, and organizing events where scientific knowledge on marketing and customer insights is used to support the companies. We have 20 member companies, ranging from publishers like Noordhoff to insurers like OHRA and retailers like Ahold. We maintain long-lasting relationships with these companies. For instance, online retailer Wehkamp has been a CIC member for over 15 years. As the managing director of the center, my role involves overseeing its operations and ensuring effective collaboration between the companies and the marketing department."
Can you give an example of a recent collaborative research project that the CIC worked on together with one of their members?
"Currently, we are working on a research project with Jaap Wieringa and PhD student Xiongkai Tan, in partnership with DPG Media and Nielsen Media. These media companies possess a dataset containing all print ads in the Netherlands over the past 30 years. Often, companies have such datasets but lack the resources, time, or means to analyze them or derive valuable insights from them. Like has creativity in ads decreased over time? And what effect does this have on profits? On the other hand, we have numerous researchers who consider this dataset a gold mine. The exciting part of my job is bringing these parties together to extract valuable insights. Currently, we are employing automated image analysis to examine how creativity has evolved over time and how specific ad characteristics contribute to increased profitability. Often these types of studies also get help from MSc marketing students who write their thesis as part of the research project."
In your opinion, what is the benefit of applied research carried out in close collaboration with companies?
"The added value of applied research conducted in close collaboration with companies is immense, and it is challenging to summarize in a few words. Nevertheless, I will try to highlight some key points. The value added by applied research conducted in close collaboration with companies is immense, encompassing a wide range of benefits. Such research enables companies to maintain their competitive edge by implementing cutting-edge advancements in their respective fields. It empowers marketing managers to make strategic decisions based on scientific evidence rather than relying solely on intuition. As part of our membership, companies gain access to esteemed professors who can provide guidance on their marketing strategy. Additionally, our newly launched online knowledge platform offers a wealth of resources, including data science courses and events focused on sustainable marketing decisions for all employees of our member companies. It also allows the company members to get in touch with each other and ask each other questions about marketing challenges.
CIC-members can also connect with talented individuals from the university, for example for an internship. Furthermore, our MSc Marketing program is designed to prepare students for the real world by incorporating input from industry partners. For example, marketing analytics and data science students have the opportunity to work with actual data from companies like Wehkamp, allowing them to learn and apply their skills in a manner that aligns with industry expectations.
Lastly, our researchers also benefit significantly from these collaborations. They gain access to relevant data and the opportunity to test and validate theories, models, and methodologies in a practical business environment. This practical application ensures the applicability and significance of their research, enhancing its real-world impact."
More information:
Want to learn more about the CIC? Have a look on the CIC-website or contact Freya Liemburg.