What is your vision on inclusiveness?
Inclusiveness requires an explicit effort to promote non-exclusive attitudes, behaviour, activities and policies in our environment. That is why the annual Inclusivision Project helps to raise awareness on what it means to be inclusive and to work on preventing exclusion.
Submit your idea now!
The annual call for 2021 is open between 1 February and 19 March at noon.
In order to submit your idea you have to take the following into account:
Find a colleague, student, board member or friend that you would like to engage in this endeavor
Think of an idea relating to any element(s) of diversity
Think of a timeline to implement your idea, possibly throughout this or the next academic year
Think about the budget and resources you need to put your idea into practice
Finally fill out the submission form by clicking on the button below
If you would like to discuss anything about diversity and inclusion at FEB, please reach out to Ella Sebamalai via inclusion.feb rug.nl.
Please scroll down for more information about the project.

The Inclusivision Project
The Inclusivision Project encourages everyone within the faculty, students, staff, study associations and others to look at your surroundings, and create a vision of what you think could be done better! FEB's Inclusivision Project is facilitating bottom-up initiatives to put these into practice in the next academic year. Initiatives could involve different elements of diversity such as educational background, sexual orientation, gender, ability, or colour. For more elements, please see the umbrella below.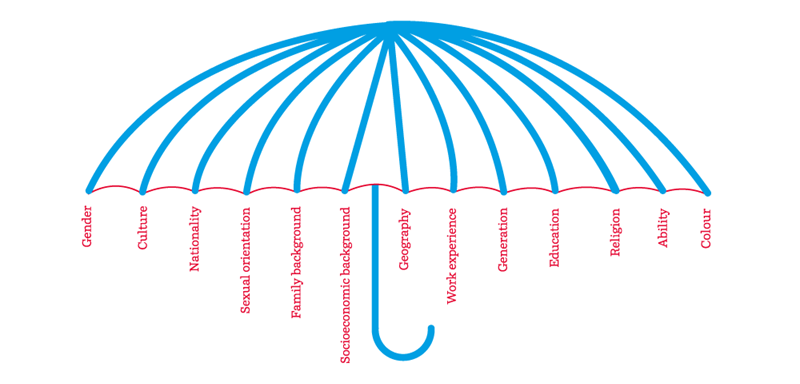 Inclusivision 2019-2020
In the first round of Inclusivision, in 2019-2020, a total of 16 initiatives were delivered.
Some could be implemented instantly, while others needed additional input from stakeholders. In addition, covid-19 posed a challenge for implementing inclusivision initiatives on-campus. We are grateful for the many participants and initiatives delivered last year.
The following proposals were completed:
Women in FEB Academia: a booklet highlighting the many different career paths and choices for FEB women working in academia
Recommendations regarding diversity & inclusion for FEB's tenure track policy
Active bystander workshops for EBF Boards and Committee Chairs
FEB is also working on:
A pilot with a gender neutral restroom (Aletta Jacobs Exam Hall)
Updates and innovations for the breastfeeding room in Duisenberg building
A rainbow crossover between Duisenberg building & Kapteynborg, with EBF in the lead for implementation
'We are Human' Photo competition for FEB and EBF
Improved information regarding policies for parenthood, such as maternity leave, work-related childcare, parental leave, etcetra.
More information
If you have any questions about this project, or if you would like to receive more information on inclusion (awareness), please contact Ella Sebamalai, project manager of the Inclusion Awareness campaign, by sending an email to inclusion.feb rug.nl.

| | |
| --- | --- |
| Last modified: | 18 February 2021 3.37 p.m. |