Accreditation, assessment and embedding
FEB belongs to the 1% of business schools worldwide with both EQUIS and AACSB accreditations.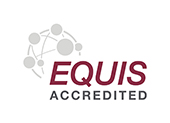 EQUIS
EQUIS is one of the two leading international accreditation bodies for business education. EQUIS = EFMD Quality Improvement System, part of the European Foundation for Management Development (EFMD). EFMD 'acts as a catalyst to enhance excellence in management education and development globally'. Important themes for EQUIS are Internationalization, Corporate Connections, and Ethics, Responsibility and Sustainability.
---
AACSB
The AACSB International accreditation represents the highest standard of achievement for business schools, worldwide. AACSB evaluates a business school's mission, faculty qualifications and contributions, programmes, and other critical areas on a five year review cycle. Particularly important for AACSB are the assurance of learning standards. Institutions that earn accreditation confirm their commitment to quality and continuous improvement through a rigorous and comprehensive peer review.
---
NVAO
The Accreditation Organisation of the Netherlands and Flanders (NVAO - in Dutch:Nederlands-Vlaamse Accreditatieorganisatie) is the independent accreditation organisation set up by the Dutch and Flemish governments, whose primary goal it is to provide an expert and objective judgement of the quality of higher education in Flanders and the Netherlands.
---

QANU
QANU (Quality Assurance Netherlands Universities) is a quality assurance agency which primarily aims at assessing degree and research programmes offered by universities in the Netherlands. QANU contributes to the national system of external quality assurance in higher education by providing insight in the quality of education and research, thus enabling universities to account for their activities in these areas and to further improve the quality of their education and research.
---

NWO
The Netherlands Organisation for Scientific Research (NWO - in Dutch: Nederlandse Organisatie voor Wetenschappelijk Onderzoek)) funds thousands of top researchers at universities and institutes and steers the course of Dutch science by means of subsidies and research programmes.
---

KNAW
The Royal Netherlands Academy of Arts and Sciences (KNAW - in Dutch: Koninklijke Nederlandse Akademie van Wetenschappen) was founded in 1808 as an advisory body to the Dutch Government – a role that it continues to play today. The Academy derives its authority from the quality of its members, who represent the full spectrum of scientific and scholarly endeavour and are selected on the basis of their achievements. It is also responsible for seventeen internationally renowned institutes whose research and collections put them in the vanguard of Dutch science and scholarship.
---

VSNU
The Association of Universities in the Netherlands ( VSNU - in Dutch: Vereniging van Universiteiten) represents the shared interests of the fourteen research universities in the Netherlands in the fields of research, education, knowledge transfer, business operations, human resource management and international policy.
---
The ambition of the Faculty of Economics and Business is to earn the AMBA accreditation.
| | |
| --- | --- |
| Last modified: | 12 May 2021 1.33 p.m. |