The "Leeflang Thesis Award" was established and presented for the first time on Wednesday, December 11, 2002 in honour of the 25th jubilee of Prof. Dr. P.S.H. Leeflang.

In 2018, the "Leeflang Thesis Award" will be awarded for the thirteenth time. The registration is now open. Below you will find general information regarding the "Leeflang Thesis Award".

The winner receives a prize of 1000 Euros.

Competing for the "Leeflang Thesis Award" is only possible for students of the University of Groningen. The other conditions the thesis must meet can be found in the regulations.
Jury
The preliminary jury consists of:
Prof.

dr. B.M. Fennis (Chair, Faculty of Economics and Business);

Dr. H. Risselada

(Secretary, Faculty of Economics and Business);

Drs E. Kooge (Metrixlab Big Data Analytics);

T.J.M. Wilms (Millward Brown Vermeer);

Dr. ir. M.J. Gijsenberg (Faculty of Economics and Business).
Schedule
The schedule is as follows:
August 2018: for submission;

August - September

2018: the jury's decision;

October 2018: award ceremony during MARUG/FEB MSc Marketing Career Day.
Previous winners
You van find a list of previous winners below:
2002: Michelle Noordhuis, "Brand Cues as Indicators for Zapping behaviour".

2006: Sara Kremer, "De bepaling van de effecten van promoties op meerdere productcategorieën".

2007: Eline de Vries, "Segmentation with value(s)".

2008: Desmond Dekker, "Match the Music: Een Latent Class analyse van de muzikale preferenties van Music Stream gebruikers".

2009 Theo IJdema, "Service Recovery for Controllable Failures".
2010 Riko Ooijevaar, "Social-networks – The search for Social Capital".
2011 Yory Wollerich, "The Effect of Customer Satisfaction on Stock Returns".
2012 Annika Jubbega, "Twitter as Driver of Stock".
2013 Marijn Jansen, "The carry-over effect of social influence".
2014 Mariska Verstappen "How reviews are reviewed: The impact of readability and social factors on the usefulness of online consumer reviews".
2015 Roelof Hars "Establishing the hierarchy of effects and its value in sales prediction: The case of an insurance company".
2016 Stijn Broekema, "The Value of New Products".
2017 Larissa Komen, "Searching for the effect of advertising: Decomposing the effect of advertising in a competitive online search environment".
2018 Nick Roode, "The Impact of Door-to-Door Store Flyer Content Decisions on Customer Behavior: A Quantative Research".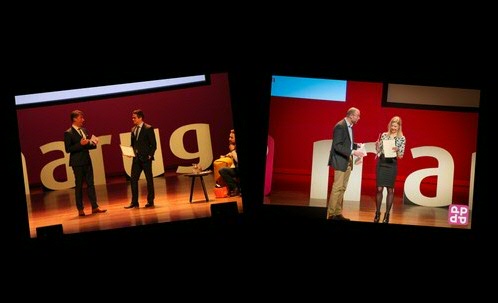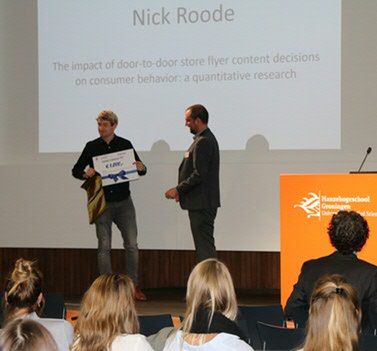 Information
For more information, please contact the secretary of the jury:
Dr. H. Risselada
| | |
| --- | --- |
| Last modified: | 18 October 2018 08.56 a.m. |