"My motivations are pride, and being autonomous and taking my own decisions"
Interview Chief Chocolate Officer (CCO) at Tony's Chocolonely, Henk Jan Beltman.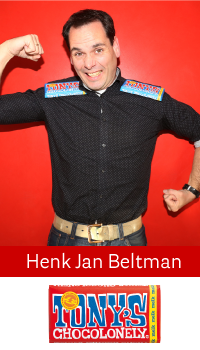 We speak with Henk Jan Beltman, CCO of Tony's Chocolonely, about studying business in Groningen, his career, his vision on sustainable business, his plans with the company towards 100% slave-free chocolate and his advice for the students of today. Beltman will give a lecture on Thursday, September 3rd, 2015, during the opening of the academic year of the Faculty of Economics and Business and Faculty Association EBF.
You studied Business Administration at the University of Groningen. Why that programme?
I have always been interested in academic training and I am convinced that once you have sufficient tools in your toolkit you can learn the trade, especially when it concerns entrepreneurship. And I really wanted to do something nice working for good companies.
How do you look back on your student days at Groningen?
Awesome. I was not always a very serious student. I was a member of Albertus and I was always very active for BIG (Faculty Student Organisation, predecessor to EBF). It is my firm belief, in spite of the fact that the stock market climate does not really allow it , that the combination of theoretical training and doing practical things together in a social setting is the right combination to land yourself in a job sometime.
Could you tell us something about your own career and how you ended up in the position you are in now?
A career is something that requires you to sit down actively in the driver's seat, and that you think about who you are and what you want to do. Something that is extremely important to me is "what do I want to learn" and 'what can I bring to the company'?'.
You must always actively keep an eye on that balance. After my studies I started to work at Heineken as an intern. Later I started there as commercial trainee and as a marketeer for Pepsi, Sisi and 7up. There I learnt such an incredible amount of things, especially about professionalism of a multinational and my love of the food sector. I am specifically thinking of brands that mean something to consumers, where in my view; beer and chocolate are the starting-point. Both products have intrinsic emotion; beer for a man is the same as chocolate for a woman. After Heineken I noticed that at a certain time I wanted to take more decisions myself because I felt that I was only a small cog in a large organisation. Being autonomous and taking your own decisions is a driving force for me.
At a certain moment in time I left Heineken and introduced Innocent Drinks to the Netherlands. Together with a fellow student from Groningen, Ynzo van Zanten, I was responsible for Innocent Drinks in the Netherlands. Here I learnt how, in the professional world of multinationals and large retailers you can still shape a tiny little brand.
After some five years I decided to go and do something for me and I started looking for a company I liked. Tony's had been around for a number of years at that time and after a number of interviews I was able to acquire the company. In 2010 I started at Tony's Chocolonely and in 2011 I took a controlling interest.
In your presentation you will talk about your view on sustainable enterprising, nowadays an increasingly important phenomenon. What exactly do you mean by sustainability?
I think that it is especially important, something we have not learned before, that money is a means and must not be a goal. Many companies have sanctified money. You work all day long so that you make money and so that you can then enjoy your hobby in the evening and the weekend and spend that money. In my opinion this is wrong about the economic system. You must think really carefully about who you are, what you want and what is important to you. If you are clear about these things then money becomes a means. You need money to be able to run the race, but it should never be the goal of the race.
That is usually the driving force in a family-run company. During my time at Heineken Mr. (Freddy) Heineken was still there and pride was important. It was not so much about making money, but about keeping the company going and being able to be proud of what you are building together. Also, at Innocent Drinks I saw that a company that actively tries to make consumers healthier is a much nicer environment to work in because also there money is not the goal but a means.
Tony's Chocolonely was set up to solve a social theme. Today about 2 million people are illegally employed in cocoa and there are 2.2 million cocoa farmers in Ghana and Ivory Coast. This shows that illegal labour happens on an enormous scale. I think that you must focus on the standpoint of your value chain for if you can bring about a value chain without exploitation and slavery only then can you be really proud of the product you are manufacturing. By the end of the day my motive is pride and once you have that motive you will discover that money is only a means to achieve that goal.
We have a test; the rocking chair test. If and when you are in an old people's home and you look back on your working life can you then really have the feeling that you are now making the right choices? Imagine yourself sitting there later and being able to be proud of each decision you have made, you will sit in that home with a big smile on your face. It must be a goal to build everything in such a way that you can be proud of each decision taken, as an entrepreneur and as a team. If you pass the rocking chair test you can grow old peacefully.
In 2011 you started as CCO at Tony's Chocolonely. What are the biggest changes you have implemented and what do you still want to achieve at Tony's Chocolonely?
Tony's was founded by a journalist of the Inspectorate of Value, Teun van de Keuken. He has really worked hard to show the whole world the problem in the cocoa chain.
Once you have done that then the second step is to be successful. We want to show the world that as a company you can take a problem seriously and still be commercially successful. There lies my added value. In the past years we were voted the best employer in the Netherlands, the strongest brand of the Netherlands according to the NIMA and one of the fastest growing Dutch companies. You see that Tony's Chocolonely receives praise and appreciation from many angles. That is only a means, for eventually the objective is to have an impact at the beginning of the cocoa chain. To be able to make that impact we must be inspiring towards our competitors. We are working with 2,000 farmers, but there are two million. We are just a drop in the ocean. We must use our strength and our "success" to inspire others to also take their responsibility seriously. Mars, Nestlé, Mondelez, all big chocolate companies that just like us must start to look seriously at the value chain of cocoa. If that succeeds we will move closer to our vision 'on the road together to 100% slave-free chocolate'. Of those three steps my added value is clearly the second step and in the coming period we will focus on how we can involve our competitors to also take their responsibility.
Tony's Chocolonely's slogan is 'On the road to 100% slave-free chocolate". The route to achieve that consists of three stages of which a number of steps have been taken of the first two: Tony's raises awareness, Bean to Bar and Example are being followed. How are you going to make this final stage concrete and take care that Tony's Chocolonely's example is followed by everyone?
Pride must be a motive. People that work for the competition also want to be proud of their work. If we can show, that it makes commercial sense to work hard for the chain, then I feel that they will also follow.
In addition, we have also provided an academic interpretation of the concept of social entrepreneurship; we are initiating a professorial chair. And I myself will be one of the three PhD students involved in this subject. I believe, as a matter of fact, that we can use the academic platform to really make an impact together and especially when I look at companies. Companies are not the entities that must make money, companies are entities that must make the world into a better place. If that takes root we, as a company, will have more impact and influence than just as a successful chocolate company. Thus, money again becomes a means instead of a goal on its own.
What message have you got for the students?
Enjoy! And make sure you do something you can be proud of so that you pass the rocking chair test.
► Back to "Opening Academic Year 2015-16"
| | |
| --- | --- |
| Last modified: | 09 January 2017 09.50 a.m. |