New research into achieving equity in Dutch academia
In line with increased attention for Diversity & Inclusion in Dutch Higher Education[1], specifically focusing on anti-racism interventions, the Dutch Research Council (NWO) has initiated a call for ' Advancing Equity in Academia through Innovation'. Researchers, diversity officers, and possible collaboration partners were invited to apply for a Sandpit Workshop 27-30 June 2022. From FEB, Ella Sebamalai (Diversity & Inclusion Officer) and Edwina Wong (PhD candidate Human Resource Management/Organizational Behavior) were selected after an application procedure earlier this year.
Sandpit workshop

For both of them, it has been great to see the NWO allocating a budget total of 1.3M for research projects, to be carried out in consortia, in the period of 2023-2026. A sandpit is an intensive workshop where participants from a range of disciplines and backgrounds come together for multiple days and immerse themselves for the majority of the time in collaborative thinking processes about a societal challenge. was intended to foster connections between selected participants, to spark 'out of the box' research ideas and innovations to anti-racism interventions for Higher Education.
Ella recalls their experience: "Over the course of four days, we were exposed to a demanding format in which participants analyzed the core challenges of achieving equity in academia, the root causes of those challenges, possible solutions, as well as innovative designs to those solutions. This was all with the aim of "contributing to equity and inclusion of underrepresented ethnic groups and a cultural change in academia."[2]

NWO's request was to specifically focus on the lived experience of Dutch nationals with a migration background, their experiences in society, in the learning environment and in the work environment of higher education institutions. After all, the envisaged impact is " a more inclusive culture where everybody is valued, irrespective of the ethnic background."[3] For both Ella and Edwina , this has been a personal journey as well, as they identify as members of the target group, while simultaneously being in researching or advising positions on the solutions for the target group and the institutions.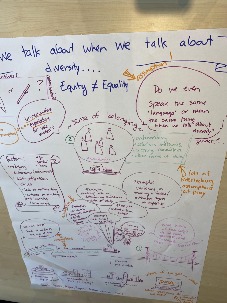 During the sandpit process, several challenges that members of minoritized groups faced in academic institutions were brought up. Ella and Edwina explain: "Such challenges include for example the expectation and definition of "success" or "successful" (or lack thereof) in advanced level education that is leading for elementary and high school supervisors in the socialization and guidance of pupils. For instance, ongoing research illustrates difference in advice regarding high school level between Dutch nationals with/ without a migration background.
Another example is that, in the process of wanting to assimilate, or facing pressures to do so and ' fit in', a sense of belonging is under pressure. This connects lacking a network of peers facing similar challenges, leading to isolation over a longer period of time.
And institutions are increasingly aware of societal responsibility and willingly work hard to create and maintain an equitable learning and working environment. However, there is a gap in an understanding about the needs, wants, and structural barriers that members from minoritized groups face."

Although the list could go on, these are few key observations shared by the excellent researchers joining the Dutch Research Council's Sandpit, the stakeholders from several higher education institutions (including minority group members, diversity officers, staff, students, teacher trainers, and HR advisors).
New research proposal
To demonstrate FEB's commitment to equity in academia, all with the purpose to improve the quality of our academic work and academic work environment, Ella and Edwina have joined a consortium of institutions, responding to the call by the Dutch Research Council before October 2022. The research proposal, currently being developed, concerns bringing to light patterns of implicit sameness across three academic settings with the intention to design interventions to disrupt those patterns of recurring sameness in higher education. The three case sites where these patterns are analyzed include a medical institution for Doctor-Patient-Intern relationship, a university for Teacher- Student relationship, and a Faculty for Manager-Employee relationship, of which FEB is a potential case site for the latter.
Ella "All in all, we are working hard to build the proposal together with consortium partners from across the country. A decision regarding the proposal, including possible funding for a postdoc position at FEB, will follow in winter 22-23. We look forward to FEB being part of such innovative research regarding equity in Dutch academia."


[1]https://www.eerstekamer.nl/overig/20220614/hoofdrapport_gelijk_recht_doen_een/f=/vltshvc8s7zo.pdf
[2] https://www.nwo.nl/en/researchprogrammes/advancing-equity-academia
[3] https://www.nwo.nl/en/researchprogrammes/advancing-equity-academia