What is it like to study International Relations?
| | |
| --- | --- |
| Date: | 06 February 2019 |
| Author: | Danique |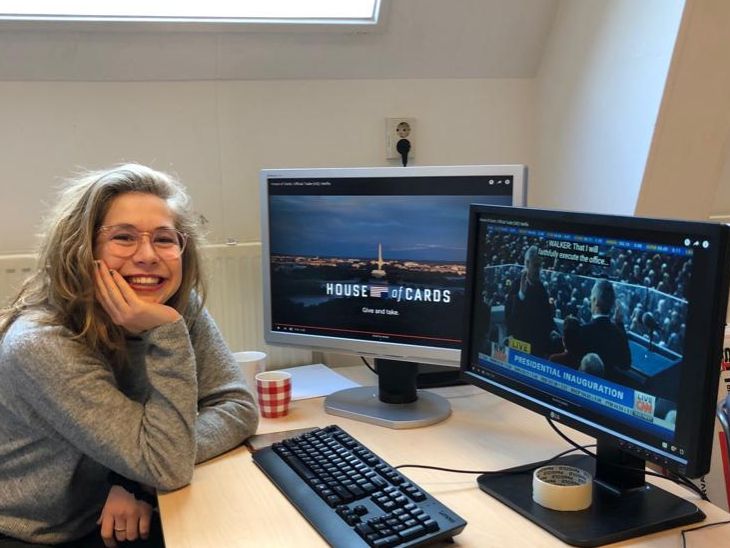 As someone who has been studying international relations for the past 3 years, I thought I would tell a bit more about the programme for those wondering what it is like to study international relations and international organisation (IRIO).
Applying to study International Relations and Organisations
IRIO is a numerus fixus programme at the RUG, allowing 260 students per year from the approximate 800 applicants. Because a selection has to be made, you're required to complete a couple assignments related to the IRIO course to see if you are compatible to study the programme. You also have to submit documents like a letter of motivation including how specific elements of your CV make you a good fit for IRIO. A pretty overwhelming experience! The most stressful part is, is that you don't hear if you've been accepted or not until mid-June. So it's good to have a backup programme just in case. (or be like me and live life on the edge by basing everything on one numerus fixus programme).
Study programme and course load
What I like most about IRIO is that the programme is super diverse. When I started studying I knew that politics, history and economics interested me - but I had no idea what I wanted to become. But in the IR bachelor, that doesn't matter. You follow classes in political science, history and economics, among others. A special characteristic to IR is that you follow a minor in a foreign language. I chose French, which was probably the most challenging part of my bachelors so far, but now I can say I am (pretty much) trilingual, which has been one of my life goals.
The IR courseload is a big one. Where we don't have many hours (next block I only have 6 contact hours a week) there is still a lot of self study and assignment work you have to do every week. To write a sufficient paper for a 10 ECT course, it is expected you read at least 600 pages of materials. This leads to many long days (and nights) spent in the UB trying to make up for all the reading you didn't do in the first weeks. It's doable, but only following the mandatory hours definitely isn't enough to pass your exams (trust me - I learned this the hard way).
Future perspectives
For those who like planning a 10-year life plan, the diversity and uncertainty of studying IRIO is not for everyone. Unlike those who study Medicine or Dentistry, you don't know what you are going to become. This can be stressful sometimes. I struggled for a while in my first two years about which direction I wanted to go in. I feel like every month I would tell my friends about my new job aspirations. Diplomat, ambassador, working at an NGO, government official, consultant - the options are kind of endless. I kept thinking during classes "okay, this is interesting, but what am I going to do with this?" . But looking at this from a glass-half-full perspective, you have your whole university career (and beyond) to figure out what you like best and which direction you'd want to go in.
I really enjoy studying IRIO, it gives you a foothold to understanding global politics. I love watching or reading the news and trying to apply what I learned and discussing about what will happen next in global politics, like with the Brexit negotiations or US government shut down (how nerdy that might sound). The diversity of the programme also gives you knowledge from other bachelors programmes, like International and European Law or European Languages. I still don't have clear idea about what I want to be, I don't even exactly know what masters programme I want to do next year, but I still have some time.
About the author
Danique
Hey! I'm Danique, a Dutch/American studying International Relations and International Organizations with a mild obsession with coffee, cats, and rowing. If you can't find me, look for the girl (almost always) wearing pink and writing blogs.
Comments