#TheCityIsOurCampus: New Years in Groningen
| | |
| --- | --- |
| Date: | 27 December 2018 |
| Author: | Danique |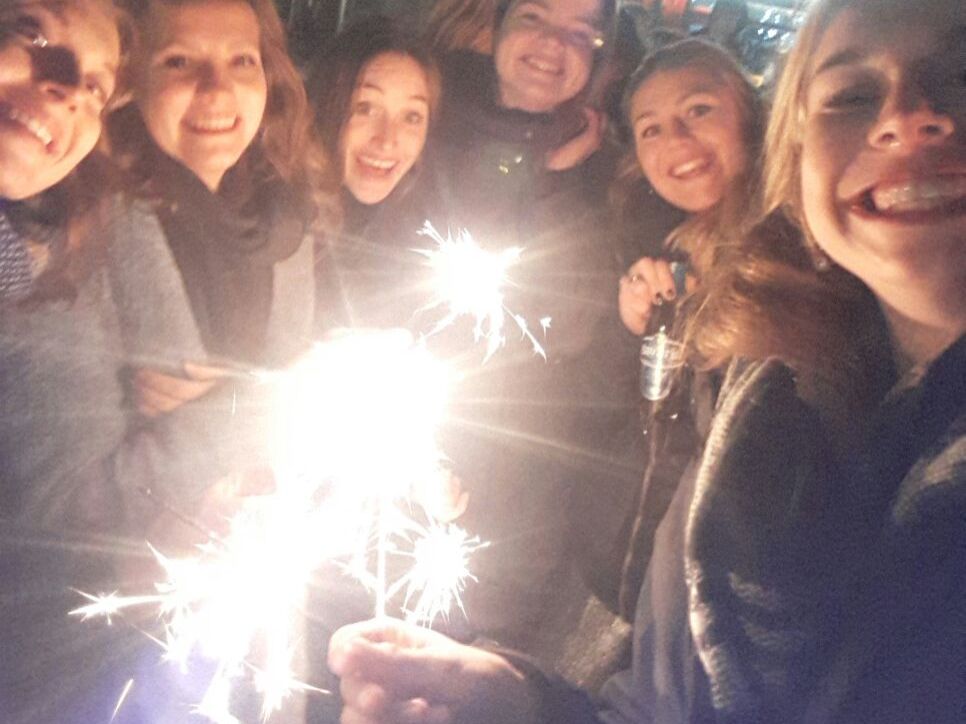 Party Picks
Paradigm: NYE // Paradigm: NYD
How do the Dutch celebrate New Years? We've outlined some of the traditions for you:
Parties in Groningen
As you can read at the top of this blog, there are tons of parties throughout the city, so you don't have a reason anymore to say you don't have anything to do. All the clubs in the city go all out to celebrate 2019. These aren't like your everyday parties, it's something you won't want to miss. You do have to pay for these parties so make sure you plan a little in advance where you want to go before you end up standing in front of the closed doors at Wolter Wolthers and the clock suddenly strikes midnight.
Fireworks
If you love fireworks but come from a country where they are illegal: you're in luck! Fireworks are legal and a big hit in the Netherlands. You can buy small fireworks at many stores and bigger boxes at a designated firework store. If there are clear skies, you can see the fireworks from all around the area. Make sure to be safe with fireworks though - you don't want to enter the new year blind, deaf or with only 9 fingers.
Oliebollen
If this is your first year in the Netherlands, you're probably wondering what all of those way-too-fluorescently-lit food trucks are. They are filled with one of Holland's finest delicacies; the oliebol. While this literally translates to oil ball - but have no fear, it's a lot better than it sounds. Google translates it to a doughnut because it's basically just a ball of dough (sometimes filled with raisins) that is briefly deep-fried and then dusted off with icing sugar. The best way to celebrate the new year as a Dutchie is to make them yourself, but if you don't want to go through the hassle, you can roll up to a food cart and order yourself a few oliebollen for you and all your friends. The goal is to eat so many that you don't want to see another oliebol until next December.
Top2000
Every year, the radio station NPO Radio 2 has a Top2000 of All Time. At the beginning of December, people can vote for their top 10 favourite songs and these votes get counted to make the "Top 2000". Between Christmas Day and New Year's Eve at 23:59, there is non-stop music. The last hours of the list are always the best, so kick into the new year with your all-time favourite songs. The top five songs are almost always the same (Bohemian Rhapsody, Hotel California, Stairway to Heaven). It's confirmed that Bohemian Rhapsody yet again will be on number one.
Bonfires
A very Groningen thing to do on New Years is to go stand by a huge bonfire. Lots of student houses make a bonfire on the street with all of their unwanted furniture of the past year. The biggest ones are in the Jozef Israelstraat and the H. W Mesdag straat. It's a great place to come together with all your friends - because there is a big chance you'll run into someone you know at the bonfire gathering.
Want to escape Groningen?
Amsterdam is also a great place to ring in the new year, with the annual fireworks show on the canals. Think you've seen all the clubs and parties in Groningen, you can also go check out the party scene in Amsterdam. Or celebrate New Years on the beach in Scheveningen, where there will be a firework show on the North Sea. 10 points if you are able to pronounce Scheveningen.
Whatever it is you choose to do this New Years, I hope you have a great night and a great start to 2019!
About the author
Danique
Hey! I'm Danique, a Dutch/American studying International Relations and International Organizations with a mild obsession with coffee, cats, and rowing. If you can't find me, look for the girl (almost always) wearing pink and writing blogs.
Comments