Podcast Recommendations for Students
| | |
| --- | --- |
| Date: | 23 August 2019 |
| Author: | Marije |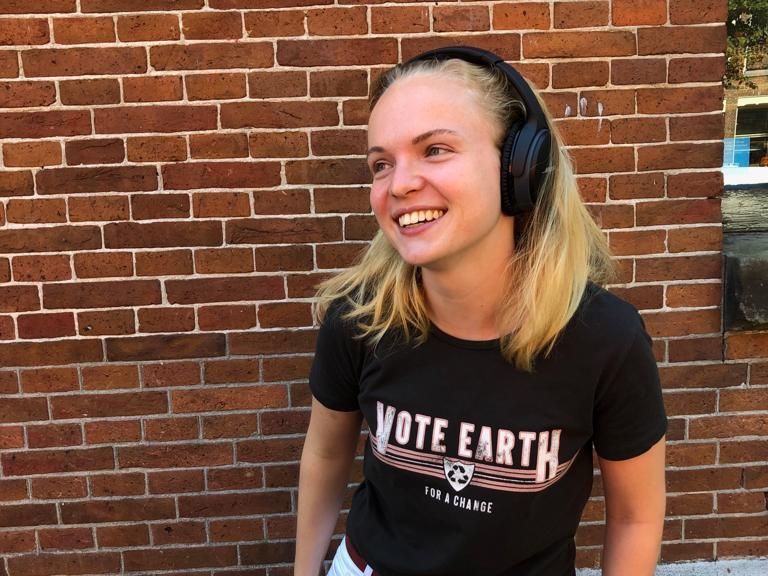 The summer is almost over and I've had the time to listen to more podcasts than usual. Podcasts are a great way to stay entertained while you're doing some not-so-mentally straining work (playing around with gadgets, doing art, doing laundry, etc.). I personally use these podcasts to gain some fun facts which you can sprinkle into your conversations. Here's my top 5 podcast list from the last summer:
1. No Such Thing As A Fish
There's No Such Thing As A Fish is the podcast that got me into podcasts. Every week the 4 hosts come together and share their favourite fact of the week. Bizarre banter ensues after each fact and you start wishing your friends could up their banter game. Plus after each episode you up your repertoire of facts. For example, in one of their most recent episodes they discuss Sweden's cyborg population, spiral into a conversation about "smart gravestones" that have microchips in them which set off an alarm, call the police and text the relatives when someone tampers with the grave; and then they're back to talking about how hard it is to microchip a starfish.
2. Atlanta Monster/Monster
This podcast will send chills your way in the summer heat. The first season completely dissects the Atlanta Child Murders case. In the late 1970s and early 1980s, young African American boys were being abducted from their neighbourhood and later found murdered. There were no leads for the longest time and a total of 25 victims murdered. The podcast brings to life the story of the Atlanta Monster through its investigative journalism: Payne Lindsey, the host, outlines the individual abductions, the theories spreading around Atlanta at the time, the trial when they finally had a suspect, as well as arguments as to why Wayne Williams is guilty or whether he was wrongly convicted. This podcast is completely engrossing, and you're left to decide what you think happened.
3. Welcome to Night Vale
This is my sister's all-time favourite podcast, so I thought I would give Welcome to Night Vale a try as well. It is absolutely entertaining and I have started listening to this when I come home tired and would usually read, but don't feel like putting in the effort. The concept of this podcast is a fantasy newscast for a fictional town called Night Vale. In this town basically all conspiracy theories are true. A few snippets from the first episode include mysterious alien lights you ignore; Old Woman Jocee's Angel revelation (they helped her with household chores), child safety: remember to hydrate your child, and a town meeting held by the new scientist Carlos ft. secret government agents sitting at the back. The podcast takes some getting used to as it jumps between a collection of bizarre occurrences which in the end somehow do make sense in some way.
4. The Morbid Curiosity Podcast
The Morbid Curiosity Podcast is all about the fascination with gore, mystery, and the unsolved. The host has a light, soothing voice that fits the theme of the podcast hauntingly well. It's kind of creepy. Think: Luna Lovegood talking about human remains and archaeology in a factual way. The episodes are informative, with each episode containing stand-alone stories of, for example, the discovery of frozen prehistoric remains, vampire burials and insight into corpse theft. The topics themselves are fascinating and dealt with professionally by the host. This gives you another set of facts to add to the random "No Such Thing As A Fish" facts.
5. Against the Rules
This short podcast series deals with the topic of "fairness" and how this is refereed. Each of the episodes in Against the Rules grapples with this idea from a different direction: monkey's expectations of fairness, professional sports refs, and the Stock Market. In the last episode I listened to, Michael wakes up his son and sits him down for "the talk". True to his family's philosophy of: "he'll figure out sex on his own" Michael has the money talk with his 11-year-old son, not the birds and the bees one. He explains how the stock market works and makes the listener, as well as his son, believe they understand the complex material he decides to present.
These are my current favourite podcasts. Which ones would you recommend?
About the author
Marije
Hi! My name's Marije, and I study English Language and Culture. I'm half Dutch half German, but I grew up in Africa (starts thinking of suitable Mean Girls quotes to reference). When I'm not out, studying or writing something, I'm inside, wrapped in a blanket binge watching a new tv-show.
Comments