How to use SmartCat: tips and tricks
| | |
| --- | --- |
| Date: | 13 September 2023 |
| Author: | Hylke |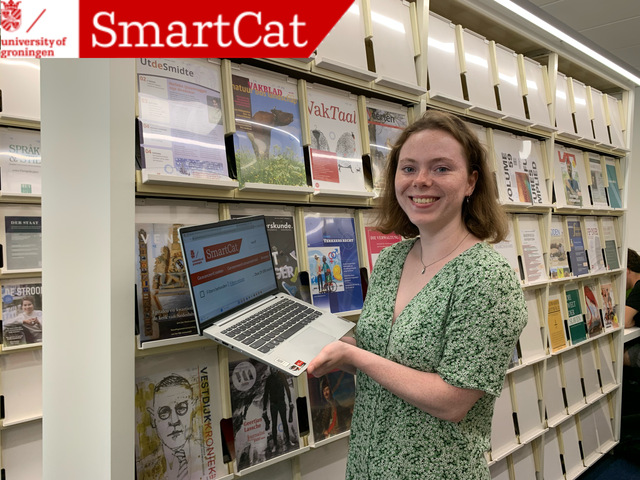 SmartCat is everyone's best friend when it comes to finding good academic sources for your assignments and essays. But do you know all its useful tools? In today's blog, Hylke talks about everything you need to know so you can use SmartCat to your advantage and slay all your assignments!
Logging in
While you can search for sources without logging in, it's handier to log in beforehand so you can request books immediately and access e-books easily. This is how you do it: click on the 'sign in' button on the top right and log in with your student account - easy peasy!
When you're signed in, you can click on 'My account' and it will give you an overview of your check outs (+ due dates), the status of your requests, any fees or fines you have to pay, your search history and saved items. So, everything that's important to know is in one place.
Searching for sources (books, articles, journals etc.)
Moving on to searching for sources. There are several ways to go about this depending on what you need. One of the ways is to use the search bar and type in some keywords. This is the method I mostly use because I often just want to know what kind of sources there are about certain authors, themes and concepts that might be useful for my essays. If you're not looking for something specific, this is the way to go!
If you are looking for something specific, though, you can also use the search bar and search by title and author. For better results, you can use index labels for author (au:) and title (ti:), or copy and paste the whole citation. Depending on what kind of source you need, you can use the filter for material type on the left hand of the screen (after you've pressed 'enter' to search). If you want more results, or the title you're looking for is not available within the UG's library, you can expand your search to 'libraries in the Netherlands' or 'libraries worldwide' using the scope filter. The chance of not being able to access or request the materials you need, however, is slightly higher this way, so keep that in mind.
Another option is to use the 'advanced search' option on the top left. Here, you can choose whatever index labels you need, such as author, ISBN, journal source etc. and insert your search terms. You can even use the filter to optimise your search. Most students I know don't use this option, as using the search bar is normally enough to find everything they need, but it's still good to know!
A pro tip for finding good academic sources: make sure that you selected 'peer reviewed' in the filter so you get the best scholarly articles. In the academic world, peer-reviewing articles and journals is necessary to ensure academic credibility.
Requesting books, articles, journals
Although requesting materials is really not that difficult, it's nice to know the ins and outs.
Within the library
Books
Most books can be accessed online as well as be requested. If the book you want is available in the UG library, you will see a green tick with the text 'Available University of Groningen'. Clicking on the book will reveal a red request button, which will lead you to the form to borrow a print copy of a book. There, you can choose to request 'any copy' or a 'specific copy or volumes' (only use 'specific copy' when necessary), and you can select a pick-up location. You will get an email notification when the book is ready!
Articles
Often, articles are accessible online. If that's not the case, you can request the journal in which the article was published if it's available in print of course.
Journals
Requesting a journal that's available in the UG's library works the same way as requesting a book. You click on the request button, fill in the form and you're done! Afterwards, you will get an email notification when the items are available at the selected pick-up location.
Outside the library
If the materials you need are not available in the UG's library, you can always request them from libraries in the Netherlands or libraries worldwide. The steps you have to follow are very similar to requesting a book from our library.
Books
When you've found the book you want to loan, you click on the 'request from another library' button, which will send you to a form you have to fill in. Most of the fields are already filled in, such as the title of the book, the author's name, publisher etc. What you do have to fill in yourself are the 'volume' and 'edition note' if possible. Otherwise, just put a hyphen there. At the end you have to select the pick-up location and the organisation you belong to. In our case, that's the University of Groningen. For both international and national library requests, the UG will pay the costs.
Articles and journals
Requesting articles and journals from other libraries is very similar to requesting books. Click on the request button and fill out the form. This is a slightly different form, however, as you have to fill in the journal title, date of publication, the volume and issue number, page numbers, the title of the article, author of the article and the ISSN. Most fields have probably already been filled in automatically, so don't worry! At the end, you have to select the organisation you belong to and you're good to go. Just as with the book requests, the University will pay the costs for you but keep in mind that covering the costs for journal/article requests from international libraries is part of a pilot project.
Databases and e-journals
Through SmartCat you can also access databases with digital sources such as AccessMedicine, newspapers and so on, and a list of all the available e-journals such as JSTOR, Muse etc. Just click on 'resources' and a drop down menu will show where you can select 'databases' or 'e-journal list (A-Z)'. Both lists are arranged in alphabetical order which makes it easy to search for a specific digital source or e-journal!
Citing works
Something I didn't know until last year, was that there's also a tool in SmartCat that cites works for you, which would have saved me so much time if I had known it sooner. After you've hit 'enter' to search, each source will have a 'cite' button on the top right. If you click on it, a field will pop-up where you can select a citation style and the citation will appear! Do make sure to check if the citation contains all the needed information, because there might be some things missing. You wouldn't want an incomplete works cited list, right?
Saving items
Next to the 'cite' button, there's a 'save' button as well with which you can save important or interesting sources. This is great if you have done a quick search for sources but have not got the time to look at them in depth. You can find your saved items in your account so you don't have to go searching for them again, which is ideal!
Hopefully, with this blog, you now know how to use SmartCat to your advantage. If you have other tips and tricks that are essential to know, drop a comment below. You can also look at our Library Guide or visit the website of the University Library for more information. Good luck with slaying your assignments! :)
About the author
Hylke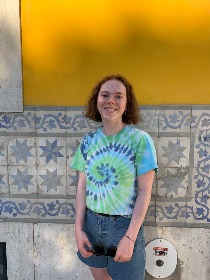 Hiya! I'm Hylke, a Dutch MA English Literature student. People often ask me if I'm Frisian, but sadly I'm not; I just have a Frisian name. I love reading, writing, meeting with friends, and the colour yellow, so much so that I take pictures of every yellow wall I can find!
Comments