How to Make the Most Out of an Online Bachelor's Week
| | |
| --- | --- |
| Date: | 02 November 2020 |
| Author: | Ariana |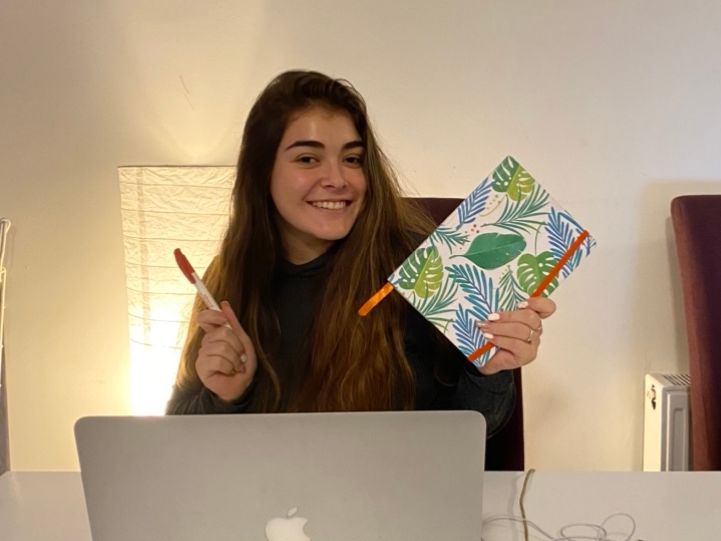 The UG's Online Bachelor's Week is the perfect way for interested future students to get an idea of what it's like to study in Groningen, explore the different programmes on offer, and learn everything about the university experience. Throughout the week, there will be hundreds of presentations, and you will be able to chat with our students and academics to truly get a feeling of what life as a UG student is like!
Normally, on an Open Day, the UG's campuses flood with students eager to explore - and it's easy to experience the dynamic academic environment of the university. This year, however, you will be visiting us from your own home through your computer's screen - which we realise might make it a bit tougher to get to know the UG. This is why I've gathered a couple of tips to make the most out of this Online Bachelor's Week, and experience the University of Groningen to the max! Check them out:
1. Sit down in a nice, comfy area.
Let's start with the basics. To make the most out of a week of online presentations, you'll need three things: a computer, access to a steady wifi connection, and most importantly - a clean and comfortable space to sit and participate! I suggest finding a desk or table where you can charge your laptop, so that you don't have to scramble through your home in search of a charger mid-presentation. Finding a spot which has plenty of light is also smart, so make sure to find a window with plenty of natural light, or have a lamp next to you. Light will make it easier to stay focused and absorb all the info you'll be receiving. Finally, depending on how many presentations you've signed up for, you might be sitting around in front of your computer for a while, so make sure to get some clothes which are cozy and comfortable! A bonus tip is to have a bottle of water (or any drink of your choice) next to you so that you can avoid having to leave the presentations.
2. Register for any programmes you're interested in!
If you have already registered, skip this step. In case you haven't, go ahead and do so now! There are hundreds of presentations you can attend, and there is no limit to how many you can sign up for. Besides the regular presentations for each bachelor's programme, there are also themed presentations, which offer information and advice on topics like: admissions, student support, studying in Groningen, and even presentations for interested parents. Once you're registered, you'll receive a confirmation email with all the details of your Open Week. All set? You can find the links to participate each day here.
3. Technical stuff to make sure your experience is great
Attending online events always means there are some technical things you need to take into account in order to avoid having issues. First, make sure you are accessing the platform through a good browser. As the memes say, Internet Explorer is too slow. You'll be better off accessing the platform via Google Chrome, Safari, Firefox, or Microsoft Edge. Second thing to take into account is that it's always best to log in 10 to 5 minutes before the presentation starts. This way you'll be able to familiarize yourself with the platform, open the chat box, and double check everything is working properly. Finally, check your sound and make sure you're wearing earphones or headphones for a good sound experience.
4. Prepare Questions!
You're gonna be receiving lots of information during these presentations, but you'll also have time to chat with our students and staff and ask questions. Are there any questions you've been wanting to ask? Make sure you write them down so that you don't forget them. A good rule to stick to is to ask questions you can't find the answer to on our website. Don't know what to ask? Here are some examples:
What is the size of the course? How many students per class?
Which types of assessment methods does this course use?
What makes studying *insert programme here* at the UG better than studying it at any other university?
Are there any exchange/placement options in this programme? If so, does the UG assist in setting these up?
5. Visit us!
Just because you're at home doesn't mean you can't explore Groningen! Make the most out of your Online Bachelor's Week by taking part in this interactive virtual reality tour. Here, two students will take you along for a tour of the most important spots in Groningen. To participate, download the Intractive app on your phone, and access the experience with the code 88175. Enjoy Groningen!
6. Download the Online Goodie Bag
Goodie bags are fan-favourites. They're filled with information brochures, and cute promotional pens. This year, the UG has made an Online Goodie Bag so that you can still view all the information brochures from all of the student associations, sports associations, cultural associations, student housing options, and more! Granted, it comes with no free pens, but it's the next best thing. Don't skip out on this info, it'll give you a good idea of what student life is like in Groningen.
7. Get help from our students
We realize that a presentation might not be enough to get a clear picture about what living in Groningen is like, but our students might be able to help. During the Open Week, make sure to also check out our student blogs, where our students discuss a variety of topics regarding life at the UG. From choosing a programme, to tips on how to survive bike life in Groningen, these student blogs can give you a better perspective on the experiences of UG students. If you would like to chat with a student to ask them questions about the programmes, or about the student life, you can also do so via our chat platform, or via email.
8. Enjoy, reflect, and talk it over!

After the presentations, make sure you reflect on all the information you received. I personally feel like talking stuff over with friends and family really helps me with making decisions. If you want to know if the UG is truly the right fit for you, make sure to share the info with a parent or a friend! A second eye can always reassure you if you have doubts, and point you towards any info you're missing. In case you forgot to ask any questions, no worries! Just email it to prospectives rug.nl. Enjoy the Bachelor's Week, and hope to see you in Groningen in the future!
About the author
Ariana
Hey! I'm Ariana and I'm a Costa Rican student with a passion for photography, dancing, and cute dogs. Aside from writing blogs, I'm doing my Bachelor's in Media Studies. If you see me around smiling at my phone, I'm probably looking at memes (or cute dogs).
Comments