How to be cheap like a Dutchie
| | |
| --- | --- |
| Date: | 18 October 2019 |
| Author: | Danique |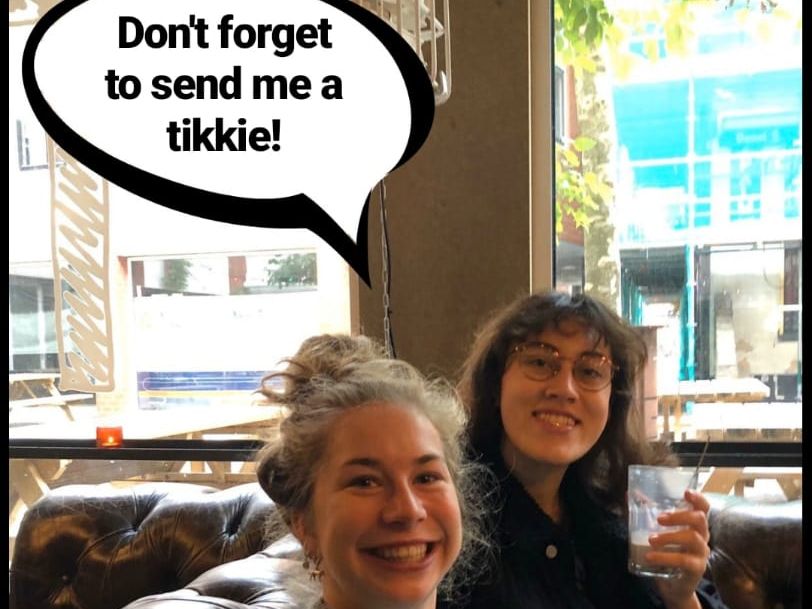 It's no secret that Dutchies like to keep an eye on their money, there is a reason for the phrase 'going Dutch' when paying a restaurant bill. Some may call it stingy or cheap, I prefer the term thrifty, which is defined as "using money and other resources carefully and not wastefully". Us Dutchies generally don't like to be in debt to a friend or spend our money carelessly. This is why we get way too excited by good deals, and thoroughly enjoy buying a product at the store that has a 35% sticker on it.
Foreigners can be a bit confused about the Dutch lifestyle - like bringing your own sandwiches to class instead of buying something at the cafeteria because it's cheaper, or boasting about how little you paid for something. As a student, we're all a little tight when it comes to money, so here are some tips that will help you be cheap like a Dutchie.
Keep track of your money
As I mentioned, Dutchies don't like being in debt to someone. For other cultures, it might be very normal to buy someone a coffee, but especially for people who don't know each other very well, this is not done in Dutch culture. This is why we use our handy apps like Tikkie or WieBetaaltWat. I've received Tikkies for amounts as little as 60 cents. This might seem ridiculous, but if you think about it - if you were to lend 60 cents every day, you're already at 4.20 a week. Say you do this for a whole year - you're already at 218 euros. Wiebetaaltwat is an app that tracks the costs of a particular group, which is easier than constantly sending the same people Tikkies. For example, if I were to pay 20 euro for a group of 5 people, the app will tell me that the rest is indebted 4 euro to me. My friend group uses WieBetaaltWat religiously - it's great to see who has credit and who has debts to the group. This makes it easier to decide who pays for groceries if we're having dinner together. It's very Dutch to call people out if they owe you money, which is definitely not the case for different cultures. So if a Dutchie asks you for the 1 euro back that they lent for a coffee - they're probably being not rude, they just want their money back. Understand why people call splitting the bill "going Dutch" now?
Score sick deals
While some may think that not wanting to pay full price for something seems like you're cheap - this is the backbone of Dutch culture. That's why we go crazy for deals like the KLM World Deals (once per year in September when KLM flight tickets are cheap) or scoring a discount on something like a movie ticket. There are countless ways to budget on things or activities that are generally more expensive. Websites like VakantieVeilingen (translates to HolidayAuctions) is an auction website where you can bid for holidays or activities, like tickets to a sauna, the zoo, weekend getaways, fancy dinners or things like beauty products. Via this website, my friend booked a wine-tasting for 25 euro instead of 120 euro. Groupon is often frowned upon, however, it is perfect for doing fun things on a student budget. It's a lot like VakantieVeilingen, it's an online coupon website for activities, products, and hotels. Another good example of a sick deal is Het Laatste Tafeltje, which is a coupon website for restaurants, with discounts up to 60% on entire meals. Bol.com also often has very good deals, especially when buying in bulk, like this a friend of mine once bought a year's supply of laundry detergent with a 70% discount. The best thing about all of these platforms: you don't have to be a member for them or anything, they're all free! However, they are for the most past in Dutch, so make sure you have someone who can translate it for you.
BYOF (bring your own food)
You've most likely seen a tall Dutch guy sitting in class with an entire loaf of bread and a jar of peanut butter. I can imagine that this is pretty weird for people coming from cultures where it is normal to eat a warm meal for lunch, or where it's common to buy food at the cafeteria. For Dutchies, this is too much effort and it's too expensive. Why spend 4 euro on one sandwich instead of buying a whole loaf of bread and peanut butter for the same price? Of course - we don't only eat bread and cheese. You may occasionally see a Dutchie eating a warm meal, and there's a good chance it's last night's leftovers. We're not big on wasting food or throwing it away, especially if it's still good. My mom always says "expiration date is just a suggestion, if it still smells good, you can still drink it". I took that mindset with me to uni. My housemate and I used to do "leftovers dinner", where we would see what we could make from what we found in the cupboards, fridge, and freezer. It is a great way to reduce your food waste and spend less money.
Use your freezer
Speaking of freezers - if you have one, use it! Dutchies love their freezers. Almost all Dutch households will have an extra freezer in the garage filled with bread, meat, pasta sauces or Tupperware containers filled with pre-made meals. Buy in bulk at the market or if something is discounted at the supermarket and freeze whatever you don't need. Use this handy freezer storage chart to see how long you can keep things fresh in the freezer.
Buy second hand
Why something at full retail price when you can buy it for half price? Second-hand shops or thrift shops are sometimes looked down on, but they are definitely a great way to save a bit of money, and no one will give you a hard time about it here. Marktplaats is a second-hand trading website where you can buy and sell almost everything. UnitedWardrobe and Vinted are easy online buying and selling platforms for (used) clothes and shoes, using UnitedWardrobe I bought a pair of shoes that were only worn once for half of their retail price. The second-hand is not only a good way to save money but is also very sustainable, countering fast fashion.
These were my 5 tips on how to be cheap like a Dutchie and save money! Try some of them out, see whether or not you are able to save some extra cash at the end of the month.
About the author
Danique
Hey! I'm Danique, a Dutch/American studying International Relations and International Organizations with a mild obsession with coffee, cats, and rowing. If you can't find me, look for the girl (almost always) wearing pink and writing blogs.
Comments