How the UG's Campus Fryslân incorporates the UN's Sustainable Development Goals
| | |
| --- | --- |
| Date: | 23 September 2022 |
| Author: | Avital |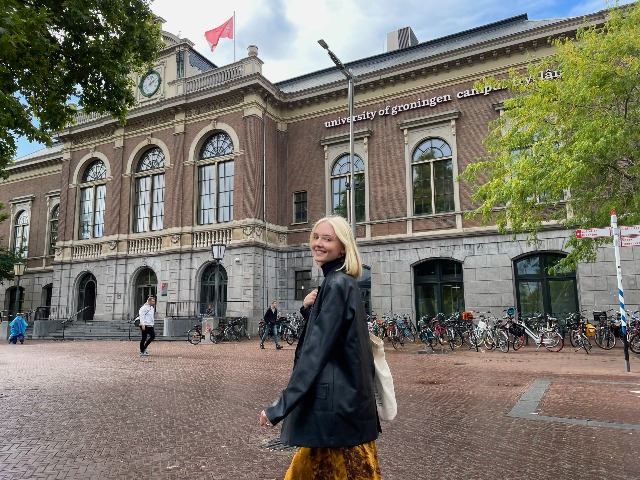 Ever heard of the Sustainable Development Goals? These 17 goals were formulated by the United Nations and cover different topics, ranging from gender equality and education to climate change and health. They are all part of the 2030 Agenda for Sustainable Development - a shared plan for continuing to build a prosperous and peaceful future for both people and the planet.
From Friday 23 September until Tuesday 27 September, the SDG Action Days are taking place throughout the Netherlands. In light of this, we chatted to our student Marina, who studies at the UG's Campus Fryslân. At CF, the study programmes have been inspired by the Sustainable Development Goals, something we wanted to learn more about.
Hi Marina! Can you briefly introduce yourself?
Hey, I am Marina and I am a second-year student of the Global Responsibility and Leadership programme at Campus Fryslân. I am 19 years old and I am from Essen, Germany.
What made you choose to study at Campus Fryslân?
I chose to study the Global Responsibility and Leadership programme at Campus Fryslân, because I wanted to study something which would allow me to make an impact later on.
What I liked about the GRL programme is that it's at the intersection between leadership and sustainability studies, meaning that it educates you about current global challenges with an interdisciplinary approach, but also provides you with the tools to become a responsible leader.
Global Responsibility & Leadership is inspired by the UN's Sustainable Development Goals - how are the goals reflected in your programme?
The programme is inspired by the 17 Sustainable Development Goals, which are therefore reflected in almost all of our courses. In the past year, I followed a wide range of classes tackling social, economic and environmental issues. In Explaining Human Behaviour we aimed to understand why societal challenges occur, addressing SDGs such as #5 gender equality, #10 reduced inequalities, and #12 responsible consumption and production. In another course, Politics, Power and International Responsibility, the main focus was on Peace, Justice and Strong Institutions (#16) and in Earth Systems we discussed SDGs concerning our natural environment, e.g. Life Below Water (#14) and Life on Land (#15 ). Following this variety of courses allowed me to see that many challenges reach beyond their field and it showed me how complex and intertwined global challenges actually are. Moreover, the goals are not only reflected in the classes but also within a research project in the second year called Living Lab where we collaborate with external partners to research SDG-related issues.
When looking at the 17 SDGs, what are some topics that you would like to contribute to either during your studies or your career and why?
Following such a wide range of courses in my first year allowed me to specify my interests and choose a major for the two upcoming years. I ended up choosing the Humanities major, because I am most interested in solving social challenges. In many of my assignments, I targeted feminist or LGBTQ+ issues such as Female Genital Mutilation, Inclusive Sex Education, Transgender Healthcare and Sexual assault. I think my particular interest in this field comes from having a strong sense of justice ever since I was a child. I can see myself working in a health-related sector later on, but this is not a decision that is set in stone. Besides that, I am also concerned with the environment and climate action, which is why I'm also planning on following the Earth & Environment courses. Additionally, I am on the board of the Green Office at Campus Fryslân which aims at making the campus more sustainable and promoting sustainability.
How do you think we could incorporate the SDGs more at the University of Groningen? Do you have any suggestions?
I personally think it's important to further incorporate the SDGs at the University of Groningen. I am convinced the most effective way of doing so is to include the SDGs in educational programmes to mobilise young people and increase awareness. This could be done by employing people who are specialized in sustainability-related fields, so they can both educate fellow staff and implement new curricula, but also offer sustainability-related classes. On top of that, I think it is crucial to address research-related SDG targets. Research needs to aim at understanding the challenges and developing solutions. It is also important to keep in mind that in order to tackle the SDGs, we need knowledge and skills from all kinds of fields. A university is a perfect example where different minds and fields come together which could be a frontier in engaging young people in pressing issues.
Finally, what's your favourite thing about studying at Campus Fryslân?
Besides the GRL programme, my favourite thing about studying at Campus Fryslân is the community. The CF community is very welcoming and open-minded, with a diverse group of people from different cultures and countries. It allows for open and dynamic interactions where everybody brings their own background and view to the conversation. It makes that learning is not only one dimensional, but also goes beyond the classroom. Talking with my fellow students has deepened my understanding of certain issues and broadened my horizon.
Hopefully, this blog has given you a better understanding of the Sustainable Development Goals as well as an inside look at our Campus Fryslân. If you're curious to learn more about CF's Bachelor's and Master's programmes, take a look at this page. Want to join the SDG Action Days? Visit the event website for more information.
About the author
Avital
Hoi hoi! My name is Avital, Israeli by nature, Dutch by nurture and always on the lookout for cute cats! My life motto is "when in doubt, dance it out"! When I'm not dancing around my room, I'm most likely learning yet another language or working on my degree.
Comments