How Groningen is a sustainable city
| | |
| --- | --- |
| Date: | 16 September 2020 |
| Author: | Danique |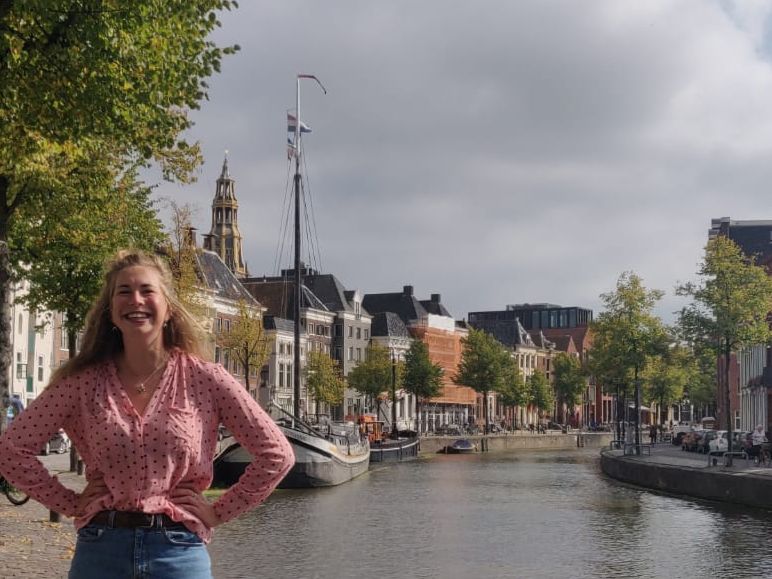 Groningen is the youngest city in the Netherlands, with its average population age approximately 7 years younger than other Dutch cities. This means that the city adjusts easily to trends, one of the most popular ones being sustainability. Groningen is a fairly green city, offering lots of sustainable alternatives to everyday activities like going out to dinner or shopping. This blog will explain a bit more about the sustainable side of Groningen and give some tips on where to find sustainable shops and how to be a little bit more green yourself!
Sustainable shopping
Fast-fashion is one of the most polluting industries in the world at the moment, which has made secondhand shopping a lot more attractive these past few years. There are a lot of cool secondhand and vintage shops around Groningen where you can give clothes a new life without being wasteful. For example, a few times a year there are vintage clothing events held in the city, like flea markets, clothing swaps, or the Vintage Kilo Sale. The latter is one of my personal favourites - instead of paying for individual items of clothing, you pay for the weight of your clothes, being priced per kilo.
For shopping in the city centre, the Oosterstraat is filled with secondhand and vintage stores such as Vintage Island, Appel & Ei and Reshare Store. Right around the corner from there is Stardust, which remakes old clothes into something that looks completely new! Other good vintage stores are the Recessie, located in the Oude Kijk in 't Jatstraat and the clothing section at Mamamini. These shops are especially great if you have a theme party and need to dress accordingly but know you'll never wear the clothing item again so buying something new for the same reason would be wasteful.
A lot of these shops also sell other things other than clothing. At Mamamini you can find great furniture or kitchenware, as you can at MijnTafel. This website shows all of the secondhand stores in and around Groningen. As you can see, there are too many to mention in this blog. Check out the list, and next time you're in need of a new outfit or table, go thrift shopping!

Sustainable eating
Just as the fashion industry is changing, the food industry is changing as well! Over the past few years, the supermarkets all around Groningen have been offering more meat substitutes in their stores. Restaurants are also adapting, adding more meat-free or sustainable options for those who take their food miles into account. A few examples are Lust, MASMAS, de Groene Stoel, Feel Good, de Soepwinkel, and de Herbivoor. Just like the sustainable shopping section - there really are too many to mention. Groningen is a very conscious city when it comes to including lots of vegetarian and vegan options, making it a great place for different dietary requirements! I'm always confronted with the fact that lots of other European cities are less vegetarian-friendly than here, making it easy to sometimes take such a sustainable city for granted.
Another way to reduce your carbon footprint when it comes to food is to shop at the farmers market instead of a supermarket! The farmers market sells local products, meaning you are supporting local farmers and there is less chance you're buying something that's been flown in from the other side of the world. There is also a lot less packaging, so you can reduce your plastic consumption. And the last and maybe biggest benefit - it's usually cheaper!
Ways to become a little bit more sustainable yourself
Did you know that the university has its own Green Office? The Green Office helps the university become more environmentally friendly, and provides tips to students on how to live a more sustainable life. They organise events like a clothing swap or challenge students to try to live a week without plastic. You can also visit the Green Office to receive more information about how to reduce your carbon footprint and live a little bit more sustainably. The Green Office has also made a Green Map, which is a map of Groningen highlighting all of the sustainable businesses. Using this, you can become oriented with all the green options there are during your student life, and beyond.
At the end of the day, there is still a long way to go, but every little bit helps. I hope this blog has inspired you to live a little greener, now that you know how easy it is to do here!
About the author
Danique
Hey! I'm Danique, a Dutch/American studying International Relations and International Organizations with a mild obsession with coffee, cats, and rowing. If you can't find me, look for the girl (almost always) wearing pink and writing blogs.