Guide to the Best Student Discounts in Groningen
| | |
| --- | --- |
| Date: | 19 October 2020 |
| Author: | Ariana |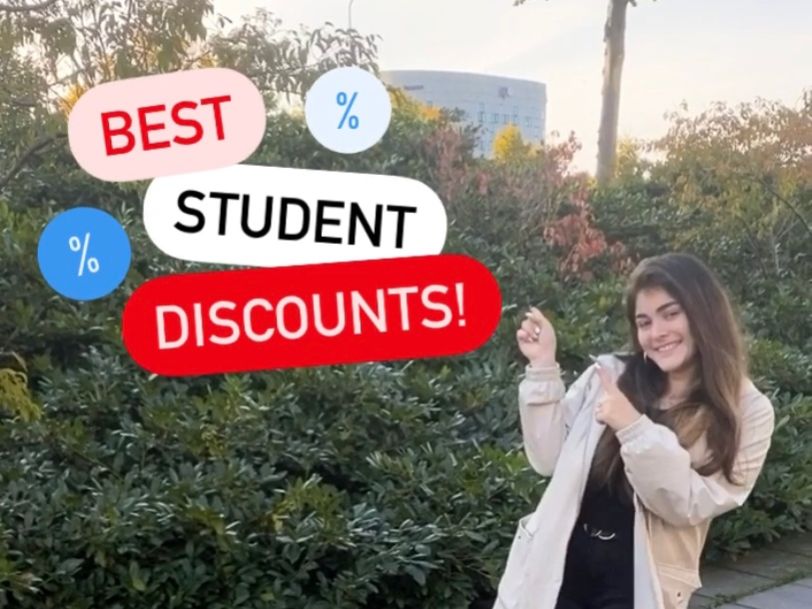 Spending money as a student is one of the easiest tasks ever. In between buying coffees at uni, going out to restaurants or ordering meals, and of course, drinks with your friends… money is basically nonexistent in a student's pocket. As a person who – one too many times – has had the experience of opening their bank account to see a sad little €1.67 left, with a week still left in the month, I can tell you: I appreciate discounts. And so, on that note, I've rounded up some of the best discounts available to students in Groningen. Whether you're running out of cash, or you're simply aiming to save a little every month, these discounts will surely be of help:
(A quick side-note: it's no secret that the Netherlands has recently entered a partial lockdown which is supposed to last four weeks. This means that, unfortunately, restaurants and cafés have to be closed to the public and are only available for takeaway or delivery. Instead of giving you the best discounts on cafés and restaurants, the discounts you will find below work mostly online, so that you can stay home and contribute to slowing the spread of the virus!)
Being a student has its perks
Just for being a student, you automatically qualify for a number of discounts online. Websites such as StudentBeans and uNiDaYs are free to use, and only require that you log in with a valid student email address. On these websites you can find discounts on the most popular fashion brands, streaming services, tech-items, and even travel services. All of these discount codes work online, and sometimes change frequently - so make sure to check the pages often!
Got a student card?
Your student card is always your best friend. Not only can it get you cheaper access to places such as movie theatres and museums, but it also has lots of extra perks. The easiest way to find them is to check online to see all the discounts that are available to you. Studentenkorting is great for this. Not only will it show you discounts that apply to you as a student in the Netherlands as a whole, but it also lets you view the discounts per city so you can make sure that you're getting local discounts as well.
Fidelity cards: the holy grail of student discounts
Rewards cards are absolutely fantastic if you're a student, not only because of the great discounts, but also because they're available almost anywhere. Supermarkets and stores such as Albert Heijn, Jumbo, HEMA, Kruidvat, and Etos all offer discounts if you have a customer card. Some work by offering you personal discounts based on your typical purchases, and some work by racking up points and allowing you to exchange points for products/discounts. If you're on a budget, these can be very helpful. For example, IKEA's Family Card can help you score meals extra cheap so that you don't have to eat pasta with pesto for a week (although you'll have to wait until the restaurant is open again to reap the benefits). When looking for beauty products that tend to be more on the expensive side, Douglas also has a customer card that can help you get free products. Bonus tip: it might be hard to keep all of these cards in your wallet sometimes, but you can use apps like Stocard to conveniently save them all on your phone.


Food 4 Less
Now that restaurants and cafés are closed, and ordering food can be quite pricey, it's a good time to make your own meals at home. However, even grocery trips can end up putting a big dent in your pocket sometimes. For this, it's great to know how to get food for cheaper prices. The supermarket customer cards are great ways of scoring products for less, but if you're looking for a place to get fresh produce for a comfortable price, the Vismarkt is the way to go! Every Tuesday, Friday and Saturday, the Vismarkt is home to a farmer's market. Here, you'll be able to find produce significantly cheaper than what you might find at a store. It's especially best for meats and fruit. I'm talking 4 avocados or 10 limes for just €1 here. Or even 2 kilos of chicken wings for €7! Aside from this, you might find great deals from food that is about to go to waste. By this I don't mean literal trash, but I'm referring to the amount of food that restaurants and stores have, which ends up being thrown away if no one buys it. With apps like TooGoodToGo, stores can make 'magic bags' of this leftover food which they sell for super cheap prices. If you're lucky enough, you can end up scoring entire dinners for only €3.
Other nifty deals to check out
Some student associations in Groningen have discounts if you become a member. However, the most notable of these is ESN and the ESN Student Card. This card can get you discounts in a ton of restaurants, stores, and even Flixbus or Ryanair. The card has a price of €7,50, which covers your ESN membership and also will give you access to all the great discounts associated with it! Aside from this, websites such as SURFspot provide discounts for students in software products, hardware, and other tech products. Most notably, you can get Microsoft Office, several antivirus programs, and Adobe Creative Cloud licenses for extremely cheap prices with your student account.
Do you know any other great student discounts in Groningen? Help others out and leave them in the comments below!
About the author
Ariana
Hey! I'm Ariana and I'm a Costa Rican student with a passion for photography, dancing, and cute dogs. Aside from writing blogs, I'm doing my Bachelor's in Media Studies. If you see me around smiling at my phone, I'm probably looking at memes (or cute dogs).
Comments