Finding work in the Netherlands
| | |
| --- | --- |
| Date: | 13 April 2021 |
| Author: | Avital |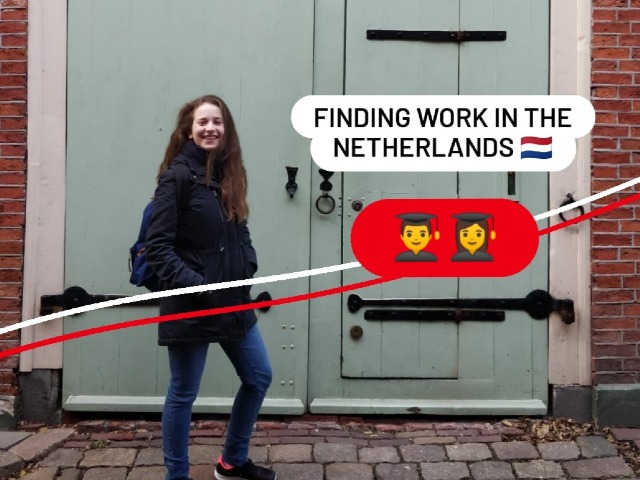 Perhaps you're a current UG student, or maybe you're a prospective student trying to decide where you'd like to study. In both cases, it is important to consider the opportunities available to you after your studies. Groningen and Leeuwarden are known as vibrant student cities but what can you do when you've finished your studies? What are the possibilities of finding work in the Netherlands and especially the northern provinces? In today's blog, I'll highlight some of the big employers we have here in the North. If you'd like to discover many more, check out this map. Whether you're looking for an internship, traineeship or your first job out of university, the North of the Netherlands offers plenty of opportunities. Aside from that, with the Netherlands being such a small country with great public transport, cities like Amsterdam, the Hague, Utrecht and Eindhoven aren't far away either. Curious? Then keep reading!
Make It In The North
Make It In The North is a career platform aimed at internationals looking for career opportunities in the northern Netherlands. Aside from offering a lot of information about companies in different sectors, you can also browse vacancies and attend their career events. All of the companies listed on the website hire English-speaking international students and graduates with all the vacancies also open to English-speaking candidates. Don't speak Dutch (yet)? No worries, you'll see that there are still many opportunities to start your career in the Netherlands!
Philips
Did you know that Philips Drachten is one of the largest production centres in Europe? Just a short train ride from the city of Groningen and not too far from our Leeuwarden campus (Campus Fryslân), Philips Drachten offers plenty of job opportunities to graduates from various programmes. Whether you are interested in a career as a data analyst or as an engineer, the company is internationally-oriented and is often looking to hire English-speaking candidates. And just like that, you can start your career in the Netherlands with the opportunity to go global. Who knows where your career will take you next.
IBM
You've undoubtedly heard of IBM before, as it's the world's largest IT and consulting services company. Did you know that IBM Services' Client Innovation Centre is right inthe heart of the city of Groningen? It's a place where you could write your thesis, do an internship or find an interesting job. Check out their vacancy database to get an idea of the types of positions they offer.
Astron
Are you interested in Astronomy and technology? Would you like to be part of the innovations in this field? Astron, the Netherlands Institute for Radio Astronomy, is located in Dwingeloo in the province of Drenthe, just south of Groningen. The institute develops new and innovative technologies with the aim of making discoveries in radio astronomy, operates world-class facilities and also invests its resources in fundamental astronomical research. Sounds interesting, right? Don't worry, Astron is not only looking for candidates with an Astronomy degree, their vacancies range from communications and HR to engineering and finance. If you're curious about the various possibilities at Astron, take a look at this page.
The University of Groningen
Yep, that's right! If, after completing your studies at the UG, you decide that you would like to pursue a career in academia, you could stay at the University of Groningen. There are PhD positions available in 10 of our 11 faculties, as well as other academic and non-academic positions for you to choose from as you start (or continue) your career. You can find these job opportunities on the UG's website and sign up to receive notifications whenever new vacancies are added. Even if you're not yet looking for a job, checking this page from time to time can give you a good idea of the various positions available at the university.
The world of banking
Interested in finance, econometrics, data science or other aspects of economics and business and curious about the job prospects after your studies at the UG? Whether you're looking for an internship or a job, our Faculty of Economics and Business' Career Services department can offer you a lot of information about finding a job, working in the Netherlands and resources as an international student. Many international banks and consultancy firms have big offices in the Amsterdam area called the 'Zuidas'. Only two hours by direct train from Groningen, this is very easy to reach.
Netflix
Chances are you've binged your fair share of series during your studies. Whether you were procrastinating on your assignments (we've all been there) or enjoying some well-deserved time off, Netflix is the gift that keeps on giving. But have you considered that you can make your love for Netflix your career? The streaming platform has an office in Amsterdam, where they regularly look to hire marketeers, software engineers, data analysts, accountants and more. Check out their vacancies, and maybe soon binge watching your favourite series will be just part of the job.
Finding a job
There are many different vacancy databases available online, but it can be a bit challenging to find career opportunities that don't require Dutch if you use the main Dutch databases. However, there are several recruitment agencies specifically tailored to those job seekers who don't speak Dutch. Check out Undutchables, Blue Lynx, Kelly Services, Sykes and Unique to find many opportunities available to English-speaking candidates or candidates with skills in other languages. To learn more about starting and establishing a career in the Netherlands, take a look at this website.
Need some career advice?
As a student at the University of Groningen, you can receive free career consultations to help you prepare for the next steps in your career. The UG's Career Services department offers free workshops, CV and cover letter checks, and continuously publishes new vacancies on the UG's internal career database. From big multinational companies to local start-ups, you'll come across familiar and new names and will surely find a position that suits you.
Join the upcoming UG Career Cafe!
Are you curious about starting your career in the North of the Netherlands and would you like to hear about the experiences of some of our UG alumni? Join the online UG CareerCafe on 22 April 2021 at 7:40 - 9:30PM. This event is organised by the UG Young Alumni Network in collaboration with the UG alumni and fundraising department. During the event, you and your fellow students will talk to some of our recent graduates who have chosen to start their careers in the North of the Netherlands. Wondering how they got to their current position, how they found that particular job or what an average workday looks like? During this evening they'll share the ins and outs of job hunting in the North of the Netherlands with you. It's also a great opportunity to expand your network!
Sign up before 15 April via eventbrite and you'll be able to choose two of our alumni with whom you can have a short conversation. It's on a first come, first served basis so if you're interested, register now!
Hopefully, this short overview has provided you with some helpful resources and ideas for your job hunt. Remember that word-of-mouth and networking helps a lot. Tell people you know that you're looking for job opportunities, use LinkedIn to find vacancies and connect with interesting people and actively research companies and organisations that might be interesting for you and interested in you as a potential candidate.
Do you know of any other useful resources or employers who might be interesting for your fellow students? Share them in the comments!
About the author
Avital
Hoi hoi! My name is Avital, Israeli by nature, Dutch by nurture and always on the lookout for cute cats! My life motto is "when in doubt, dance it out"! When I'm not dancing around my room, I'm most likely learning yet another language or working on my Linguistics degree.
Comments