Expanding your network with LinkedIn
| | |
| --- | --- |
| Date: | 13 March 2021 |
| Author: | Avital |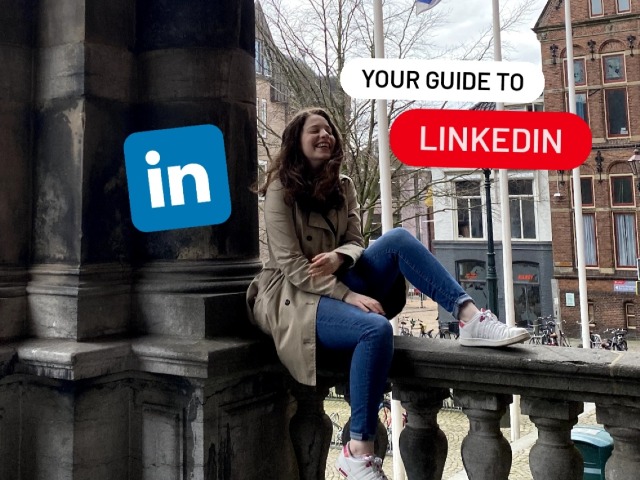 As a student (or any young person really), chances are you use one or several social media platforms. While you probably use most of these platforms to share photos or stay in touch with friends and family, LinkedIn is a platform that you can and should use to put yourself out there professionally. Whether you're looking for an internship, have recently graduated or would like to get to know interesting people in your field, LinkedIn is a great place to showcase your experience and connect with like-minded people. In this blog, I will introduce you to the world of LinkedIn so you can make the most of the tools it offers. Ready to get started? Then keep reading!
The basics
Setting up your account is pretty straightforward, you will have to fill in your email address and choose a password to get started. At first, your profile will be plain and empty, ready for you to fill in your details, experience and education. Take your time to add all of these things and you use the available space to add details about your tasks and responsibilities in every position you describe. You can also attach files, such as videos or articles, to the various sections of your profile, so remember to add any noteworthy publications or materials you have created to give others an even better sense of what you can do.
Your photo
Like with your CV, your photo on LinkedIn should be one that was taken recently where you look professional. Choose a photo that is taken from close enough so that your face is clearly visible, and make sure that the background is not taking away attention from you. It's best not to choose a selfie, as the angles are rarely flattering and it doesn't look very professional. Instead, ask your flatmate or friend to take a photo of you in front of a wall or even in the Noorderplantsoen with some trees in the background. Think of what impression you want to make with your profile and take that into consideration when taking your photo. Your face and name will be the first things that other LinkedIn users will see of you, so make sure you represent yourself well.
Your headline
When you first fill in your profile, the headline which is visible underneath your name and photo will most likely be something like 'Student at the University of Groningen'. This is automatically generated based on your education. However, as you might know, there are a lot of UG students out there, many of whom use LinkedIn. Therefore, this headline won't help you stand out. Instead, I suggest using keywords to describe what you currently do. Mine, for example, reads 'Student of Italian, Russian and Linguistics | Minor in Journalism | Student assistant Content at the UG'. It's concise, but provides a lot more detailed information about me than the fact that I'm a UG student (as would be the case with the automatically-generated one). As you can see, there are quite a few keywords in there of things I have experience with and am interested in. These keywords in your headline will help you appear higher in the search results when someone searches for them. That is especially useful when you want to expand your network, or find new opportunities.
Your profile's URL
If you've just started, or if you've never changed it, your profile's URL is probably something like www.linkedin.com/your first name - last name - a bunch of random letters and digits. That just doesn't look clean when you add it to your CV. Changing your profile's URL is really easy, though. Go to your profile page, and in the upper right corner next to your banner, you'll see 'edit public profile & URL'. Simply click on that and change your URL to something straightforward, preferably your first and last name. If you have a common name, this URL might already be taken. In that case, try adding or deleting the hyphen, or adding only the initial of your first name instead of the full name.
Summarising yourself
Remember when I told you about the importance of a personal profile in my blog about creating your CV? The summary on your LinkedIn profile offers a bit more freedom than the few sentences on your CV. On LinkedIn, I've seen summaries ranging from three sentences to two paragraphs, so it's really up to you to decide what yours is going to look like. Do you want to summarise your experience? Mention your strengths or other interests? Perhaps you'd like to share your view of what changes you see in your field and how you'd like to contribute. There are many ways to write your summary, so I suggest taking a look at profiles of different people you know, both students and working professionals, to get an idea of what you prefer when it comes to your own profile. Just make sure you don't copy someone else's summary, even if you change some details. They might have spent quite some time crafting something that fits them, and you should think of what fits you - in your own words.
Who to add?
I suggest starting with people you know, such as your fellow students, members of your student association or colleagues. Then, if you'd like, add people you find interesting or that you have common interests with. Everyone has their own ideas about who they like to include in their LinkedIn network and who they don't choose to include. Just remember that by including more (relevant) people in your network, you are more likely to come into contact with new people who might be interesting to you. It also means that the reach of the content you share gets bigger. This is especially useful when you're looking for new opportunities, such as an internship or a job.
Personally, I also add my teachers and professors on LinkedIn. They have their own networks, and are obviously interested in my field of studies, which means that their networks might be relevant to me too. My study programme is very small (there's only 28 of us future linguists in my year) so the staff and students get to know each other pretty well. If you're from a bigger programme, your teachers might not know you as well. Still, there's no reason to feel intimidated about adding them on LinkedIn. Are you interested in their research? Have you particularly enjoyed one of their courses? When you send an invite on LinkedIn, you can add a little message. Tell them that you've followed a course with them that you enjoyed, and they'll be reminded of who you are. And hey, the worst case scenario is that they just don't accept the invite. Nothing to be scared of there.
Following pages
Just like with other social media platforms, on LinkedIn you can also follow pages. Pretty much every company or organisation has a LinkedIn page where they publish updates about their work, new vacancies or interesting articles. Are there organisations in your field (and beyond!) that you find interesting? Follow them and engage with their content. Leave a comment from time to time, and you'll come into contact with other people who are interested in that content. While you're at it, you can also follow the UG's LinkedIn page, for the latest updates on our research and UG community.
Sharing content
Have you recently completed your internship, taken part in an interesting project or publish an article? Share that with your LinkedIn network! Accomplishments that you're proud of are worth sharing, it's a way of keeping your network up-to-date on what you're currently doing. When your network interacts with your own content (in the form of comments and likes), your content becomes visible to their networks too. It's a great way to put yourself out there and showcase yourself.
Finding vacancies
Are you currently looking for a traineeship or a job? LinkedIn is a great place to find vacancies. Head to 'jobs' at the top of the LinkedIn landing page to access the vacancy database. You can narrow your search by looking for particular keywords and adding filters such as location. Many organisations publish their vacancies on LinkedIn, so whether you're looking for a job here, in a different city or even in a different country, I suggest using LinkedIn to find a job that suits you.
Need more advice?
Have you set up your LinkedIn profile, added some people and followed some pages? Would you like someone to have a look and give you tips on how to improve your profile? The UG's Career Services department offers free LinkedIn checks to all UG students! Currently, their services are digital and you can choose to either submit your profile link for a short online check or book an elaborate consultation via Google Meet. If you'd like to ask some questions and receive more personalised advice, this is a great option. Career Services also offers free online workshops on various topics, one of them being the ins and outs of using LinkedIn. These workshops are offered regularly throughout the academic year and the dates can be found on the 'Career' tab in your Student Portal. You can also find more LinkedIn tips on the Career Services website.
About the author
Avital
Hoi hoi! My name is Avital, Israeli by nature, Dutch by nurture and always on the lookout for cute cats! My life motto is "when in doubt, dance it out"! When I'm not dancing around my room, I'm most likely learning yet another language or working on my Linguistics degree.
Comments