Essentials for your home office
| | |
| --- | --- |
| Date: | 07 August 2020 |
| Author: | Danique |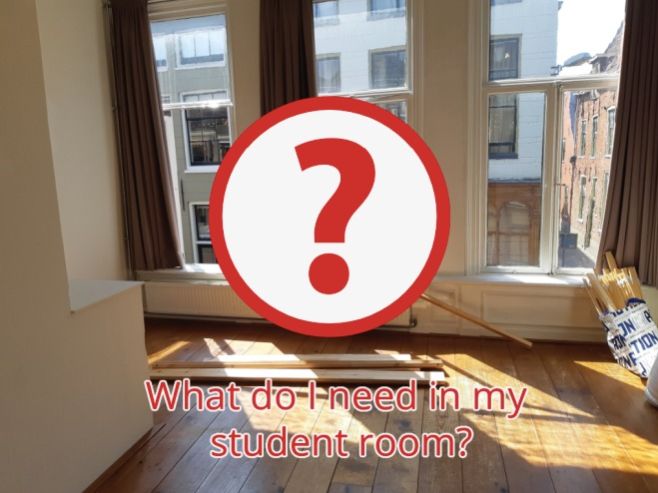 While the UB (the university library) is opening its doors, it's only at a capacity of 25% and you need to reserve well in advance. The spontaneity of walking into the UB and sitting anywhere is gone. If you're like me, and you don't like the idea of having to plan every study moment well in advance, it's good to make sure you have other places to work. Especially since we don't know how this pandemic is going to develop, it's good to ensure a study spot away from the masses in case there is a second outbreak.
In this blog, I am going to make a list of a few essential things you need in your student room in order to have a 'home office' or a 'home UB'.
The essentials
A desk
I mean, this one is pretty straightforward, but you'd be surprised by how many students don't actually have a desk in their room. Some rooms are relatively small, and when it's between a couch, closet, and a desk, the desk might be the one with the least priority because "you can always go to the UB". Given the circumstances, I'd prioritize a desk over a couch, or maybe even a smaller bed so that you can still fit in a desk.
2. A good chair
You'd think we're all still too young to be complaining about back issues or a sore neck, but you're wrong. Sitting on a chair that is too high or too low for the height of your desk can lead to some serious shoulder and neck problems, and if you're using a chair that doesn't provide enough support for your back, you can expect some back issues in a few months.
3. Enough light
I can almost hear my dad saying "I told you so!" as I'm writing this, because in my first year I was convinced that I wouldn't need a desk lamp because my eyes are good enough to read when there is little light. Having enough light in your room, especially on your desk, is important for your general well-being. With too little light, you'll strain your eyes quicker, making you more tired and making studying harder.
4. A plant
I recently wrote a blog about plants, so as you can see I am a little plant crazy, but studies show that plants are extremely good for your mental health and general well-being. Being cooped up inside all day isn't good for us, so having a plant nearby soothes the brain (apparently).
5.Headphones
I've written about headphones in a blog about how to study at home before, and it's still relevant for the home office essentials. Especially if you don't have the room for a desk in your room and need to sit in the kitchen or living room of your student house, it's good to be able to block yourself off from the rest of the world.
Okay, but where can I get these things?
Moving is expensive, especially when you're moving to a whole new city (or even country!), so I can imagine people thinking "I don't feel like spending money on a desk chair" or "I don't know where to buy these things!". I'll give a few examples of places where you can buy furniture, plants, and headphones.
Ikea
Of course - every student's favorite Swedish furniture store. This is the go-to place to buy furniture, and they have a wide selection of desks, chairs, desk lamps and even plants. They also have a wide range of prices, so there are a few cheaper options and a few more expensive options. You can get to Ikea by bus or bike from the city centre of Groningen. At ikea you can rent a bakfiets, which is a bike with a huge storage bin in front of it where you can put all of your new furniture in.
2. Mamamini
Another Groningen fave - the secondhand store Mamamini. You can definitely buy desks and chairs there, for a much cheaper price than anything new. Make sure to check if the chair is comfortable and hasn't been worn out though!
5. The internet
Pretty obvious, but still thought I should mention it. The Dutch website marktplaats.nl is a secondhand store platform where people can buy and sell used products. A lot of students will put up ads for furniture they don't feel like moving to their next house. Another handy trading platform is Facebook, there are plenty of buy/sell groups on Facebook for secondhand furniture, just look up "Furniture group Groningen" and you'll find something. For electronics, I suggest checking out bol.com (kind of like the Dutch amazon).
I hope this gives a little bit more of an idea of what you should have in your student room. Like I said, for many people this will seem obvious, but nonetheless I cannot stress enough how important it is to have a good and comfortable home office in these strange times.
About the author
Danique
Hey! I'm Danique, a Dutch/American studying International Relations and International Organizations with a mild obsession with coffee, cats, and rowing. If you can't find me, look for the girl (almost always) wearing pink and writing blogs.