Cyber Security - why is it important? A Cyber Friday chat with our CIT trainees
| | |
| --- | --- |
| Date: | 21 May 2021 |
| Author: | Avital |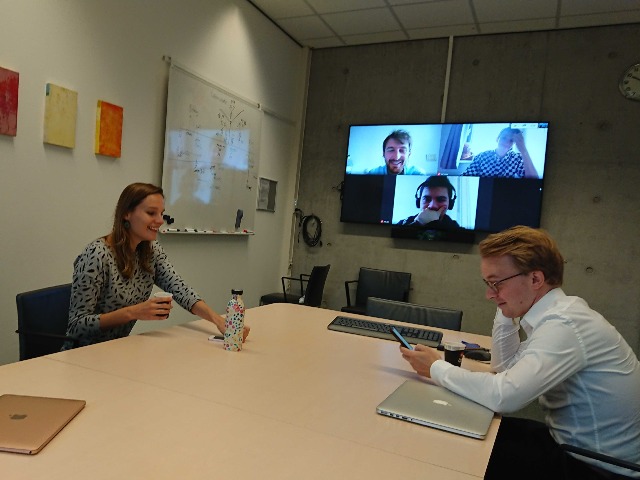 If we've learned anything in the past year and a half, it's that we can do so much online. I think it's safe to say that we spend many hours each day behind a screen, whether it's for our online classes or just endlessly scrolling through Instagram. But how much do you know about cyber security and staying safe online? With the large amount of data shared by everyone, it's really important to be aware of ways to protect yourself and your personal information on the internet. That's why we've decided to kickstart a monthly Cyber Friday on our social media channels. Together with Sara and Zuzana, two trainees at the UG's Centre for Information Technology (CIT), we'll bring you useful information and tips on the topic of cyber security. In this blog, we'll introduce you to both of them, their current project and they will share a few tips.
Hi there! Can you introduce yourself and your project?
We are Zuzana and Sara, we're both trainees at the UG's CIT and this is our second year of our traineeship. The traineeship programme consists of 4 half-a-year projects (so a total of 2 years) of various topics in various teams. This variety is an important factor, as it offers a way of finding the perfect match for us and the organization after the traineeship. So far I (Zuzana) have been working on projects in domain Workspaces, Education and with the management board. Sara has been working with Data Science, Communication, and Visualization. The Security project is a project with a security team, although it is very much a university-wide project with a lot of different parts of the UG being involved, such as Communication, privacy and security office, and more. The goal of the project is to make people aware of cyber security - inform them about the threats and how to protect themselves, including encouraging them to have safer home working practices and reaching out for support when needed.
Why is cyber security important?
Cyber security is important in a similar way that physical security is important, a hacker is invading private space and stealing valuables just as a burglar invades people's houses. The difference is that the 'cyberspace' and 'digital keys' to it are more abstract and difficult to imagine. People are rather careful not to give away the keys to their house or their credit cards, but with passwords in relation to protecting their personal or for example financial information, the threat is more abstract. These threats are actually personal, everyone can be a target which is sometimes also hard to imagine. One doesn't have to be rich to become a target, that wrong assumption is actually often exploited by the hackers. For them, all small victories count, not to mention that one can be targeted for the access to other systems as the actual goal, for example to university systems. Therefore, with more people working online, cybersecurity is more important now than ever before. Through safe practices and awareness, students and staff can ensure their privacy and security for themselves, but also the whole university.
What are some easy ways to improve your cyber security?
Make good passwords (at least 14 characters, use numbers and symbols, use upper and lower case) and change them regularly (if it gets too complex, there are password managers to store all of your passwords for you such as 1Password, Dashlane, and KeePass). Double factor authentication is also very helpful, at the CIT we all use it already.
Think carefully before you click on a link and watch out for requests that sound overly urgent! Did you receive a link from a number or account you don't know? Don't click on it. Simply clicking on such links can install malware on your device without you noticing.
Remove personal data from old emails and drives. Are you someone who never clears their drive or mailbox of old content? Try and make this a new habit, it's good for your security, clarity, and also for the environment by reducing server energy emissions. You clean your room and your kitchen too, right? Think of this as another space that requires regular cleaning.
What are some online dangers that people should be aware of?
Open WiFi - If restrictions are lifted a little more, be aware of where you are logging in so you don't accidentally share unwanted information.
Phishing mail - Phishing mail tries to get info out of you by disguising itself as something else. Look out for emails with a suspicious tone, a sense of urgency, outside links, strange senders, or sent at an unusual time. If you are ever unsure, make sure to report the email.
Ransomware - Be aware of suspicious links, strange websites, or phishing as mentioned above.
Malware - Look out for strange activity on your computer and be aware of the sites you visit.
Does CIT offer students any courses or workshops that might help them deal with cyber security?
Right now, we are starting with an awareness campaign because bringing attention to the topic and creating a comprehensive summary and guidance available for everyone is a first step. We are currently talking to different people about putting together a short course so yes, that is being developed! There are already many public cyber security courses available on platforms with open online courses such as edx.org and cybersaveyourself which is great, and we believe more and more people have been motivated to acquire more knowledge about this topic.
What do you hope to achieve with your project and what are your plans after the traineeship?
We consider security awareness to be an ongoing thing, it has to be continuously improved. Of course, this project will be considered successful when the security awareness rises and as a result more people recognize secure practices as being an important part of their daily work. Cyber security is not just important for people who work in IT, it's something for everyone working online. It is not that easy to measure the awareness since it is so multi-faceted, but as long as there is a good security program in place and feedback showing that people engage with it, I would say this project brought a major contribution. After the traineeship we will see what possibilities present themselves!
For more information about the topic of cyber security, head to our UG security portal and sign in with your student account. Would you like to learn more about other projects at the UG? Follow us on our social media channels (Instagram, Facebook & LinkedIn) to hear about interesting projects taking place and our UG community.
About the author
Avital
Hoi hoi! My name is Avital, Israeli by nature, Dutch by nurture and always on the lookout for cute cats! My life motto is "when in doubt, dance it out"! When I'm not dancing around my room, I'm most likely learning yet another language or working on my Linguistics degree.
Comments