Careers: how and where do I start?
| | |
| --- | --- |
| Date: | 19 May 2020 |
| Author: | Danique |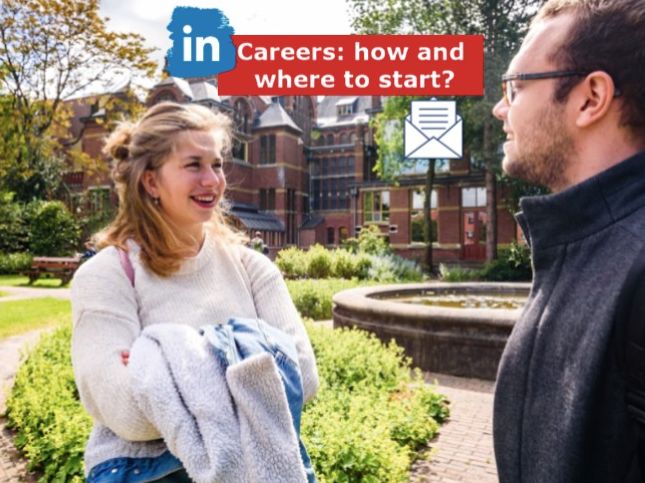 Thinking about your career is pretty daunting, especially when you don't really know how your career path can develop. Nonetheless, there is no time like the present to think about the future and consider your career options. Finding an internship or your first job is never easy, but very few people know that the University of Groningen can actually really help you with your career path. Luckily, this blog is here to help you figure that all out.
Career Services
You've all walked by it before: the Career Services center and iShop on the corner next to the UB. Yet only a limited number of people actually go in and see what there is to offer, and you're missing out! Career Services offers CV and motivation letter checks, workshops like how to make your LinkedIn profile pop or how to prepare for your first interview. And even though the Career Services shop is closed at the moment, all of the services are still available online.
Career Services also keeps track of a wide selection of relevant job opportunities. On Nestor, you can find a career database for students looking for internships or for their first job. You can find this tab next to the "Today" widget on your homepage on Nestor. There's also a full list of jobs or internships on the Career Services website.
Study association or study advisors
Make use of your study association! They don't solely exist for social activities or for exam summaries, they are also pretty useful for your career. Each study association or faculty is linked to a huge web of alumni (the UG has 120,000 alumni worldwide!) who might be able to give you some inspiration for what you could possibly do. If you are really confused about what you can actually do with your programme, it can be a little demotivating at times (trust me, been there, done that). Talk to people from your study association! They probably have been through the same thing, and can give you a better idea of what your options are.
Most study associations also organize career related events. For example, my study association, CLIO, organizes a conference every year where interesting guest speakers who are relevant to our study come and talk about what they do.If you aren't up for approaching your study association, you can always stop by your study advisor to talk about your concerns or confusion. They are there to help you, and can advise you on how to figure out what you really enjoy doing, and what kind of career opportunities there are for you.
Attend events
There are many (online) events geared at helping students find their career path, like the Beta Business Days or the FEB Recruitment Days, where you can speak to representatives of companies that can potentially be your employer for a job or internship. Recently, the Faculty of Arts had their week-long online Career Fair, where you could interact with guest speakers like Pulitzer Prize winner and journalist Christiaan Triebert or EU personnel selection officer Koen Hendrix. Attending events like these not only give you the opportunity to develop yourself by means of participating in a workshop, but it also allows you to network with professionals who could give you tips. Even if they aren't able to help you in defining your career path, even just talking to them or asking questions will help develop your professional social skills, which can never do any harm.
Use your network!
It's not without reason that there are so many networking events and career fairs, they are great for networking. I know, I know, networking sounds like a synonym for shallow conversation, but it really is a great way to orient yourself on the job market. Introducing yourself to people in your field of interest or gathering contact details from potential employers is a great way to be one step ahead when eventually applying for a job or internship. Invest some time in your LinkedIn profile, you'll thank yourself later!
In the end: thinking about your career is hard and scary, but you can make it easier and more fun just by simply orienting yourself around what is out there! You don't have to make a 5 year plan, but knowing what you can do might help.
About the author
Danique
Hey! I'm Danique, a Dutch/American studying International Relations and International Organizations with a mild obsession with coffee, cats, and rowing. If you can't find me, look for the girl (almost always) wearing pink and writing blogs.