Your First Week in Groningen--ESN style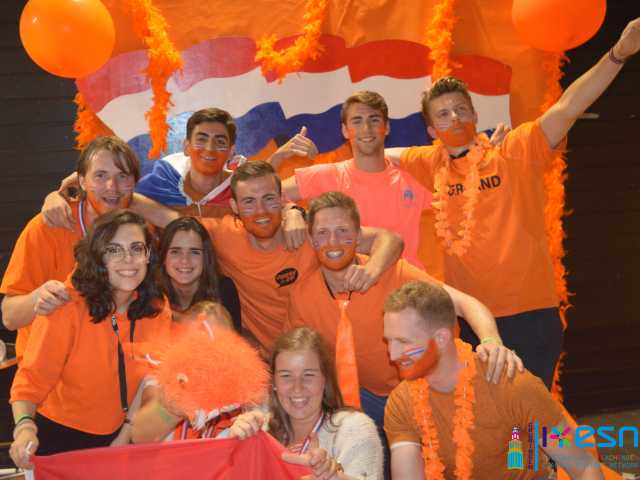 Before arriving in Groningen, I signed up for the ESN Introduction Week to get to know the city and the international student community. After moving into SSH, the majority of my housemates were also participating. Although we were mostly separated into different groups, we were still able to meet up throughout the week. On the first day, I went to the Academy Building where we would be into our groups. Each group was made up of approximately 12 students and 2 introduction guides. We all sat together and began to get to know each other. It turned out, that I was in a group with one of my SSH housemates! Together, we were a group made up of bachelors and masters students all from different degree and different countries such as Greece, Germany, Brazil, China, and more. After meeting our group, we all explored the city together. One of the first things we did was go out for burgers and drinks. During the week we participated in different activities together. We went to the movies and saw War Dogs. we learned about the history of the Netherlands. Later that week, our group leaders held a dinner where we all hung out together and played games. Later that night a pub crawl was organized which took us all over the city of Groningen. The week was full of activities. Finally, on the last day of Introduction Week, we went to the final party where I was able to meet up with not only my ESN group but most of my housemates!
After the ESN Introduction week, you can continue participating in events and excursions with ESN. You'll receive your ESNcard, officially making you a member of the entire ESN network--the biggest student association in Europe spanning 40 countries. Aside from the Introduction Week, ESN events for students throughout the year including international dinners, pub quizzes, day excursion trips, biking lessons, career services, talent shows, theme parties, and more! You can continue to participate in these activities through the year with your ESN card which will provide you with discounts all around the city. When Introduction week ended, I continued the fun by going to different activities throughout the year with new and old friends.
For new international students, ESN also provides a buddy system which links international students to a current Dutch student who can provide academic support and answer questions. Coming from the United States, I knew I would have a lot of questions and so I signed up for the Buddy Program. Before I arrived, my Buddy and I began to email each other. I was paired with a Dutch female student. We talked about ourselves, and also about what questions I had. On my second day in Groningen, my buddy took me all around the city. She showed me where my classes would be, and where students tend to go on nights out. We were able to help each other with our language skills, and my buddy even accompanied me to a few ESN events. Since those first few weeks, I have kept in touch with my buddy, and have been able to go to them when I still had questions about where to look for housing, jobs, and simple questions about where to buy things.
All in all, ESN Groningen provides numerous activities and events for international students making sure each student has the opportunity to have a unique and event filled year. ESN is one of the largest international student organizations not only in Groningen but across Europe. I took advantage of all that ESN Groningen offered. My buddy was a friendly face who showed me around the city, the ESN Introduction Week introduced me to a group of lifelong friends and made my first week in Groningen unforgettable, and the ESNcard has allowed me to continue participating in events throughout the year.
Comments