Travelling like the Dutch: on your Bike!
| | |
| --- | --- |
| Date: | 14 September 2017 |
| Author: | Brielle |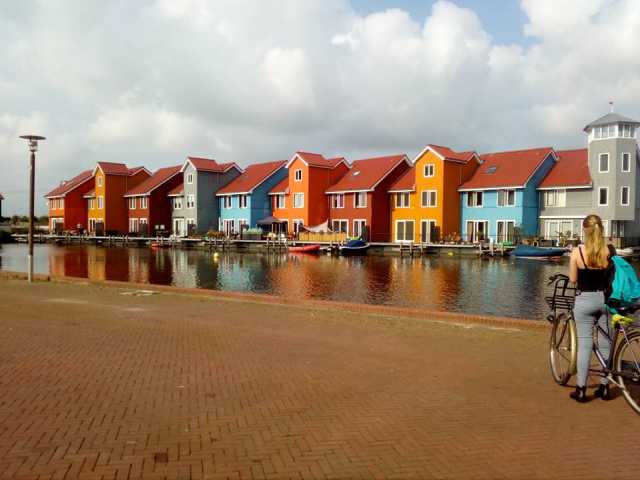 Being from a small Pennsylvania town in the United States, I did not ride bikes often. Actually, almost never. My trusted car gets me through the winding roads of Milford, Pennsylvania quite effectively. When I decided to study in Groningen I knew that riding a bike would be a part of the experience. On my second day in the city, I was excited to finally explore and eventually decided to walk into the city centre. Although it was not a far walk I still decided at that point that I was going to get myself a bike--and I did! I had bought a bright blue bike--while not the most neutral colour, it definitely comes in handy when trying to locate my bike amongst the many others at night in the Grote Markt. Cycling in the Netherlands is an adventure on its own. The majority of residents cycle everywhere they need to go. You'll see Dutch students confidently cycling through the city while on their phones, or even hands-free sometimes. I'm still not quite at that level of cycling.
I have always grown up and lived in small towns. However, when I do take a trip to the city it is usually either to Boston, New York City, or Philadelphia. While these are all amazing places, they always seemed so big to me. Groningen however, offers the perfect balance between being a large city, but with a close-knit feel. The city is small enough to explore and not feel overwhelmed, yet is never short of fun to have with your friends. Groningen gives off an International vibe as students from all over the world come together in the city centre to study and meet up. Almost any day that I cycle to class or to the city centre I run into someone that I know. The close-knit environment of Groningen makes you feel at home and gives off an energy that can only be found here.
When it comes to getting a bike you have a few options. You can buy a new bike from a shop in town, a used bike from a shop, you can rent a bike, or you can look on Facebook for students leaving the University and selling their bikes. Personally, I chose to rent my bike but many of my friends chose to purchase used bikes. Whichever option you choose is completely up to you. Since I was only going to be in Groningen for a year, renting seemed to suit me more since it included repairs as well as *insurance*--(basically, if my bike was stolen, the shop would replace it). This option can be a bit more expensive than purchasing a bike, depending on your length of stay in Groningen.
Once I had my bike, I was able to explore the city just as the Dutch do: by bike.
--My first thoughts after riding by bike was a mixture between "I have no idea what I'm doing" and "I hope I get used to this because my legs are not prepared"
Eventually, I prevailed and during my very first month here a friend of mine wanted us to spend her birthday by going on a bike ride. I felt like we had ridden for miles and I'm almost positive we did, but we also saw another side to Groningen. We biked up to an area near the Zernike campus called Reitdiephaven--the area with the picturesque houses on the water. After this point, I'll admit, we did just wander on our bikes a bit and ended up in quite a rural area, but nonetheless still had some fun. We saw horses and biked along the countryside until we eventually made our way back to the city. The journey was fun and left our legs feeling drained. All in all, a success.
Since that day, I of course have continued riding my bike almost every day and have even gotten quite accustomed to it---meaning my legs no longer feel like they are going to fall off. Being on a bike gives you a completely new way of seeing Groningen. My friends and I have been everywhere so far with our bikes--from bike rides to class, to the lake during the hot weather to cool down, the canals, the city for a night out, and even to IKEA in our attempts to carry back meatballs and extra furnishings. Even after all of those experiences though, I still think memory of riding bikes in the Netherlands will be the many attempts of riding on the back of a friends bike. That is the moment when I truly felt like I was riding like the Dutch.
Riding a bike in the Netherlands is just one of the many experiences and memories you will make while living and studying here and will truly make you feel like you are integrating into a new culture.
Comments