Oh Canada!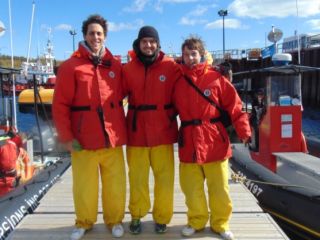 When I started my studies at the University of Groningen, little did I know that barely two years later, I'd find myself living, studying and travelling in Canada. But there I was, and going on exchange to Montreal turned out to be one of the best decisions I've made in Groningen.
I started looking at the possibility of studying abroad around the beginning of my second year. At first, I wasn't even sure where to start looking or what to do first, but luckily the University organized several workshops that told me everything I needed to know. Before I knew it I had taken a language test at the language (English level C2! That's good enough, whoo!) and I started making a list of countries I wanted to go to. To ensure everyone that wanted to had a place abroad, you had to select three countries that you'd wanted to go to. I picked and Singapore.
After one and a half month of nail biting, I finally got the message I'd been waiting for: I'd been accepted for a semester at Concordia University in Montreal, Canada! Before I could go, however, I needed to arrange a lot of stuff: I needed to pick courses at Concordia, find out what kind of visa I needed and find suitable accommodation. Thankfully, the University of Groningen organized events with all Canada-goers from Groningen, so we could get to know each other over a few drinks and prepare ourselves for the journey.

After a six-hour flight, I arrived in Montreal, completely exhausted from the travel and the jet lag. For the first week, I booked a place in a youth hostel, and after that, I would move into a student hotel specially designed for international students. The student hotel welcome events and parties for its internationals and I quickly met and made friends with other students from Mexico, and Korea, to name a few. Having other people around who were also new in Montreal made me feel a lot better, and helped me feel less alone in the big city. During my first weeks, I also got to know my way around the city (or part of the city, Montreal is pretty big). From the old district to the busy shopping streets in downtown Montreal, I loved getting around and exploring the city with my new friends.
One of the things I was looking forward to the most was around and exploring Canada. With two friends I'd made there (from Mexico and Australia, hard to find a more diverse bunch than us), I went on a road trip to rural Quebec. We'd rented a car, booked rooms in youth hostels and went on our way. I had some of the best days of my life during our trip. We went hiking in the woods, saw moose and deer on a safari trip and we even went whale watching in a small rubber boat! And during the evenings, we'd warm up in a youth hostel or at a local restaurant, enjoy the Canadian cuisine and chat up to other international students. I liked to travel around before, but my experiences on exchange made me want to see the world even more.
Of course, I also came to Canada to study. A few weeks after I arrived, the academic year at Concordia began. I'd already met some other students beforehand, but I was mostly going to meet new people during my classes. I took five courses, each taking about four to five hours every week. My course dealt with negotiating tactics; during one of the classes we re-enacted famous historical negotiations and analyzed the tactics the negotiators used in them. For other classes, I went on field trips, both with other international students and Canadian students. A lot of the time, going to class felt like just another part of exploring Canada and meeting new people.
Like all things too good to be true, my time in Canada came to an end too. I had passed all my exams and four months after arriving, I flew back to the Netherlands. Looking back on my time it's probably one of the best things I could have done during my Bachelor's. I learned a lot about myself and being independent, and I made lots of new friends, literally from all over the world. If you get the chance to go on exchange, even only for a semester, I'd highly recommend you do!
Comments